Story Endings Demystified: How NOT to End Your Novel
Getting the ending of your story just right is critical.
The ending of your novel will leave the most lasting impression on your reader. Whether that final impression is savory or sour is entirely up to how you end your story.
This means that, if you want to become a better writer, learning how to write the ending of your book is critical. Your final pages should resolve your story in one way or another—and no matter how it resolves that story, it better make a good impression on your readers!
_______________________________
Before we start, I'd like to introduce you all to Sara Katayama, a guest on The Novel Smithy!
Sara is a fellow writing coach over at Just Writerly Things, where she's got tons of articles on everything from brainstorming to publishing. I hope you'll give her a warm welcome and enjoy her tips for ending your novel with a bang! You can also find the post I wrote for her site here: How to Preserve the Magic of Your Story (Hint: Keep Secrets) 🙂 – Lewis
_______________________________
Choosing the Right Ending for Your Book
There are a few different ways you can end your book, depending on your story.
The Closed Ending: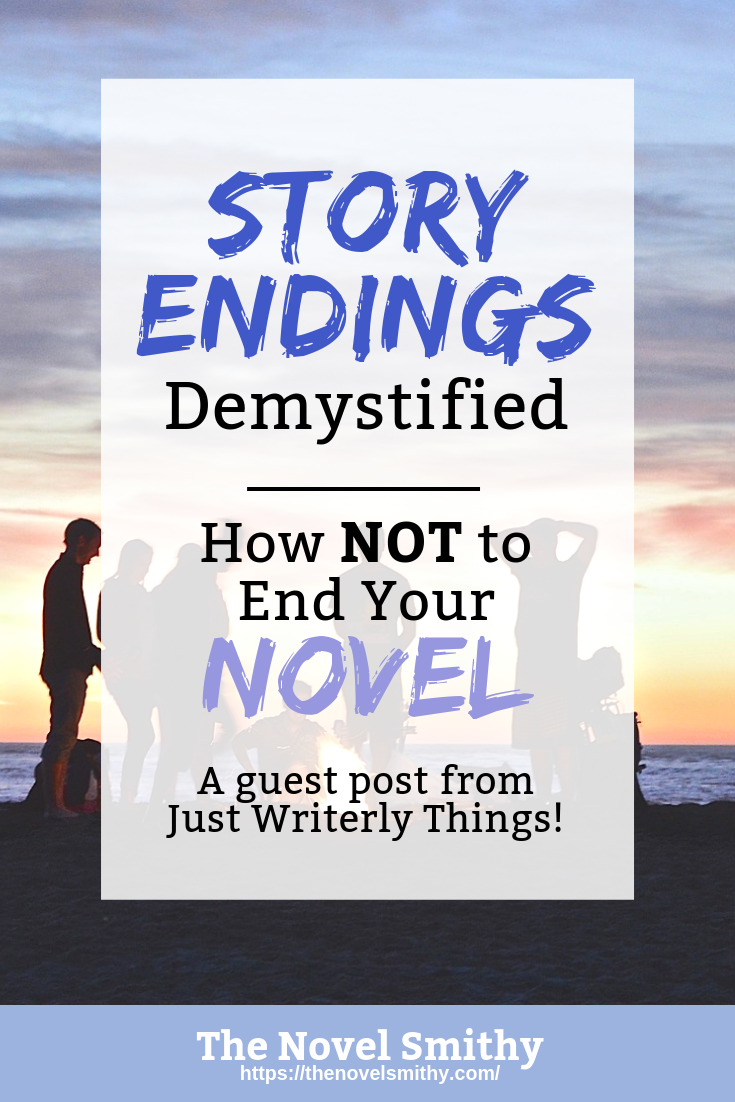 The closed or explicit ending wraps everything up, every character arc, plot line, and subplot—everything is tied into a nice little bow for your readers.
These closed endings satisfy the reader by making the aftermath of the story clear. Character arcs are resolved, and you'll often hint at the foreseeable future.
There are usually morals and themes that come full circle by the end of the book as well.
In the Forests of the Night by Amelia Atwater-Rhodes you can find a good example of a closed ending, where Rachel has come to terms with her past and everything that has happened to make her the person she is today.
The Open Ending:
If a closed ending wraps everything up neatly, then an open ending leaves things in a less conclusive state. Endings are often vague or open to interpretation and leave the reader to fill in the blanks.
While arguably less satisfying for a reader some consider open endings more realistic, while also leaving the author with more options for the future.
We by Yevgeny Zamyatin ends with a great example of an open ending. While there is some closure when One State reasserts control over D-503's mind, the revolution and is in fact still raging when the book ends. Importantly, the themes of We need the ending to be unresolved, because there is no real ending or final revolution for that story.
The Bridge Ending:
Typically (though not always) reserved for series, bridge endings are endings that don't really mean "the end".
These endings often complete the book's objective, but leave the overarching plot incomplete, even if progress is made. The endings of each individual book in the series are often half-concluded with a hint of ambiguity, so the author can pave the way for the next installment.
Consider the Harry Potter series by J. K. Rowling.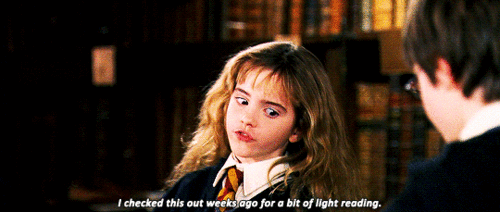 Each book covers a real conflict for Harry but leaves the overarching plot with his main antagonist—Lord Voldemort—unresolved, even as Harry makes progress and earns small victories.
The Most Important Question: "What's Changed?"
No matter how you end your book, this ending should balance the end of your story's plot and the end of your characters' arcs.
There are often three major sequences in any character arc: the desire, the lie (which keeps them from accomplishing their desire), and the truth or realization (which helps them overcome the lie and complete the arc).
This is a cycle your characters can only break by driving the plot to the end and growing as a character.
In the final phase of your book—otherwise known as the Resolution—you should have already answered your character's truth, because it drove your protagonist into the Third Act. However, you still need to have some calm after the storm and some self-reflection into what has really changed for your protagonist given this truth they've recently discovered.
Answering this central question will help your readers gain closure at the end of your story, even if it isn't the end of that series—or the end of that character's story.
5 Tips to Write a Satisfying Ending for Your Novel
Earn It:
When ending your novel, you need to make sure your story's ending is well deserved, and not just "the end" of the book. Your protagonist shouldn't overhear tidbits of information; they should actively seek it out for themselves. Your antagonist shouldn't get distracted at the last moment; they should move steadfast towards their desires. Essentially, don't rely on coincidences to drive your story.
Unrealistic endings frustrate readers and you don't want your readers to close your book rolling their eyes, even if they finished your book first. Unsavory endings stick in readers mouths.
Plan Your Novel's Ending:
You always should keep the end in sight (or in mind) throughout your novel.
Your plot is a journey constantly driven by your protagonist, so it must flow logically from Point A to Point B. Good story endings build from the foundations you create in Act 1 and grow further in Act 2. Towards the ending your book should call back to earlier moments in your story, whether that's through dialogue or exposition:
What motifs or themes did you touch on earlier in your manuscript?
Are there any you can re-contextualize or further explore through the end of your story?
Act 3 should be the culmination of everything your protagonist learned in the previous acts. This means there should always be a clear build to the Climax of your story, even if your reader doesn't know the specifics.
Create a True Resolution:
The ending of your novel should resolve more than just your protagonist and antagonist.
Few great books end with a cliffhanger. Don't write a mouthwatering story only to leave your readers hanging during the final blows. You've given them details and hooked them with intrigue and texture—now, if you leave your character arcs out to dry, readers will get frustrated. Good or bad, people want to know the ending.
I'd almost go as far to say that people need to know the ending of your story.
Use something like Google Sheets to keep your characters and their respective arcs straight. This will not only help you remember which character arcs still need to be resolved but will also help you map each arc as they interact with other characters and the plot.
Don't Let Your Ending Drag On:
You don't want to drag out the ending of your novel for the sheer purpose of another fight scene.
Have you ever watched a three hour long movie that you knew could have ended two hours ago? It's the same when you're writing your book. Every reader knows when you're just drawing it out and refusing to tie up your ending.
I'm a writer too—I get it.
If you find you have too many plot lines to tie into a neat bow at the end of your story, consider completing them sooner than the last chapter. There isn't a time limit, and you don't have to complete each character arc right at the end of the book. Like descriptions, less is often more when it comes to ending your book. If your aim is to create a unique and memorable ending that sticks into your reader's minds, dragging your book out isn't the answer.
Make Your Ending Unique:
Finally, you should avoid cliche story endings that leave readers unsatisfied. The happily ever after… The dream ending… The unneeded exposition… The love story… These cliches are often used as a crutch when you don't know how to write the true ending your characters (and readers) deserve.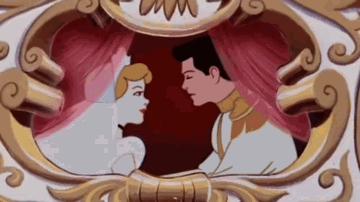 Cliches are often used in books as an alternative when something better hasn't come along. While this is completely understandable in a first draft, it leaves something to be desired for published works. Instead, subvert cliches by turning them on their heads or turning it into a twist.
The Bottom Line for Ending Your Novel
The ending you write for your book will depend on the genre in which you're writing, your story structure and target audience, and the moral or theme of your story.
Regardless of these factors, the last chapter of your book is your last chance to end your story. This chapter is your opportunity to resolve any outstanding themes or debates brought up within your story, but it also needs to serve double duty—you must satiate your reader and conclude what your protagonist has learned throughout their journey.
Ultimately, in the first sentences of your novel, you promised your readers something spectacular.
The end of your book is where you fulfill that promise, and where you satisfy the craving you instilled in them during your opening lines.
How do you plan to end your novel? Let me know in the comments!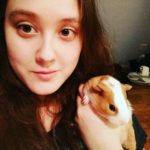 Sara is a writer of fantasy and science fiction and the blogger behind JustWriterlyThings.com, where inspiration abounds and where she strives to help you dive deep into your creative well. When she's not writing about craft she can be found hiking through the PNW with her two pups or exploring new and uncharted territory through something off her ever-growing bookshelf.
Follow Sara on Pinterest, Twitter or Instagram… Or catch up on her latest articles over at JustWriterlyThings.com.