Casablanca (1942): The Movie Structure Archives
Genre: Drama/Romance
Writer: Julius and Philip Epstein
Director: Michael Curtiz
Outline:
Act 1 (1%-25%)
Hook: The opening narration of Casablanca describes an ongoing refugee crisis as people flee Nazi controlled territories in Europe trying to reach North America. To do so, they pass through Casablanca, but the narrator warns that most people are trapped and must wait until they're lucky enough to leave. This sets up the premise of the movie clearly and succinctly.
Inciting Event: Two German couriers have been murdered, and their killer stole two letters of transit that would grant anyone passage out of Casablanca.
Vichy (Nazi allied France) police officers are rounding up citizens of Casablanca for search. A man with expired papers flees the police and is killed. In his pocket is a "Free France" pamphlet.
Major Strasser arrives on the only plane in and out of Casablanca. He's a representative from Nazi Germany, sent to hunt down European resistance leaders the Nazi's believe are passing through Casablanca to get the stolen letters of transit. He's met by Captain Renault, the Vichy Chief of Police in Casablanca.
We are introduced to Rick, the owner of "Rick's Café Americain," a bar and gambling den known for being a neutral ground, where police, refugees, and con artists can all gather without trouble. Rick is aloof, distant, and cold, uninterested in involving himself in any of the issues plaguing Casablanca.
Key Event: Senor Ugarte, a resident of Casablanca, comes to Rick asking him to keep watch over the stolen letters of transit. It's implied that he's the murderer.
Captain Renault warns Rick not to involve himself with the stolen letters of transit, or with a European resistance leader, Victor Lazlo, who is coming through Casablanca to reach the US.
1st Plot Point: The police come to arrest Ugarte and he flees, coming to Rick to hide him. Rick refuses, stating, "I stick my neck out for nobody." Ugarte is captured and Rick is left in possession of the letters.
Act 2 (25%-75%)
Victor Lazlo and his wife, Ilsa Lund, arrive in Rick's café. Lazlo meets with a local French resistance member to get the letters of transit, only to find they've gone missing. Renault introduces Lazlo and Ilsa to Rick, and it's revealed that Ilsa and Rick have some sort of history.
Rick descends into a deep depression after the café closes for the night. Sam, his pianist and a mutual friend of he and Ilsa's, tells him to forget Ilsa and leave Casablanca. Rick refuses.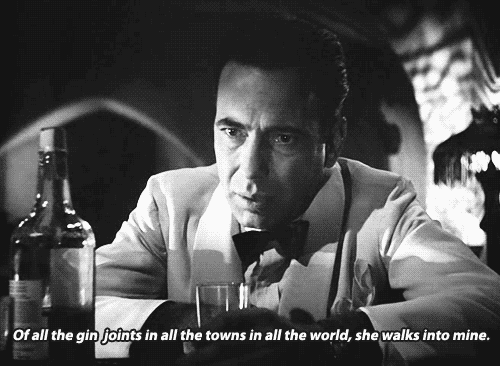 A flashback begins. Rick and Ilsa are together in Paris before the invasion. They're in love, but have committed to ask no questions about each other's past. Ilsa does reveal that her previous husband is dead when Rick presses her. When the Germans are about to invade, Ilsa promises to meet Rick at the train station to flee but instead sends him a note, stating she can never see him again.
After the flashback ends, Ilsa arrives at Rick's café and he confronts her, asking why she came to Casablanca. She tries to explain why she couldn't leave Paris with him, but he cuts her off and she leaves.
1st Pinch Point: Lazlo and Ilsa meet with Major Strasser, who offers them a deal. He'll allow both of them to leave Casablanca if they reveal the names of all the resistance leaders in occupied Europe. Lazlo refuses, and is told Ugarte is dead as a threat.
Lazlo and Ilsa must now find the missing letters of transit. Ferrari, the owner of a rival bar to Rick's cafe, talks to Rick about his suspicion that Rick has the letters. Later, Rick confronts Ilsa outside Ferrari's bar, and tries to give her an opportunity to explain again, but she refuses to. Rick invites her to come visit his bar sometime, when she wants to see him again.
Midpoint: Lazlo comes to speak to Ferrari about the letters of transit, who offers to get Ilsa a letter for herself. He cannot get one for both of them. Ilsa refuses to go without her husband. At the last minute Ferrari reveals that Rick likely has the letters.
A refugee woman comes to Rick in his café, asking for advice. Captain Renault has offered to give her and her husband letters to leave Casablanca if she cheats on her husband and sleeps with him. Rick tells her to encourage her husband to gamble at his bar and rigs it so they win the money they need to leave Casablanca.
Lazlo comes to Rick to discuss the letters of transit. He tries to convince Rick how important his resistance work is, but Rick refuses to involve himself. Lazlo reveals Rick has a history of fighting for resistance groups, but Rick insists he's changed. He tells Lazlo to ask Ilsa if he wants to know why Rick won't give them the letters.
2nd Pinch Point: The French patrons of Rick's bar get in a fight with German officers when they begin singing the French national anthem, led by Lazlo. Major Strasser closes Rick's café as punishment, and comes to Ilsa to warn her that her husband will likely be killed before long.
Lazlo tells Ilsa that Rick revealed he has the letters, but told him to ask her why he won't help them. Ilsa refuses to tell Lazlo about her relationship with Rick. Lazlo leaves their hotel to attend an underground resistance meeting.
3rd Plot Point: While Lazlo is gone, Ilsa sneaks to Rick's café, begging him to give her the letters of transit. Rick refuses, bitter about her abandoning him. Ilsa pulls a gun on him, demanding the letters so she can protect Lazlo. Ilsa is unable to shoot and admits her love for Rick.
Act 3 (75%-100%)
Ilsa reveals to Rick that Lazlo was presumed dead, and she was only given word that he was alive the day they were to flee Paris. They make a plan for Lazlo to flee Casablanca, while she will stay with Rick.
The underground resistance meeting Lazlo was attending is uncovered by the police and Lazlo flees to Rick's café. Rick comes to help Lazlo while Ilsa hides upstairs. Lazlo confronts Rick, saying all he cares about is to protect Ilsa and that Rick must give her the letters, because he knows they both love her. After their conversation, Lazlo is arrested by the Captain Renault.
Climax: Rick goes to meet with Captain Renault, revealing that he has the letters of transit and warning Renault not to interfere with Ilsa and him fleeing Casablanca. He tells Renault that he has no interest in Lazlo, only himself. However, he convinces Renault to release Lazlo in order to trap him trying to escape Casablanca that night from Rick's café, providing justification for sending him to a concentration camp.
Captain Renault arrives at Rick's café to capture Lazlo that night, but Rick pulls a gun on him before he can arrest Lazlo. He forces Renault to call his security away from the airport, but Renault secretly calls Major Strasser instead. Rick forces him to drive them all to the airport.
Climactic Moment: Upon arriving at the airport, Rick reveals his real plan to send Ilsa away to the US with Lazlo. She resists at first, but Rick explains that she'll regret it and that Lazlo needs her more than anything else. She agrees to leave with him.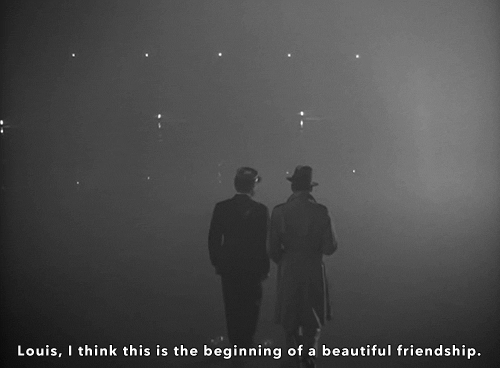 Resolution: Major Strasser drives up alone to confront them and Rick shoots him. Ilsa and Lazlo's plane takes off, and when the police arrive Renault orders them to "round up the usual suspects" instead of arresting Rick. Renault and Rick walk down the dark runway together, and Renault offers to join the French resistance with Rick, with Rick stating that this will be the start of a "beautiful friendship."
Characters:
Character 1: Rick Blaine
Rick begins his arc distant and aloof. He seeks to serve his own self-interest while running his café in peace, neither disrupting the rule of Captain Renault nor angering the resistance members in Casablanca. Rick "sticks his neck out for nobody," and it's this policy that draws him into the conflict by leaving him in possession of the letters of transit.
Rick's arc progresses in fits and starts. More and more of his past relationship with Ilsa is revealed, but much of it remains incomplete. This explains his self-interested ways; her abandonment affects him on a deeply emotional level, and he's never gotten over his bitterness. Rick oscillates between pushing Ilsa away throughout Act 2 and trying to draw her back in. As it becomes more apparent that Lazlo and Ilsa are in danger the longer they stay in Casablanca, Rick continues refusing to help them.
However, Rick ends the film overcoming this self-interest. Once Ilsa comes to him and explains what happened, he devises a plan, ultimately helping both Ilsa and Lazlo escape Casablanca. This puts him in physical danger, but more importantly to his arc it requires him to give up his love for Ilsa. Ultimately, he puts the importance of the resistance cause, symbolized by Lazlo, above his own love for Ilsa.
Throughout the film, Lazlo and Renault act as foils for Rick, showing the two extremes of where he could end up. Lazlo is arguably who he should be; principled and fighting for the good of others even at his own sacrifice. Renault is who he might become if he continues on his current path; selfish, cruel, manipulative to those weaker than him while being manipulated by higher powers. This works as a great metric for Rick's development as he drifts between these two foils.
Character 2: Ilsa Lund
Arguably the plot of Casablanca centers more on Ilsa than anyone else. It's her decisions that drive the movement of the plot for the majority of the film up until the end, where Rick's plan comes into play.
Ilsa's arc is focused on sacrifice, with her being torn between her loyalty to Lazlo and the resistance and her love for Rick. Her arc isn't fully explored in the same way Rick's is but she clearly begins in a place of firm devotion to Lazlo, and through him, the resistance. However, Rick's involvement in her life tests this resolve as her true love rests with him. Ultimately, she maintains her devotion to Lazlo's cause while finally accepting and acknowledging her love for Rick. She leaves Rick behind, sacrificing her own desires to keep Lazlo's cause thriving.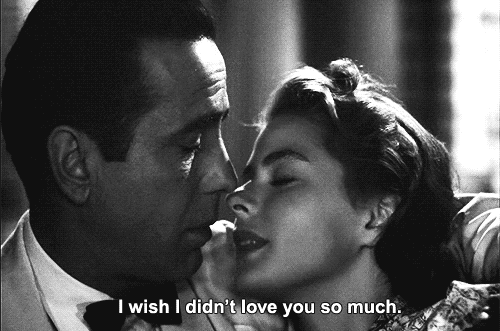 Character 3: Captain Renault
Similarly to Ilsa's, Renault's arc isn't fully explored. Renault begins as a negative foil to Rick, completely self-interested and self-serving. Presumably, through Rick's influence throughout the film, Renault comes to value their friendship over his own position of power. In the end, Renault protects Rick, and through him the resistance, by killing Strasser. At the same time, he destroys his place of power by doing so, but gains a stronger friendship with Rick.
In many ways he's neutral throughout the film just like Rick at the beginning; he follows the whims of power, not principle.
Theme: Self-Interest versus Self-Sacrifice
Themes of self-interest versus self-sacrifice run through all the major characters in the film. Rick struggles with his desire to be left alone and later to be with Ilsa, before putting the needs of the resistance movement above his own. Renault and Lazlo provide a contrast between the two extremes of this theme. Characters like Ugarte display the folly of self-interest, while one like the young refugee wife seeking Rick's advice show the benefits of sacrifice. However, Ilsa exemplifies this theme more than any of the other characters, sacrificing her love for Rick not once, but twice, to help Lazlo continue his work.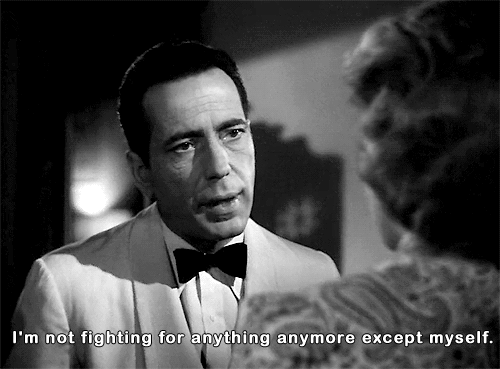 In the same way, this theme drives the development of the plot. Ilsa's self-sacrifice comes into conflict with Rick's self-interest, setting up the tension between them and the plot developments that arise. Rick's struggle back and forth between his own desires and his better instincts drive him in most every scene.
Casablanca acts as a broad symbol that reinforces this theme further. It's painted as a place of pure self-interest, of crime and desperation, of people seeking their own desires. Lazlo then is a contrast to the city of Casablanca itself; he's written as a symbol more so than a character. His pure self-sacrifice, both of his safety and later his happiness when he tries to send Ilsa to safety alone, is combined with his frequent speeches about the importance of the resistance cause. He's the far extreme of the self-sacrifice spectrum. I said earlier that he and Renault act as foils to Rick, and while this is true in terms of Rick's arc, Renault actually undergoes some development of his own. Casablanca serves as a better contrasting symbol to Lazlo in terms of the movie's overall plot.
Pacing:
In terms of pacing, Casablanca has its struggles. The lengthy flashback at the start of Act 2 is jarring, and any sense of passing time in the movie is almost nonexistent. Days and nights bleed together, and the entire story could've taken place in two days or two weeks, it's not clear.
Additionally, Act 2 takes up a disproportionate bulk of the movie, with a somewhat fuzzy distinction between it and Act 1 and 3. The First and Third Plot Points aren't tremendously well defined in the way they could've been if there had been more distinction between plot centric scenes and character centric scenes.
Conclusion:
Despite any of its flaws, Casablanca is a fantastic movie. It's one you have to watch with great care; so much happens in each scene, conveyed through set dressings or gestures, that it's easy to overlook important details on a first viewing.
It could have benefited from more concrete and distinct Acts, both in terms of its overall plot and Rick's character arc itself. Both suffer from the weak and fuzzy pacing. However, Casablanca presents a fascinating world. There's enough intrigue and mystery in Rick's motivation that his weaker character development can be forgiven as a byproduct of hiding his true intentions. Alongside the tension created by this mystery, the fantastic and engaging dialog makes it hard not to be endeared to this movie. As a whole, Casablanca is a well told if flawed story about the importance of a cause and the casualties such a cause can create.