How to Train Your Dragon (2010): The Movie Structure Archives
Genre: Fantasy/Adventure/Coming of Age
Writer: William Davies, Dean DeBlois, Chris Sanders
Director: Chris Sanders and Dean DeBlois
Outline:
Act 1 (1%-25%)
Hook: Dragons attack the village of Berk and we are introduced to our main character, the young Viking Hiccup.
Inciting Event: Hiccup tries to kill a dragon with a ballista he's built and knocks one out of the sky and into the forest.
Key Event: Hiccup's father, the village leader Stoick, agrees to enlist Hiccup in Dragon Training while he leaves Berk on a hunt for the Dragon's Nest
1st Plot Point: Hiccup ventures into the forest to find the dragon, realizing it is a wounded Night Fury, one of the most vicious dragons. He tries to kill it and bring it back as a prize to prove his worth, but cannot bring himself to do so, instead freeing it from the ropes that have trapped it.
Act 2 (25%-75%)
Hiccup struggles in Dragon Training, failing to attack the dragons pitted against him, and he is harassed by the other students.
Hiccup goes into the forest to feed the wounded Night Fury and learns that he's wounded its tail and it cannot fly. As he continues to feed and coexist with it they begin to trust one another.
1st Pinch Point: Hiccup is almost killed by a dragon in Dragon Training, reminding him how dangerous these creatures are.
He applies the things he has learned from the Night Fury to subdue dragons in Dragon Training, gaining the approval of most of his peers, except for Astrid.
Midpoint: Hiccup, with the use of a fake tail fin, flies with the Night Fury, which he has now named Toothless, and realizes how misguided the Viking's hatred of dragons is.
Out of frustration with being shown up by the previously weak Hiccup, Astrid follows him and discovers Toothless, Toothless attacks her but Hiccup calms them both and ends up taking Astrid on a ride flying around Berk to show her how great dragons can be.
2nd Pinch Point: Toothless takes Astrid and Hiccup to the Dragon's Nest, where they realize the dragons are taking their kills to feed a massive mother dragon, the Red Death, that will eat them if they fail to provide for it.
Upon returning home, Astrid tries to convince Hiccup to tell Stoick about the Dragon's Nest, but Hiccup convinces her to keep his secret just a bit longer while he develops a plan to protect Toothless
Stoick returns from the expedition to find the Nest, having failed to do so, but it overjoys him to hear how well Hiccup has been doing in Dragon Training and enlists him in a final test to kill a dragon in the ring. If Hiccup succeeds, he will have proven himself as a Viking and gained his father's pride.
3rd Plot Point: Instead of killing the dragon in the ring, Hiccup tries to tame it and prove dragons aren't evil, but Stoick instead enrages the dragon when trying to force Hiccup to kill it. Hearing Hiccup in danger, Toothless flies to the rescue and subdues the other dragon but reveals himself in the process, being captured by the villagers.
Act 3 (75%-100%)
In trying to explain his relationship with Toothless, Hiccup reveals that Toothless led him to the Dragon's Nest, prompting Stoick to set out with the whole village to force Toothless to lead them there as well. During this conversation, Stoick disowns Hiccup.
Climax: Led by Stoick, the Vikings reach the Nest and attack it, waking up the Red Death. Meanwhile, Hiccup and the other kids from his class realize they must stop them and Hiccup helps them tame dragons of their own. He and the other kids fly in on their dragons to stop the Red Death and save the other Vikings.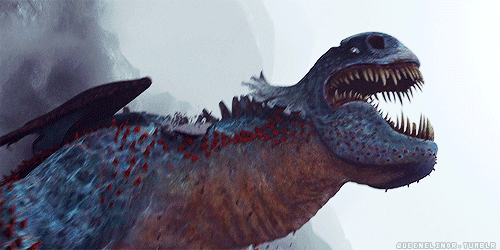 Climactic Moment: Hiccup reunites with Toothless with the help of Stoick, who apologizes for failing to listen to Hiccup's warnings. With Toothless's help, Hiccup lures the Red Death into the clouds and attacks it, defeating it by using his newfound knowledge of dragons. In the process, Hiccup falls off Toothless and Toothless's prosthetic tail fin burns up, preventing him from flying properly. Toothless saves Hiccup, but not without a sacrifice.
Resolution: Hiccup wakes up back in Berk with Toothless in the room. It confuses him before he remembers what happened. He looks down and realizes he has a prosthetic leg, having had his bitten off by Toothless when he kept him from falling to his death. Going outside, Hiccup is welcomed by the Vikings, who have learned to tame dragons of their own. Hiccup has gained acceptance and proven himself to his father in his own way.
Characters:
Character 1: Hiccup
Hiccup begins his arc struggling to meet the expectations of his tribe and his father, who pride strength and killing ability, while Hiccup is physically weak and more interested in engineering. He tries to model the aggressive behavior expected of him but fails to do so, feeling isolated and unwanted.
As Toothless becomes a greater part of Hiccup's life he begins to accept his own ingenuity and kindness, seeing how well Toothless responds to it. He realizes he can use these new skills Toothless has taught him to subdue other dragons and gain his tribe's approval, but he is still hiding Toothless and his true relationship with dragons.
At his lowest point, Hiccup is reminded that the true test of his society is to kill a dragon and that he is incapable of doing so. In attempting to prove that dragons aren't evil the tribe discovers his secret, and he is disowned by his father, losing Toothless and his family all in one.
However, the high point of his arc is his refusal to submit to his father's will, trusting his instinct and teaching his peers to ride dragons like him. Using his knowledge about dragons and his new leadership skills he saves the Vikings from the Red Death and gain his father's forgiveness and appreciation. He has proven that his traits are worthwhile, even preferable to the aggression expected of him, and his tribe whole-heartedly embraces dragons after this incident.
Character 2: Stoick
Stoick's arc is a mirror of Hiccup's as the two are intimately tied together. Stoick begins his arc struggling to mold his son in his image, trying to build Hiccup into the Viking leader Stoick thinks he needs to be. Stoick loves Hiccup, but fails to recognize the value of his skills.
Stoick becomes progressively more proud of Hiccup as Hiccup subdues more dragons in Dragon Training, but this pride is based on deceit, as Stoick believes this is a sign of Hiccup adopting the aggressive Viking way he has always wanted for him. In reality, Hiccup is learning to accept the dragons.
Stoick's lowest moment coincides with Hiccup's. Stoick disowns Hiccup because he feels betrayed, and that Hiccup has become the exact opposite of him. He thinks of Hiccup as antagonistic to his values by protecting dragons when dragons are responsible for so many Viking deaths.
Stoick's arc comes full circle when he realizes the value of Hiccup's knowledge and that Hiccup is as concerned with the safety of the tribe as Stoick is. Stoick saves Toothless on behalf of Hiccup, enabling the thing he hated most about his son, because he now sees past his hatred. He helps the village of Berk cohabitate with the dragons alongside Hiccup and the other kids.
Theme: Learning to understand differences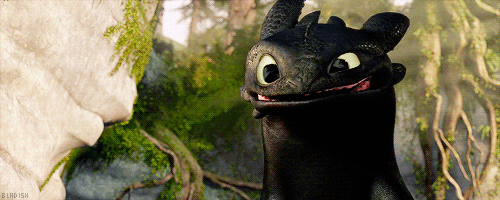 This theme ties into all aspects of both Hiccup and Stoick's journey, as well as the broader journey of the entire village of Berk. Hiccup and Stoick start out struggling to understand one another because of their different strengths and values, an extension of this being Hiccup's struggle to understand Toothless. However, as Hiccup improves at this, his overall condition improves and it provides him with skills he can use to gain his tribe's acceptance. For both characters to attain their goal of a happy father-son relationship they have to learn to value each other's differences and the differences presented by the dragons. Upon doing so, the village of Berk is transformed, no longer living under the shadow of dragon attack but in harmony with dragons, and Stoick and Hiccup have found the ability to communicate with one another again.
Because of the tight pacing, every beat of the plot corresponds with the theme. Hiccups actions push him forward on a journey to understand the differences presented by Toothless, to understand his own differences, and to understand his father's true nature. Stoick's journey progresses similarly as was discussed under his character arc. To complement these two, we have the moments with Astrid and the other students, who struggle with respecting each other's differences until the climax where they learn not only to accept Hiccup and the dragons but also to work together to achieve a common goal.
Most the symbolism in this movie deals with the interpersonal relationships Hiccup has. The tail fin he builds for Toothless provides a greater connection to Toothless, and the mirror of his prosthetic leg after the Climax provides a sense of coming full circle for this relationship. Just as Hiccup wounded and then healed Toothless, Toothless wounded and then healed Hiccup both physically (with the leg) and emotionally (with Hiccup's self-acceptance). The other major symbol is the Viking helmet given to Hiccup by Stoick, representing Stoick's hopes and dreams for Hiccup. In setting this aside during the 3rd Plot Point, Hiccup is giving up his illusion of fitting Stoick's mold. In a great moment of synergy, Stoick loses his own Viking helmet when he saves both Hiccup and Toothless during the final battle, showing how he has given up his old rigid identity.
Pacing:
As was mentioned, the pacing in this movie is tight. Each scene pushes the story forward meaningfully, and there is little fat to trim here. Each scene corresponds to a major character's arc, an important moment of symbolism, or a thematic moment, and many scenes demonstrate multiple of these. However, the movie also takes time for light and playful moments, a benefit of growing Toothless and Hiccup's relationship. This leaves the audience with an enjoyable ebb and flow to the pace, with periods of a faster pace and higher tension spread out by slower, more relaxed moments. This pace picks up to a rapid pitch approaching the Climax, as it should, and the Resolution provides an enjoyable catharsis as a result.
Conclusion:
This is a great movie (even beyond my personal love for Toothless's dopey grin!). It makes great use of its characters to show its theme, and the character arcs are well rounded and enjoyable. There is little fluff here, and the result is a movie that's engaging from start to finish, well-paced, and well worth watching multiple times.