5 Ways to Promote Your Novel Before It's Published
When is the best time to promote your novel?
The short answer is—now. Most book marketing experts recommend you begin marketing at least six months before your novel's release, preferably even more. Promoting your book prior to publishing it can help generate anticipation and drive pre-order sales, which are all vital to a successful launch.
Fortunately, a solid pre-launch marketing strategy takes the pressure off your launch date by priming your readers in advance. But how can you market a book that isn't ready to be read? Well, here are five easy ways you can generate buzz for your novel before it's published!
_______________________________
Before we dive into today's article, I'd like to welcome Bonnie Baguley to the blog!
Bonnie is the mind behind WildMind Creative, where she helps writers master everything from self-publishing to book marketing. I hope you'll visit her site, and check out the post I wrote for her while you're there: How to Plot Your Novel Without a Formula 🙂 – Lewis
_______________________________
How to Promote Your Novel Before It's Published
Create Your Author Website: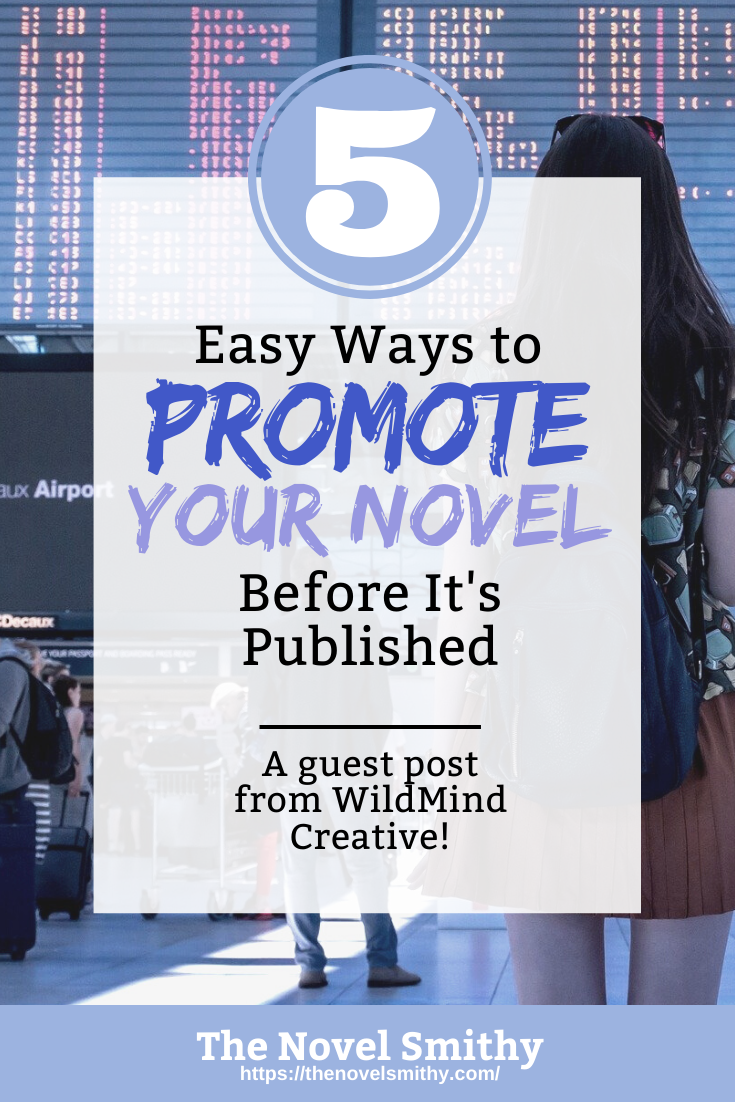 Back in the day, the sole job of an author was to write their book. After this, once accepted by a publisher, the work of publishing and promoting was out of their hands.
Those days are over.
Today's writers are expected to build their own promotional platform, beginning with an author website. Your author website is the hub of your online book marketing, essential for connecting with your readers, building your email list, and ultimately selling your books.
An effective author website can help build your author brand and your credibility. It should convey some of your personality and appeal to readers in your target market.
If you don't have a site, then begin with a simple design—there are some fantastic templates available through Squarespace, WordPress, Wix, or Weebly. Use a self-hosted domain. Having your own dot.com site is the first indication to your readers that you're a professional author, and for a small cost per year it's a worthwhile investment. Preferably your URL will be your author name, but if that's taken you can use your name followed by "author" or "books."
An author website should, at the very least, including the following pages:
If you want to get even more from your site, consider adding pages for your blog, upcoming events, and an email sign-up. Begin with the basics and add to your site as your writing career evolves.
If you already have an author website, then now is the time to update your site to reflect your upcoming releases. Consider adding a regularly updated blog or events page to build anticipation for your launch.
Build an Email List:
With everyone jumping on the podcasting wagon and raving about the latest Instagram trend, you might think that it makes sense to focus all your book marketing efforts on social media. However, it's a mistake to think that stories and tweets are the only way to reach your readers.
An email list remains one of the most powerful marketing tools for authors.
It offers a direct connection to your readers without relying on ever-changing social media platforms or third parties. It can drive author website traffic, let readers know about your upcoming book launches, and boost book sales. It's versatile, low-cost, and able to be (mostly) automated.
So, how to begin?
Before you start collecting your readers' email, you need to set up a way to manage, sort, and sent to those addresses. This is where an email management platform comes in. There are plenty available, and many have low cost or free options—popular choices include MailChimp, ConstantContact, Convertkit and AWeber.
To collect emails via your author website, create a sign-up form for your readers to fill out linked to an irresistible opt-in. This could be a free short story, a book, or exclusive content. Make it something that appeals to your readers. As your email list grows, stay in regular contact with your readers and make it worth their while to stay subscribed. Keep your emails brief, interesting, and full of updates about your upcoming book launch.
Launch a Social Media Campaign:
With an estimated 2.95 billion people using social media annually, it's fair to say that social media has changed the face of book marketing and how readers buy books. If you're taking your author career seriously, then you probably already have an active presence on a social media platform.
If not, then now is the time to get started!
Resist the urge to be everywhere at once and instead focus your efforts on just one or two social media platforms, prioritizing those where your readers are most likely to be. Make sure your profiles are set to business accounts and update your profile photo and bio to reflect your upcoming release.
While social media should be a regular part of your book marketing routine—as well as a way to stay in touch with your readers and fellow authors—it's best to create a specific social media campaign in the lead up to your launch date.
To do this, set a schedule with key dates, including:
Advanced Reader copies available (3-6 months before launch)
Launch day announcement (2-3 months before launch)
Cover reveal (1-2 months before launch)
Pre-order sales go live (2-3 weeks before launch)
Countdown to launch posts (1 month before launch)
Launch date!
Add in any other promotions you have planned in the lead up to your launch, and plan out what content you are going to post at these times—some ideas include book quotes, your blurb, character descriptions, advanced reader copy reviews, and giveaways. Your content doesn't have to be complicated, it just has to speak to your readers. Set a schedule that is consistent but easy-to-maintain.
Resist the urge to be everywhere at once. Focus your efforts if you want to succeed. #bookmarketing
Click To Tweet
A note here—don't forget that social media is a two-way street.
Treat it like a conversation rather than an announcement platform. Don't spam your followers with promotional messages. Focus on building connections with your readers and posting content that they will find valuable. This can mean asking questions, revealing interesting "behind the book" stories, or compiling posts that they will enjoy. Keep it fun and interactive.
Plan for Upcoming Events:
Now is the time to set out a marketing events calendar for any events you would like to organize around your launch. 
Consider book blog tours, podcast interviews, live events, guest blog posts, bookstagram tours, and launch parties. Get in touch with these organizers, interviewers, bloggers, and bookstagrammers to set up promotional opportunities ahead of time. Resist the urge to spread yourself too thinly and instead concentrate your efforts on a few events that will work best for you and your readers.
Put Together Your Media Kit:
Your press kit is basically a ready-made information package that you can make available to any blogger, podcaster, book reviewer, indie bookstore, or journalist that wants to feature you. This makes their job easier and gives you a professional edge.
Here are the main components of an author press kit:
Your Author Bio: Your author bio should be concise and compelling. Write it in the third person and keep it informative and relevant to your book. Consider having both a short (100-200 words) and long (400 word) version available.

Your Contact Information: Include your full name, email address, and links to your online platforms such as your author website and social media.

Professional Photographs: An author headshot and any other professional photographs you intend to use for promotions, as well as any book cover images.

A Media Release: Keep your media release concise and attention-grabbing. Give a summary of your book, the launch date, and a snippet about your background. Give it a unique angle to make your book stand out.

A Sample Q&A Session: Giving potential interviewers some ideas for suggested questions and answers will make them more likely to feature you.
This Is Just the Beginning
Of course, this is just the beginning of promoting your novel. You might want to also consider setting up pre-orders, establishing a street team, running swag giveaways, or even using paid advertising.
However, you don't have to do everything.
Stick to a promotional schedule that you can maintain and review what is working so you can tweak your approach for next time. Remember that book marketing is a long-term game and often the gains come from consistent marketing and gradually building up your backlist of books, rather than short-term promotional blasts.
Take the time to create your book marketing strategy and be consistent with it in order to give yourself the best chance of achieving author success!
How will you promote your novel? Let me know in the comments!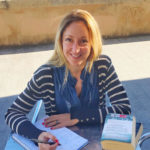 Bonnie Baguley is an author, marketing mentor, and the founder of WildMind Creative, a site dedicated to helping authors write, publish and promote their books
She lives in southern Spain, where she divides her time between writing and exploring picturesque villages. You can find more on the WildMind Creative website, or check out her book, Instagram for Authors, on Amazon.