Shane (1953): The Movie Structure Archives
Genre: Western
Writer: A.B. Guthrie Jr.
Director: George Stevens
Outline:
Act 1 (1%-25%)
Hook: A lone rider travels into a lush Western valley, arriving at a small homestead. He's introduced as Shane and meets Joe Starrett, his wife Marian, and their son Joey. While playing with a gun, Joey startles Shane, who reflexively moves to draw his pistol.
Inciting Event: In the distance, a group of cowboys approach. Starrett turns on Shane, assuming he's one of "Ryker's boys," but Shane explains he doesn't know them, he's just passing through. Starrett insists that Shane leaves, and he does.
The cowboys enter Starrett's homestead and their leader, Ryker, threatens Starrett to leave the valley before Ryker runs them out by force. He plans to graze his cattle in the valley, and has no space for the homesteaders.
Key Event: Shane returns during this confrontation and identifies himself as a friend of Starrett's. As thanks for the support, Starrett apologizes for mistaking him as one of Ryker's men and invites him inside for dinner.
During dinner, Shane learns of Ryker's campaign to intimidate the local homesteaders and take the whole valley for his cattle operations. Starrett offers Shane a job on the homestead.
1st Plot Point: Shane decides to stay and help Starrett.
Act 2 (25%-75%)
A local homesteader arrives a few days later to warn Starrett he's leaving the valley because Ryker has destroyed his crops. Starrett convinces him to stay, promising to get the local homesteaders together to discuss the issue.
1st Pinch Point: Meanwhile, Shane arrives at the general store to pick up supplies for Starrett. When Shane goes to buy Joey a soda at the bar, one of Ryker's men named Calloway harasses him. Shane refuses to rise to the bait and leaves.
At the homesteader's meeting, Shane is introduced to the rest of the locals but feels unwelcome and leaves. Starrett and the others make plans to go into town as a group for safety, and Marian warns Joey not to get too attached to Shane, as she doesn't believe he'll stay very long.
Midpoint: Shane, Starrett, Marian, and the rest of the homesteading families go into town to buy supplies together. Shane returns to the bar to trade in the bottle from the soda be bought and Calloway harasses him again. This time he strikes back and a fight ensues. Starrett comes to Shane's aid as the fight gets worse and the two win, but Ryker warns them that the next time they meet, "the air will be filled with gun smoke." Ryker sends one of his men to hire a gunslinger in a nearby town.
Ryker's men go on a campaign of killing local homesteader's livestock and threatening their families.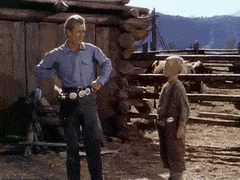 Shane is caught teaching Joey about guns by Marian, who scolds him, telling him guns will not be a part of her son's life. He counters that guns are only a tool, and aren't inherently evil. In his past he was a skilled gunfighter, but gave up that life.
2nd Pinch Point: The local homesteaders are celebrating together at a large gathering. When Shane, Starrett, and his family head home for the night, Ryker is waiting at their homestead with his hired gunslinger, Wilson, to offer Starrett and Shane a job working for him. Both refuse, and Ryker warns them they'll regret their choice.
3rd Plot Point: Two of the local homesteaders go into town without the larger group. Wilson picks a fight with one of them, named Torrey, and kills him.
Act 3 (75%-100%)
At Torrey's funeral, Starret rallies the other homesteaders after Ryker sets fire to one of their houses in the distance. Ryker decides that Starrett, as the leader of the homesteaders, must be removed from the picture. He sends one of his cowboys to trick Starrett to come into town.
Starrett decides to go alone to town to kill Ryker, and is further convinced when three of Ryker's men show up with Ryker's message. Marian tries to convince him not to go. Meanwhile, Calloway, the cowboy who harassed Shane earlier on, is ashamed of everything that has happened. He comes to warn Shane that Ryker intends to kill Starrett.
Climax: Starrett goes to leave for town, but Shane stops him. When he resists, Shane knocks him unconscious. Marian is distraught at everything that has happened and tries to convince Shane not to leave either, but Shane leaves for town anyways. He hasn't gotten away from his past and has decided to fight to protect the homesteaders.
Climactic Moment: Shane reaches town with Joey following him and enters a shootout with Ryker and Wilson. He wins the shootout, killing both men.
Resolution: Shane explains to Joey that he can't stay any longer, that he can't get away from his past or from the memory of killing. He asks him to tell Marian that the homesteaders are safe now and all the guns are gone from the valley, just like she wanted. Joey realizes that Shane has been shot, but Shane rides away anyways, back into the mountains he came from.
Characters:
Character 1: Shane
While present, Shane's character arc is understated in this movie, and focuses largely on his handling of his past, which remains a mystery to the audience throughout.
At the start Shane, is actively working to avoid his past. He is closed off and unwilling to defend himself, presumably for fear of regressing into violence. Despite this, he proves himself to be kind and mild-mannered, and gains the trust and support of Starrett.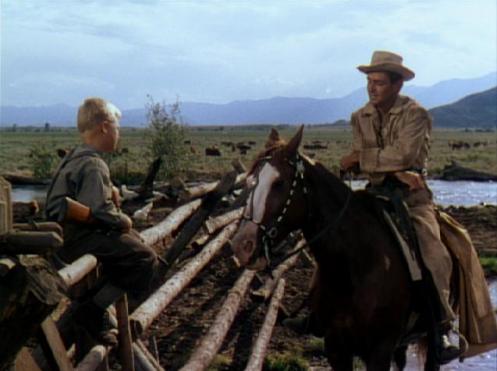 However, as the film progresses, Shane becomes increasingly involved in the dispute between Ryker and the homesteaders. Yet, when he finally becomes physically involved, it's to protect his own personal image. He struggles with his own issues about his past as a gunslinger, compounded by Marian's clear distrust and dislike of guns. He isn't sure whether to defend them or accept her outlook.
Shane's arc culminates in him returning to gun fighting, but not for his own self-interest. Instead he's become attached to Starrett and Marian, and kills Ryker and Wilson to protect them. He started the movie running from his past but was ultimately forced to accept it. To Shane this is a failure but in terms of his arc it's a success. He rides back into the mountains having fought for something above himself and proved himself to be an honorable person as a result, even if he failed in his own personal goal.
Theme: Honor
Throughout the film, issues of honor come up for every character in their own ways. Starrett views the homesteaders as honorable in their claim to the land. Marian views peace and civility as honorable. Ryker himself thinks his defense of his claim and his cowboy's livelihoods as honorable, even with the violence that requires. These viewpoints come into conflict as the movie progresses, making the interactions between characters fundamentally about their competing perceptions of what is honorable.
Overall, Shane exemplifies this theme most clearly. He struggles with his own honor throughout the movie, first trying to hide from past transgressions to live a more peaceful life. However, as the movie continues, he feels his honor is being attacked on all sides, either by those who think he's a coward or those who think he is overly violent, depending on their own viewpoint. He ends the movie having found honor in the audience's eyes, using his skills to protect the homesteaders and end the conflict.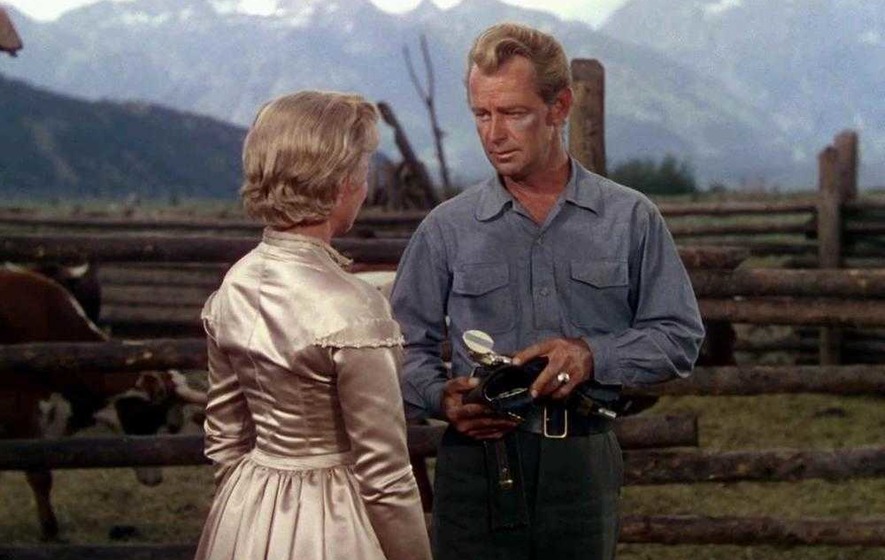 In the same way that honor ties into the character's interactions, it also ties directly into the plot. Because the movie is fundamentally about Shane's journey, his struggles with his own honor define the progression of the plot. His early convictions not to become involved are constantly challenged by his more honorable side that sees the injustice being committed by Ryker. Ultimately, Shane's shootout with Ryker and Wilson resolves both the conflict, and the question of Shane's honorability for the audience.
In terms of symbols, the movie mainly focuses on Shane's gun and his gunslinger outfit. Both mark him as "other," an outsider among the homesteaders. He sheds both of these things after moving in with Starrett, but returns to them slowly as he becomes more involved, starting with his gun. At the Climax, Shane puts back on his gunslinger outfit, shedding his working clothes, marking his return to his past. The other symbols of the film rest primarily in the settings used, with the general store meaning danger and Ryker's territory, while the homesteads are used to cement the homesteader's idyllic, peaceful ideal.
Pacing:
The pacing of this movie starts off fairly slow, and remains that way throughout. This might seem unusual to many, as modern Westerns are often associated with gunfights and action, but even the fight scenes in Shane seem to unfold at a leisurely pace. This lets the audience really sink into the world, but is largely up to personal preference. Some may find it drags out scenes too long, while others might enjoy the chance to absorb the surroundings. In terms of storytelling, Shane hits all of its plot point consistently, spacing them out enough to maintain the slow, consistent speed found in its individual scenes. There is very little speed up at the Climax, though there is some.
Conclusion:
Overall, this is an excellent Western that focuses more on character moments than action or shootouts. It makes for a slow and reflective movie about violence and its purpose in our lives. The characters are tremendously likable and their motivations are clear and compelling. Even Ryker's viewpoint is given time to be elaborated on, which is a great benefit to the overall movie as it makes him feel like a real person, versus a flat villain. Some may dislike the slow pace, but I feel it benefits the overall story.
However, it's definitely a film that shows its age! Some of the acting feels stilted and strange (Joey in particular stands out) and the pace would likely be unwelcome among the flashy Westerns (or broader action movie genre) of today. Despite this, I find it refreshing. It's nice to see a Western that doesn't bask in the violence that's so much a part of the genre. I can definitely see why Shane defined so many of the Westerns that succeeded it.