How the Hero's Journey Made Star Wars a Modern Myth
Myths occupy a special place in human history.
Not only do myths shape our worldview and sense of community, but they stick with us for generations after their creation. To this day stories of Thor, Anubis, Beowulf, and many others are preserved and shared, despite being centuries old. Unfortunately, many people feel the days of mythology are over, and it's easy to understand their view—the old myths they're used to aren't being created today.
However, that doesn't mean none are being created. While it might be hard to imagine, George Lucas' Star Wars has slowly grown and evolved into a modern myth of its own, thanks in large part to how Star Wars uses a generations-old story—the Hero's Journey.
What Makes Star Wars a Myth?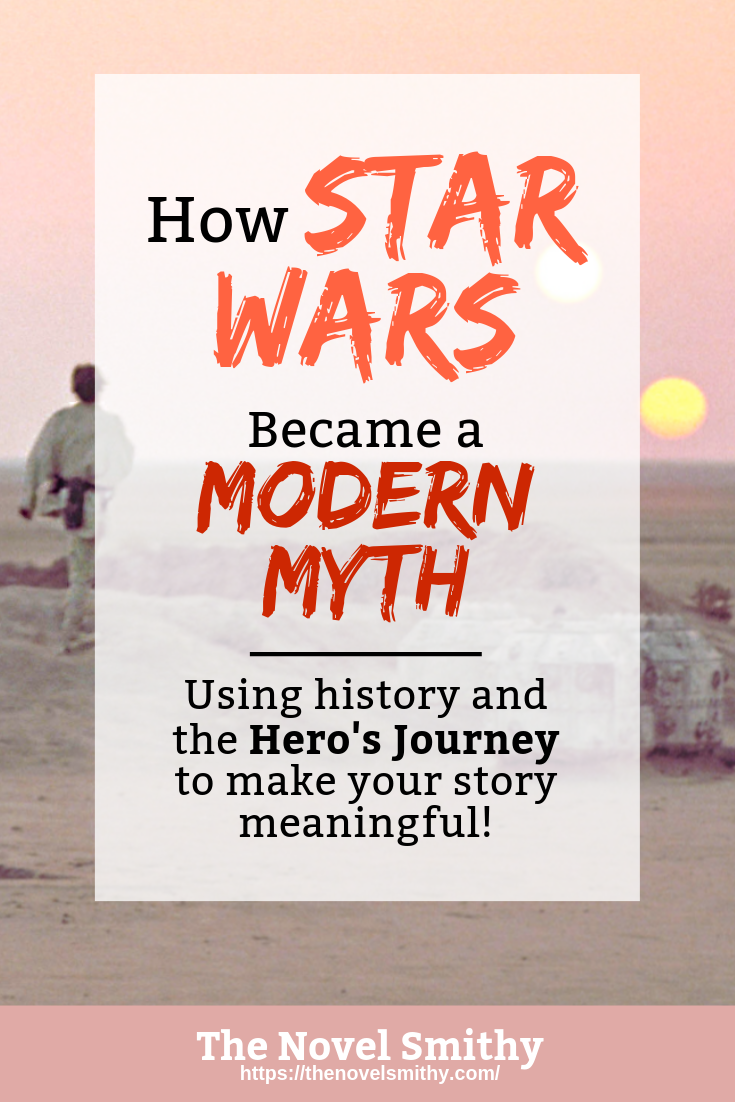 To understand what makes Star Wars a modern myth, it would help to know what myths are in the context of the Hero's Journey.
In the broadest sense, myths are simply stories passed down throughout generations as a way of creating a collective culture.
Myths are how we process and remember our history, connecting the traditions and beliefs of the older generations for the younger ones.
Even though they were fictionalized, myths contained lessons and snippets of real history that gave that culture a sense of unity. This means that, not only do myths make great stories, but they're essential parts of our identity.
This might seem weird in the modern world.
After all, these days we have history textbooks and museums to document our past for the next generation. But you have to remember that storytelling began in communities where memory was the only way to preserve history.
When humans lived without writing, myths were a critical part of the oral tradition. They were how we kept track of history, because they were far easier to remember and pass down around the fire than a stale recounting of events. Think about it. How much of that history textbook you read for 11th grade World Civilizations do you actually remember?
I have a degree in History, and even I barely remember any of those dry textbooks! 😛
The Shape of Modern Myths:
Still, despite developing written language and shifting into a world where historians remember our history for us, modern myths still play a similar role as they did in ancient societies. They've simply shed the fantastical settings and plots driven by angry gods and demons, replacing them with stories of a more historical nature:
Myths of "The Great Wars" (World Wars I and II) help shape modern ideas of Western unity. According to these stories, the United States and Europe faced a deadly conflict together and came out on the other side culturally and militarily unified.
American Westerns and myths of the American Revolution shape how the United States views its founding and later expansion. In these stories, the US was "destined" to conquer North America.
While both of these examples are US-centric (mostly because I'm from there), every nation and culture has stories like these that define their national identity. Whether these cultural narratives are justified or even historically accurate isn't important, and often they aren't. What is important are the values and identities they pass on to each generation.
Myths aren't limited to nations or cultures either.
Almost every family and friend group will have unique myths of their own.
When you grow up being told stories about your grandmother immigrating to a new country, struggling to establish herself, and eventually discovering a better life, you're preserving a family myth. Likewise, when your friend group reminisces about past exploits and adventures, you're passing on myths unique to that group.
In both of these instances, these personal myths serve the same function as the ancient myths full of strange beasts and gods you traditionally think of—they're creating a sense of shared history and identity.
Essentially, a culture.
How Star Wars Became a Modern Myth
Much like Zeus or King Arthur, the adventures of Luke Skywalker didn't stop after a single generation. Kids today still watch Star Wars with their parents, whose own parents were exposed to it during college before eventually sharing it with them.
As each successive generation experiences Star Wars' story, they create a sense of shared history and values. It begins with friend groups, before becoming a family tradition, before evolving into a cultural phenomenon.
Now, with the new Disney sequels, the world of Star Wars is further cemented in our collective culture.
Just as the stories of Hercules passed on lessons about strength, Luke's journey teaches us to value redemption and selflessness. These values become ingrained in us the longer Star Wars remains a cultural icon, slowly but surely turning Star Wars into a myth in it's own right.
Of course, many people wouldn't think of Star Wars as a myth at first glance. To them, myths are full of harpies, hydras, and giants. Even if they understand the historical side of myths we explored above, Star Wars just doesn't seem to fit the bill.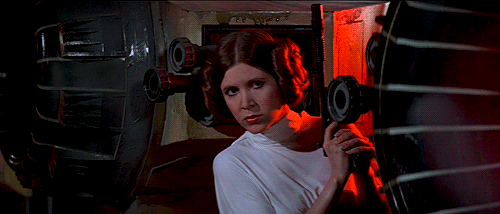 Until you look closer.
You see, the common thread in these myths is something called the Hero's Journey.
Developed by Joseph Campbell in the 1940s, the Hero's Journey is a monomyth, a common storytelling structure found in almost all mythology. It plays on common patterns of growth and change, focusing on questions we all ask at some point:
What's my purpose?
What will it mean to grow up?
What else is out there?
What does it mean to die?
I did an entire article on the structure of the Hero's Journey awhile back, but put simply, the Hero's Journey follows a character as they grow up, leaving their ordinary world after being called on an adventure. They'll face a series of trials before overcoming a major ordeal, eventually returning home to give their new knowledge, skills, and experience to their community. In the process, they not only grow wiser and stronger, but better their society as a whole.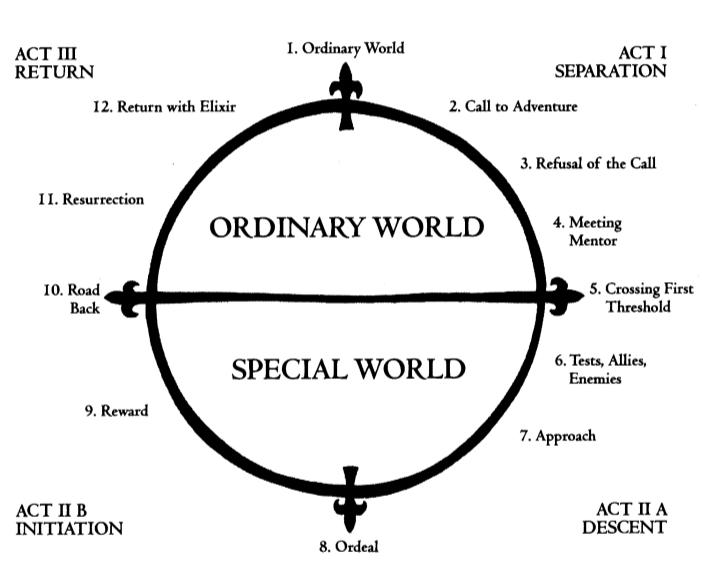 Star Wars and the Hero's Journey
The Ordinary World:
Luke is a farm boy on Tattooine with his aunt and uncle, dreaming of bigger things. He's childish, a bit whiney, and very naïve. Essentially, he hasn't grown up yet.
The Call to Adventure:
Luke meets Obi-Wan Kenobi while trying to find R2-D2, and Obi-Wan offers for Luke to join him on a quest to save Princess Leia and become a Jedi, like his father was.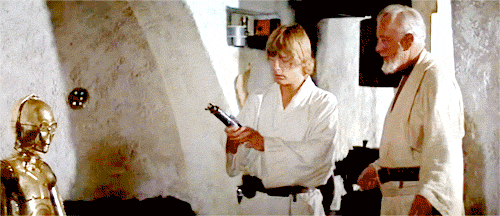 Overcoming Resistance:
Luke refuses Obi-Wan's offer, unable to confront a change that massive, until he returns home to find his aunt and uncle have been killed by Stormtroopers.
Crossing the Threshold:
Now with a personal reason to hate the Empire, Luke sets out with Obi-Wan to find a ship that can take them to Alderaan. Here they meet Han Solo and Chewbacca, and ultimately escape Tattooine into open space.
Tests and Trials:
Most of the rest of the original trilogy focuses on Luke's tests and trials. These tests are there to push him out of his old life and show him how flawed his world actually is. For instance, he helps the rebels destroy the first Death Star, trains with Yoda on Degobha, and fights Darth Vader in Cloud City. Those are only a few of his trials, but they all mark major moments of growth for Luke as a character. His worldview is changing, and he's being forced to sort out what he does and doesn't believe in.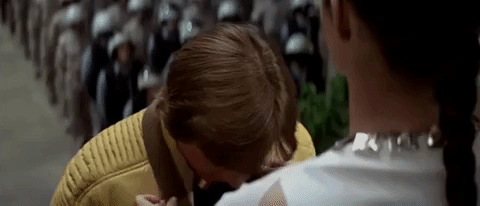 The Major Ordeal:
For Luke, his greatest ordeal is facing Darth Vader in combat, only for it to be revealed that Darth Vader is in fact his father. This deeply shakes Luke's views, both of himself and his world, but it's also a moment of growth. Luke knows the truth now—he has both a dark side and a light side, and must attain mastery of both. It's one of the most defining moments in cinematic history for a reason.
The Road Back:
Luke learned a critical lesson during Darth Vader's reveal and has gained a new mastery of the force, thanks to his recognition of his own Dark Side. Meanwhile, the Rebellion is preparing a final attack to end the Empire. They go to Endor to destroy the new Death Star's shields while Luke travels to the Death Star alone on his own mission. He surrenders himself to Darth Vader and the Emperor to get closer to his goal.
Mastering the Journey:
After Luke surrenders himself, the Emperor reveals the trap he's set for the Rebellion, and promises to make Luke watch as he destroys his friends. He wants Luke to give into his hatred and go over to the Dark Side, but Luke is stronger thanks to his journey. He declares himself a Jedi just like his father, and helps redeem Darth Vader, who ultimately kills the Emperor before he can harm Luke.

Returning With the Elixir:
Luke and the Rebellion survive, putting an end to the Empire and bringing back peace to the galaxy. Luke puts Darth Vader's spirit to rest, allowing him to join is old friends and Jedi masters (Obi-Wan and Yoda) as a spirit. The force is back in balance.
How Mythology Impacts Your Novel
Ultimately, the Hero's Journey plays a big role in what makes Star Wars an enduring modern myth. Luke's journey from childish naivete to adult wisdom is something we all experience and is central to Campbell's monomyth.
Even George Lucas acknowledged the importance of the Hero's Journey in his creation of Star Wars:
"In the three decades since I discovered The Hero with a Thousand Faces, it has continued to fascinate and inspire me. Joseph Campbell peers through centuries and shows us that we are all connected by a basic need to hear stories and understand ourselves. As a book, it is wonderful to read; as illumination into the human condition, it is a revelation." – George Lucas
However, you don't have to be George Lucas to use the best aspects of Star Wars to your advantage. Anyone can write a story with the same level of cultural impact and enduring presence by keeping a few things in mind:
The Hero's Journey:
The Hero's Journey provides a great blueprint for your story's progression that you can then remix and make your own by introducing unique ideas. This is really what defines Star Wars as a myth. However, this requires a solid understanding of Campbell's monomyth first, more than I can cover here.
Check out these two posts for way more detail:
Using Your Theme:
Much of Star Wars' enduring success is because it touches on universal fears every generation will experience. So don't shy away from big questions about life, death, meaning, and faith in your work. At the same time, be subtle about it (Star Wars doesn't hammer you over the head with monologues about courage, after all).
By allowing your characters room to explore and experience these anxieties, your audience will not only share those fears, but more deeply empathize with your cast as a result.
Cultural Values:
Star Wars embodies the values of the culture and time Lucas created it in, as all myths do. After all, that's a big part of what makes them myths in the first place!
If you want your story to fulfill the same purpose, then you need to reflect on and drill down into the shared values of your culture, whether you're targeting your story at an entire nation or a smaller cultural group. Does your society value power, aggression, diplomacy, generosity, independence, or community? There are a thousand variations to work with, so this will be something personal to you and your cultural identity.
A Sense of History:
Beyond the Hero's Journey, Star Wars' success was shaped by its sense of history.
Much like Tolkien's experiences in the World Wars influenced The Lord of the Rings, George Lucas conceived of Star Wars during the Vietnam War and the subsequent protests that rattled American society. There were a lot of questions about justice, rebellion, democracy, and power in those years, and Lucas channeled all of those into what became Star Wars.
"It was really about the Vietnam War, and that was the period where Nixon was trying to run for a [second] term, which got me to thinking historically about how do democracies get turned into dictatorships? Because the democracies aren't overthrown; they're given away." – George Lucas
This differs from writing historical fiction, however. Star Wars isn't about the Vietnam War in the same way The Book Thief or City of Thieves are about World War II. Instead, Star Wars takes the common imagery and concerns of its recent history and turns them into a fantastical adventure, while still commenting on that history.
To make your story shine in the same way, you don't need to make it about a recent conflict, and probably shouldn't. After all, while myths are about our collective history, they're also escapism. Instead, let history inform your story, while giving yourself room to comment on the trials and experiences your culture has been going through.
My Hopes For Your Story
Now, I'll be honest—I'm a huge history geek. I'm the type of person who reads myths for fun, but then also reads a sociologist's account of what those myths say about their respective societies. On the nerd scale, I'm far up there. 🙂
Still, I hope that by unpacking what a myth represents I've helped reveal some secrets for how to make your story resonate with its audience. If myths have persisted as long as they have, it's safe to say they did something right in the storytelling department.
By leveraging the collective history and values of your own culture, I hope your story might one day rise into the same mythological pantheon.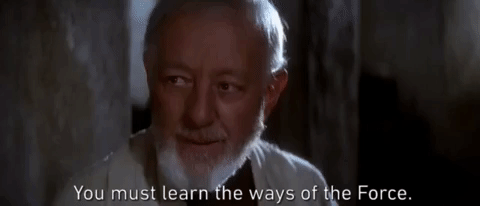 After all, much like the myths passed down around the campfires of old, full of harpies, hydras, and giants, Star Wars holds a special place in our world. It dwells on the fears and wonders of our modern society, while replacing dragons with space worms and kings with rebellion leaders who also happen to be princesses.
When you peel away the sci-fi settings and futuristic technology, what you're left with is a traditional myth. Yet, Star Wars still feels uniquely its own. Thanks to its sense of history and its willingness to dive deep into the experience of growing up and finding balance, Star Wars has and will endure for many generations to come.
Star Wars, then, really seems to be a modern myth.
How has Star Wars influenced your writing? Let me know in the comments!