The Character Creation Workbook is Here!
Welcome to my first ebook launch!
As you may have noticed, this is an extra post for the week. That's because I recently finished and launched my first ebook, The Character Creation Workbook, and I wanted to take a moment to introduce it to you!
This free ebook will help you as you begin sorting out the basics of the character creation process. It's designed to give you some essential foundation before adding more complex skills in later chapters—something hard to do in individual blog posts. Overall, it's a fantastic resource, one I wish I had when I first began learning about character development.
Note: Since I originally launched this ebook back in 2018, it's undergone some major revisions. Rather than being purely a workbook, it's since been refashioned into an in-depth character questionnaire. I hope you enjoy it all the same! 🙂 – Lewis, March 2023.
If you can't tell, I'm tremendously excited about this!
If you're already sold, you can sign up to get your copy right here. On the other hand, if you still need a bit more information, read on. I want you to be as excited as I am for this ebook, and what better way to do that than to share the introduction of the book itself!
The Character Creation Workbook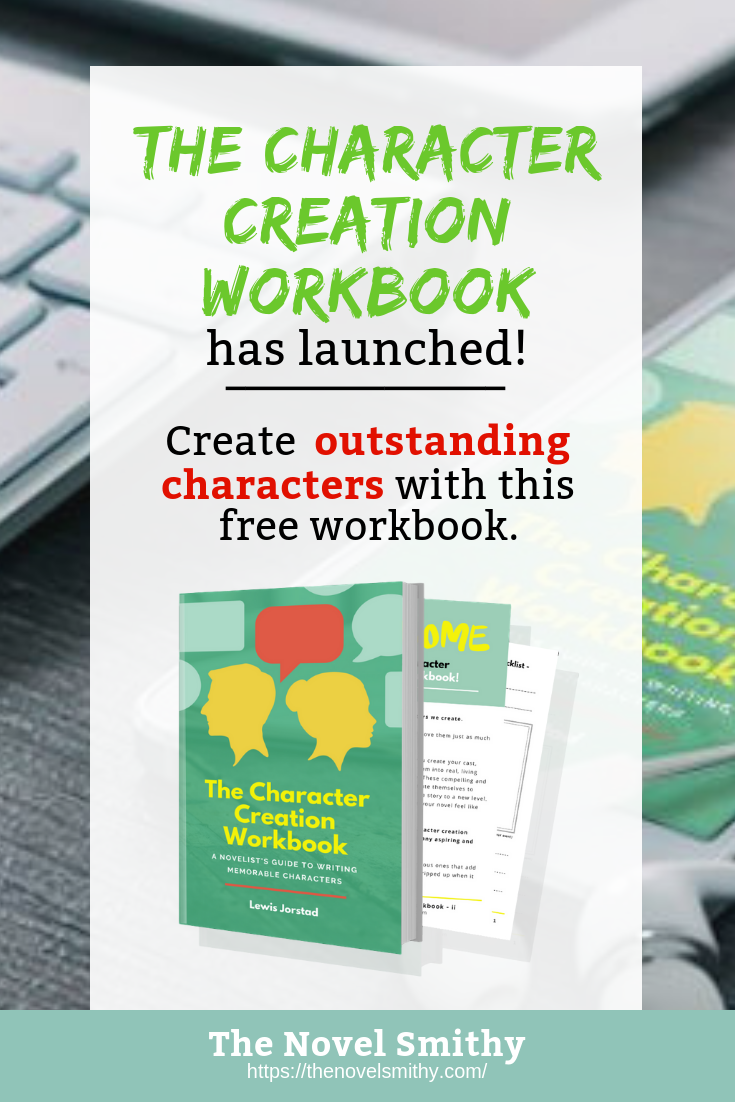 As writers, we all love the characters we create. But how do we know our readers will love them just as much as we do?
The key to this problem lies in how you create your cast, taking words on a page and turning them into real, living people in the minds of your audience. These compelling and memorable characters not only ingratiate themselves to your readers, but help bring your entire story to a new level.
A well-written cast of characters make your novel feel like the complete package!
However, with the importance of character creation comes a variety of common pitfalls many aspiring and even published authors fall into. Flat characters that go nowhere, extraneous ones that add bulk but no substance… It's easy to get tripped up when it comes to your novel's cast.
That's where this workbook comes in! Over the next five chapters I'll be walking you through the steps to help you create memorable characters while avoiding these common traps. At the end there'll even be a handy checklist for you to use as you flesh out your own cast of amazing characters!
What This Workbook Will Teach You:
How to use archetypes to eliminate extraneous characters.
How your protagonist's character arc will determine the story you tell.
How to create a meaningful inner conflict for your characters so your reader has a reason to cheer for them.
How to avoid writing a ton of backstory for your character, only to ruin your main story with it.
How using the right description for your character can make them stand out.
I'm so glad to have you join me, and I hope by the end of this you're just as jazzed about character creation as I am!
And the Best Part—It's Free!
Yep, you heard me right…
You can snag a copy of this ebook for FREE right now if you're looking to write an incredible cast!
Now, you may be wondering why I'd spend all this time writing and designing something, only to give it away for free. Well, the short answer is that this workbook is meant as an introduction to character creation. It covers the basics in a cohesive, organized way, as a supplement to the articles I post here each week.
That's the Character Creation Workbook's strong point—while you can search the internet for days, digging through individual, isolated articles to find the information you need, having someone to explain the basics to you all at once is by far the best and most efficient way to learn.
After all, without that foundation, it's hard to understand what anyone is talking about!
So if you're ready to dive into your character creation journey, grab your free copy of The Character Creation Workbook below. Once you're done reading, I'd love to know what you thought of it. 🙂
I hope you'll like it just as much as I do!