Treasure Planet (2002): The Movie Structure Archives
Genre: Sci-Fi/Adventure/Disney
Writer: Ron Clements/John Musker/Rob Edwards
Director: Ron Clements/John Musker
Outline:
Act 1 (1%-25%)
Hook: The movie opens with young Jim Hawkins reading about the fantastical disappearance of the space pirate Captain Nathaniel Flint and his rumored hideout on the mysterious Treasure Planet. His mother comes in, scolding him for staying up past his bedtime, but joining him to finish the story. After she puts him to bed and leaves the room Jim returns to his book, reading well into the night.
Twelve years later we watch as Jim is arrested for trespassing while flying on his skysurfer in an industrial district. He's ultimately returned by the police to his mother's inn, where she scolds him for getting in trouble yet again and leaving her alone to run the inn, his father having abandoned them some time earlier.
Inciting Event: That evening a spaceship crashed outside the inn. Jim rescues the man inside, who warns him of a dangerous cyborg and gives him a metal sphere before dying on his mother's floor.
Key Event: Mere moments later, a gang of pirates raid the inn and burn it to the ground, but Jim, his mother, and their friend Dr. Delbert Doppler flee to safety.
1st Plot Point: While tinkering with the sphere in Delbert's home, Jim figures out how to open the sphere, revealing that it's actually a map to Captain's Flint Treasure Island. Delbert and Jim convince Jim's mom to let them go find the secret treasure.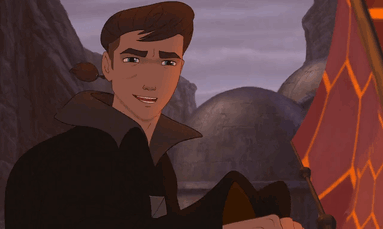 Act 2 (25%-75%)
Delbert and Jim hire a ship and crew, commanded by Captain Amelia and her right hand, Mr. Arrow. They hand the map over to her, before being sent below deck to join the crew.
The ship's crew is being led by their half-robot cook, John Silver, with his pet blob Morph keeping an eye on everyone. Jim suspects him right away.
After quarreling with others in the crew after the voyage begins, a half-spider alien, Scroop, threatens Jim. Silver comes to his defense, sending the rest of the crew away, but then insists Jim scrub the entire deck as punishment, leaving Morph to watch him.
Secretly, Silver goes below deck to meet with the crew, revealing to the audience their plan to mutiny and betray Amelia, Arrow, Delbert, and Jim.
Later, Silver returns to the deck and Jim apologizes for picking fights. Jim relives his father's abandonment, and Silver feels for him. Silver decides he'll stand in as Jim's teacher.
During an extended montage, Silver and Jim develop a pseudo father-son bond. At the end of the scene, Jim and Silver lounge in one of the ship bays, and Jim asks what happened that lost Silver his limbs. Silver replies that he lost them chasing a dream.
1st Pinch Point: The ship encounters a star gone supernova. The supernova quickly devolves into a black hole and Jim is sent to secure everyone's lifelines while the others manage the sails. When the last explosion hits the ship, Mr. Arrow falls overboard. While his lifeline holds initially, the Scroop cuts it away, sending Mr. Arrow into the black hole.
Amelia is able to pilot the ship away using the force from the explosions. She mourns Arrow's death and blames Jim for not securing the lifelines. Jim also blames himself, and is distraught. Silver tries to comfort him, reassuring him that he will achieve greatness one day.
As they approach Treasure Planet, Jim overhears Silver and the crew planning for the mutiny. Scroop warns Silver that he's become soft for Jim. To protect himself, Silver claims he doesn't care for Jim at all, that he's been lying to cover the plan. Jim is heartbroken.
Midpoint: The crew runs above deck when they get word that Treasure Planet is in sight. Mutiny begins as Silver realizes what Jim has overheard. Amelia, Delbert, and Jim escape the ship, thinking they have the map. They're shot down, crashing to planet below. Amelia is wounded in the crash.
They realize the map was actually Morph in disguise. Delbert stays to care for Amelia while Jim explores the planet. Along the way he meets BEN, an abandoned robot missing a chunk of his memory. It seems BEN knows something about the location of Flint's treasure, but the secret to getting inside is lost with his memory chunk. BEN offers to shelter them at his home, and they transfer Amelia there.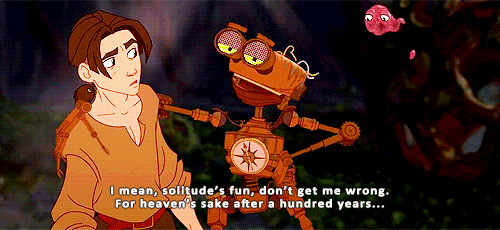 Soon they're surrounded, and Silver offers to meet with Jim in truce. Jim realizes Silver still thinks they have the map. When they meet, Silver tries to convince Jim he was lying, that he meant everything he said about being proud of Jim. If they only work together and share the map, they'll both win. Of course, Jim refuses. Silver warns that by dawn tomorrow, if he hasn't gotten the map, he'll incinerate all of them.
2nd Pinch Point: Jim, Morph, and BEN follow tunnels inside the planet, ultimately sneaking onto the ship. They find the map, but are confronted by Scroop. BEN struggles to neutralize the laser cannons but turns off the gravity control in the process. Jim is able to hang on, but Scroop drifts out into space after revealing he killed Mr. Arrow, in a bit of poetic justice.
3rd Plot Point: Upon returning to BEN's home they find Silver, having captures Amelia and Delbert. When Silver realizes he can't open the map, he forces Jim to do so.
Act 3 (75%-100%)
Jim realizes Flint used the map as a portal, transporting around the universe to cover his tracks. He finds a portal leading to the center of the planet, revealing the treasure.
Distracted by the treasure, Silver and the crew let Jim wander. Jim goes for the crashed ship in the center of the gold pile, and on board he finds Flint's remains clutching BEN's missing memory. Once plugged in, BEN reveals Flint set a booby trap to blow up the planet if anyone found his hoard.
Climax: Laser canons begin slicing the planet in half from the inside. Soon only Silver and Jim are left inside the core. Back on the ship, Delbert and Amelia free themselves.
Jim gets Flint's ship working and sets course to flee the planet. Silver tries to stop him, and gets the ship shot by one of the laser cannons in the process. Silver is left clutching the remains of the ship, while Jim struggles not to fall into the nuclear pit below. Silver releases the ship and saves Jim at the last minute.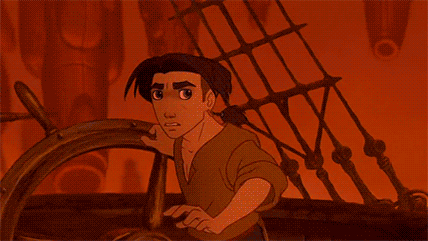 Climactic Moment: Amelia and Delbert arrive with the ship to pick them up. As they fly away a falling rock takes out their sails and engines. Jim realizes that if they turn around and go through the portal they'll survive, but only if he can change the portal. Jim rigs up a rough skysurfer and takes off for the portal, the ship in close pursuit. In the last moment, Jim and the ship make it through the portal, safely being sent back to his home planet.
Resolution: Jim catches Silver trying to escape as they sail gently into port. Silver offers to take him along, to travel the world and have great adventures together. Jim says he has to return home, and Silver understands. He's proud of him, and they say an emotional goodbye, before Silver hands him a bag of treasure he saved, just for him.
Back home, Jim helps his mother open a brand new inn. Delbert and Amelia have kids, and BEN gets to stay on to help run the inn.
Characters:
Character 1: Jim Hawkins
Jim begins his arc angry, defiant, and aloof. He resents his father's abandonment and his mother's protectiveness and dreams of a more exciting and meaningful life. He consistently gets himself into trouble with figures of authority, including his mother (though it's made clear that he does love and care about her).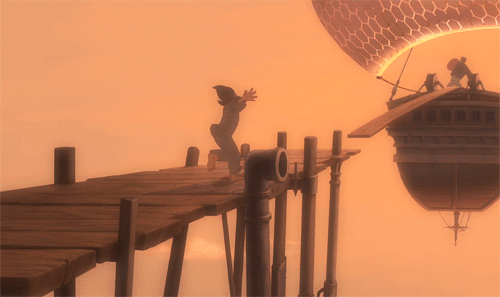 As Jim's arc progresses he's heavily influenced by Silver. When he first joins the crew his attitude gets him in trouble, but Silver sticks up for him. Through this guidance a father-son relationship starts to develop, and Jim tries harder to be part of the group. He feels like he's finally found a way to prove himself and along with an ally in Silver.
This falls apart when he overhears Silver's plan for mutiny. Silver clearly states that he's tricking Jim to cover for the plot, and this is heartbreaking. Another father figure has abandoned him. After escaping with Delbert and Amelia, Jim is still focused on finding the treasure, holding onto that as a way to achieve something. He cooperates with Silver because of this.
At the Climax, Jim shows a final shift from his previously self-interested behavior, risking his life to change the portal and get the ship away safely. Using unique skills shown off earlier in the film he saves the entire crew and himself.
The movie ends on an emotional goodbye with Silver, a stark contrast from memories of his father's abandonment. While Silver ultimately leaves, it's on good terms, and Jim understands why he has to go, and also why he can't go with him. Jim stays at the inn with his mother, presumably living a much happier and more fulfilled life.
Character 2: John Silver
Interestingly, Silver undergoes an arc very similar to Jim's. He begins as a defiant, self-interested pirate captain. His entire focus is on his mission, and it's made clear that he's willing to sacrifice anything to get to Flint's treasure.
Silver starts out willfully tricking Jim, but as their friendship progresses, he sees himself in Jim and becomes more and more attached to him. He wants to see Jim succeed, and struggles to balance that desire with his need to find Flint's treasure.
In his lowest point, Silver has to betray Jim to the other crew to protect his own interests. When Jim finds out, Silver has to give up on him entirely, putting his mission above their relationship. However, he visibly struggles with this, unable to shoot Jim at various points. He even tries to explain himself to Jim, but when Jim refuses to trust him he retaliates with threats of violence to get what he wants.
Ultimately, Silver gives up on the treasure to save Jim's life (and even saving his small bit of the treasure to give to Jim's mother). He regains Jim's trust through this. They both end the movie with an understanding of each other, arguably having gone through the same arc. Both began with themselves in mind, aloof and aggressive, and both ended fighting for the safety and happiness of others, especially each other.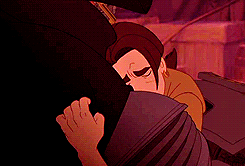 Theme: What's the meaning of greatness?
Issues of greatness drive the actions of both Jim and Silver throughout the movie. Each of them is looking to achieve something, to be remembered, to be respected, or to be secure, and they do this by seeking Flint's treasure. However, as their adventure progresses they come to realize that greatness can be found outside of piracy, treasure hunting, or self-serving exploits. By the end of the movie, both Jim and Silver come to see greatness as helping protect those they care about.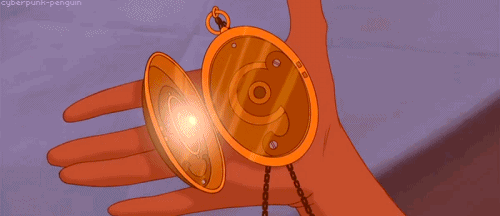 This means that the theme also drives much of the plot development in the movie. As each of the two main characters seek their own ideas of greatness they push the conflict forward. Jim seeks Treasure Planet to prove his worth and Silver not only attacks Jim's inn, but personally attacks Jim, Amelia, and Delbert to secure Flint's treasure. Only when they both realize that greatness isn't about treasure do they overcome the conflict and save each other and the rest of the crew.
If you've started to notice a pattern then yes, you're right! Treasure Planet is one of the primary symbols of greatness within the movie. From its mysterious, near mythological nature to the idealization of wealth it inspires, Treasure Planet is the symbol of both Jim and Silver's idea of greatness. However, the broader experience of treasure hunting and space travel carry their own importance as symbols of Jim's idea of greatness.
Pacing:
In terms of Pacing, Treasure Planet is a dense movie. An incredible amount happens in each scene between world building, character moments, and plot progress. There is little downtime in this movie, but just because the movie is dense doesn't mean it's pacing is overly rushed. Since the overall pace is high, major plot points just have to raise the stakes even higher, helping the pace ebb and flow correctly when looked at holistically.
Conclusion:
Overall, Treasure Planet is a great movie that's strongest point is by far its two main characters. The relationship between Jim and Silver is moving, emotional, and the driving force behind everything this movie does right. However, that's not its only strong suit. It uses foreshadowing and dramatic irony exceptionally well. For example, Scroop's murder of Mr. Arrow is perfectly mirrored in Scroop's own death, and Jim's opening scene in the industrial complex is called on in the Climax, highlighting how much he's grown and progressed through the film.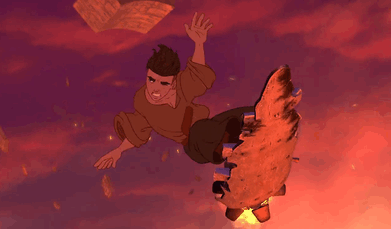 In such a dense movie, there's no space for fluff, and each scene pulls its weight and then some. There is nothing that could be cut from this film without hurting the overall story. Unfortunately, with that comes a problem. Treasure Planet would likely have benefited from a longer run time, giving each scene a bit more breathing room for the audience to process what just happened. However, this is a minor complaint. In a movie as action packed and fast paced as this, it's refreshing to see each action scene mean something in the overall plot, instead of being added to meet an explosion quota.
At the end of the day, I'd highly recommend Treasure Planet both as an enjoyable movie to watch and as a great study on how to maximize the impact of each scene and plot point in your story; especially if you have limited pages to tell your story with.