True Grit (1969): The Movie Structure Archives
Genre: Western
Writer: Marguerite Roberts
Director: Henry Hathaway
Outline:
Act 1 (1%-25%)
Hook: Frank Ross is headed into Fort Smith to buy some ponies, hoping to breed them for a profit. His daughter Mattie warns him this could be a foolish investment and as he leaves she mentions to her mother that his riding partner, Tom Cheney, is trash.
Inciting Event: Cheney gets drunk and begins fighting in a bar in Fort Smith. Frank pulls him out of the bar and asks to take his gun. Cheney shoots and kills him in retaliation before running away.
Key Event: Mattie comes to Fort Smith to retrieve her father's body and take it home. She stops to watch a hanging in the town square.
She's told Cheney has escaped to Indian Territory and that the Fort Smithy sheriff can no longer pursue him. She's also told that a US Marshal, Rooster Cogburn, is the meanest of the Marshals in the area. She's given her father's pistol and sent away.
1st Plot Point: She sends her father's body home and decides to stay in Fort Smith to hunt down Cheney.
Act 2 (25%-75%)
Mattie comes to the courthouse to watch one of Rooster's cases. Rooster is berated by the defense attorney for his habit of killing suspects instead of bringing them in alive.
Mattie tries to hire Rooster to hunt down Cheney. Rooster is intrigued and invites Mattie to dinner to discuss the details. When Mattie arrives, she's surprised that Rooster has no family, only a cat and a friend who runs the shop he lives in. He gets wasted on moonshine.
1st Pinch Point: When Mattie returns to the boarding house, she learns that a Texas Ranger, La Boeuf, is also hunting Cheney for the murder of a Texas Senator. He intends to take him alive to Texas, but Mattie refuses to work with him unless he brings Cheney to hang in Fort Smith.
Midpoint: Rooster refuses to let Mattie come on the hunt and ends up joining with La Boeuf. The two leave for Indian Territory without her, but she catches up despite their efforts to stop her. Eventually they relent, and allow her to join.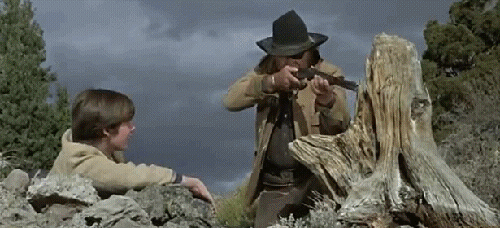 After a few days of traveling the group find a hideout with two horse thieves holed up inside. They smoke them out and begin interrogating them about Cheney and his gang's leader, Ned Pepper. One of them squeals, telling Rooster that Pepper will be at the hideout tonight. The other thief kills him to try and stop him, and in the end both die.
2nd Pinch Point: The group lay a trap at the hideout, waiting for Pepper and Cheney to arrive. They kill two of Pepper's men when they arrive, but he escapes and Cheney isn't there. They take the bodies to McAlester's store. Rooster tries to convince Mattie to stay at the store, but she refuses.
3rd Plot Point: The group continues after Pepper and Cheney. While getting water at a river a few days into the pursuit, Mattie runs into Cheney, who disarms her after she shoots him. He brings her to Pepper as a hostage, and Pepper uses her as a bargaining chip, forcing Rooster and La Boeuf to ride away.
Act 3 (75%-100%)
Climax: Rooster refuses to let Mattie get hurt, and doubles back to face Pepper and his gang. Meanwhile, La Boeuf finds Mattie and the two watch Rooster in a shootout with Pepper's gang. Rooster wounds Pepper but his horse is shot out from under him and pins him down. As Pepper approaches to finish Rooster off, La Boeuf takes a shot from the ridge and kills him, saving Rooster's life.
La Boeuf and Mattie return to Pepper's camp to find Cheney, who sneaks up and clubs La Boeuf with a rock, knocking him unconscious. Mattie fires her father's gun at him, but the recoil knocks her into a nearby snake pit.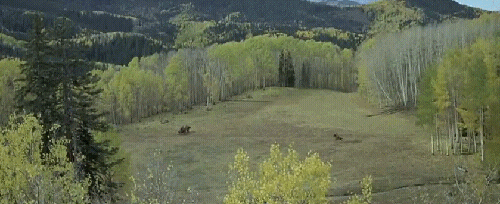 Climactic Moment: Rooster arrives and kills Cheney, before descending into the snake pit to save Mattie, whose arm is bitten by a rattlesnake. La Boeuf helps pull them out of the pit, but the exertion worsens his head wound and he dies.
Rooster has to leave La Boeuf's body behind as he races to get Mattie to McAlester's store. There, the doctor is able to treat her wounds.
Awhile later, Mattie's lawyer arrives in Fort Smith to pay Rooster for his part in killing Cheney. Rooster offers to bet all of his reward that Mattie will survive her wounds, but the lawyer declines.
Resolution: In the end, Rooster comes to visit Mattie at her father's farm. Her arm is in a sling, but she takes him up to the ridge where her father is buried and where all her family will come to rest. She tells Rooster he can be buried next to her, so he has some family to come home to. Rooster accepts her offer and rides away into the valley.
Characters:
Character 1: Mattie Ross
Mattie is a flat arc character. She doesn't undergo any change arc throughout the movie, instead focusing on helping Rooster grow and change. She begins the movie just as headstrong and persistent as she starts it, but it's her effect on Rooster that defines her flat arc.
Character 2: Rooster Cogburn
Rooster experiences the most significant character arc of the entire film. He begins in a place of isolation and aggression. He has no "family", and instead relies on drinking and gambling to fill his free time. He's known for his brutality and his self-serving attitude.
As Rooster continues to travel with Mattie, he gains an affection for her and her strong personality, calling her "little sister" in endearment. She constantly berates him for drinking, stealing, and just about everything else. At the beginning he chafes against this, but as the film goes on he becomes more accepting of her view.
The true test of Rooster's arc comes when Mattie is captured by Cheney and Pepper. Rooster is given every opportunity to flee and leave Mattie behind, or to charge in guns blazing and risk her life in the process. Instead, he shows tremendous growth and leaves, only coming back when he knows Mattie will be safe. In the Climactic Moment, Rooster risks his life to get Mattie out of the snake pit, and leaves Le Boeuf's body behind to make sure Mattie survives.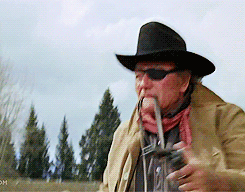 All of this culminates in the Resolution, where we see the payoff of Rooster's growth. He has learned to put someone else before himself, to be generous, patient, and kind (in his own way), and the story rewards him with family. Mattie's offer to let him be buried alongside her family is a huge deal to a man who is always at risk of death. Instead of uncertainty, Mattie offers him certainty. This marks the end of his arc.
Theme: Judgement
Judgement is infused in the journey of almost every character in this movie. It particularly it stands out through the two main players in the story; Mattie and Rooster. Mattie is active in passing judgement on everyone and anything she meets. Cheney is trash, Rooster's cat has "Satan's face," Texans are weak, and Rooster is uncivilized, but has "true grit." Rooster passes a more physical form of judgement through the end of his gun, killing those he feels he has authority over, even if it denies them due process.
While the two main characters are bringers of judgement, everyone in this movie seems to pass strong judgments on others, and the theme runs through almost every character interaction. It also directly ties to the plot, as Mattie's primary goal is to pass judgement on Cheney for the killing of her father; a judgement she feels others won't carry out properly without her guidance. She is unwilling to trust others with this weighty task, and insists on coming along on the hunt as a result. Ultimately, she gets what she wants through trials and strife, and along the way, she passes a more favorable judgment on Rooster, who is given a home and a family in exchange for his loyalty.
Finally, symbols like the men hanging in the opening of the film and the idea of guns being used to pass judgement run throughout the story. Similarly, the courthouse is contrasted by the lawless Indian Territory, marking a shift in the story as the group travels farther from Fort Smith.
Pacing:
True Grit manages its pacing well enough. While Act 1 is slow moving, the movie takes its time introducing Rooster's character, and this ends up paying off by the end. The only other major issue is how slow the Climax unfolds, losing some of its impact and tension simply because of how long it takes to play out.
Conclusion:
Overall, True Grit is an excellent western with some major flaws. While the characters of Mattie and Rooster are compelling and a powerful duo, the supporting cast is a bit shallow, especially La Boeuf. This, combined with the lack of tension in the Climax makes La Bouef's death hollow, and takes a lot of wind out of the ending of the movie. If La Bouef had a more compelling arc and a closer relationship with Rooster or Mattie, his sacrifice would have been more impactful and raised the quality of the Climax significantly. Despite this, True Grit is an enjoyable time, and it's first two Acts are well structured, helping to support the lagging Third Act.