V for Vendetta (2005): The Movie Structure Archives
Genre: Mystery/Thriller
Writer: Lilly Wachowski, Lana Wachowski
Director: James McTeigue
Outline:
(This outline is based on the structural beats found in Evey Hammond's story. Since there are three concurrent protagonists in this film each one has their own structural moments in the movie. Many of these overlap, which is good, but some don't, hence focusing on the main character, Evey, for this outline.)
Act 1 (1%-25%)
Hook: In the past, we watch as Guy Fawkes is hung for attempting to blow up the British Parliament building, while the narration tells us to "Remember, remember, the fifth of November."
Back in the present, Evey Hammond leaves her apartment after curfew to meet with a male friend. Along the way she is assaulted by "Fingermen," the secret police of the current British government. A strange masked man named V saves her, and invites her to join him for a "musical performance." She agrees.
Inciting Event: From the rooftops of London, Evey watches as V conducts a symphony through the government loudspeakers all over the city, before blowing up the Old Bailey building in a display of fireworks. It's midnight on the 5th of November.
In a shadowy meeting hall the High Chancellor of Britain, Adam Sutler, lectures his top administrators on how to handle the explosion and this new masked terrorist. We are introduced to Dascomb, head of the BTN television network, Creedy, head of the secret police, and Inspector Finch, head of investigations. Their job is to cover up the attack and hunt down the terrorist and his female accomplice.
The next morning at her job as an office worker for the BTN, Evey apologizes to Gordon, her boss and the man she was meant to visit. She delivers a stack of packages to the stations backstage, finding copies of V's Guy Fawkes mask inside.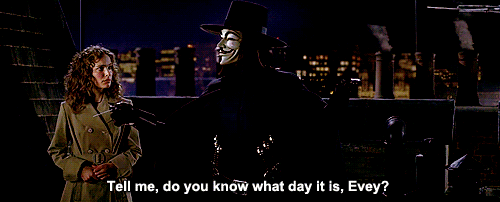 Finch and his detective are headed to the BTN, having found Evey's expired office ID in her apartment. They find out she was one of the kids put in the Juvenile Reclamation Camps, and call for backup.
Key Event: Meanwhile, V attacks the BTN, forcing them to broadcast a message of rebellion across every TV in London. He jams the elevators and sets off the fire alarm, evacuating the building to slow down police. Evey tries to flee the building but is seen by Finch and hides.
1st Plot Point: Inspector Finch is on Evey's trail, but is distracted when he and Dascomb have to defuse the bomb V attached to the building and. Finch's detective almost catches V as he escapes, but Evey maces him and is knocked out when he hits her. Unsure what to do, V picks Evey up and takes her to his hideout.
Act 2 (25%-75%)
When Evey wakes up she is in an elaborate underground home filled with stolen art and sculptures. V informs her that she will be forced to stay here until the next 5th of November, a year from now. He can't risk her being captured, tortured, and revealing his location. She is understandably upset.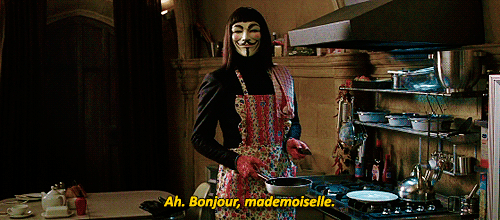 Finch and his detective are researching Evey's history to uncover her motivation for helping V. They discover her parents were political activists during the Reclamation, and were killed in the internment camps. Her brother was one of the kids that died at St. Mary's.
The next morning Evey wakes up to V cooking breakfast. His hands are horrible burnt, but he refuses to talk about it. He and Evey talk; he reveals his philosophy that governments should fear their people, and she reveals her mother is dead.
We next cut to Prothero, the Voice of London's, luxurious bathroom. He is watching his latest TV episode where he was ranting about the "dirty terrorist" that attacked the BTN. Behind him he sees V looming. V keeps referring to him as "General," before killing him and leaving a rose behind. Finch and Dascomb come to the scene of the crime and find that Evey's BTN ID was used to access Prothero's apartment.
Back in V's hideout, Evey and V watch the Count of Monte Cristo together. When it turns off, the TV switches to news coverage of Prothero's death. Evey realizes V killed him with her ID, and confronts him. He tells her that yes, he intends to kill more people.
Finch and his detective are trying to uncover V's motive against Prothero. They find Prothero's military record, where he was put in charge of a detention facility at Larkhill. They meet with the Head of Detention Programs, who denies knowing anything about that facility. All records have been destroyed or lost.
Evey, looking for a way to escape, apologizes for getting upset with V about Prothero's death. She tells him about her brother's death at St. Mary's, and how her parents became political, ultimately being captured by Creedy's men. They disappeared after that, and she was put into a reclamation program. She agrees to help V, however she can.
1st Pinch Point: V sends her as bait to one of the top British Bishops, who regularly has underage girls sent to him for sexual reasons. When she arrives, she tries to explain to the Bishop that he is in danger, but he only sees her as a sex object and tries to force himself on her. V enters, killing the Bishop, and Evey flees, taking shelter with Gordon. When Finch comes to investigate the Bishop's murder, Creedy arrives and warns him to stop researching Larkhill.
At Gordon's, Evey finds his hidden stash of "objectionable material," including a Koran and gay pornography. He explains that he isn't interested in women, but is expected to entertain them anyways, and how years of hiding his true self has eroded his identity. Meanwhile, Finch meets with Delia, the coroner. He gives her one of V's roses to inspect, since no foreign DNA was found on the Bishop's body.
That night, V comes to kill Delia, who also used to work at Larkhill. She asks him for forgiveness for what she did, and he kills her painlessly. Finch arrives too late to save her, but finds the diary she left behind. When he presents the diary to Sutler, he is told to forget about it, and that any mention of that document would be considered treason.
In the diary, Finch finds that Delia was a doctor at Larkhill Detention Center, where human subjects were tested on. Prothero was a military officer who ran the center, and the Bishop was there as oversight. 75% of their subjects died horrible deaths, but the man in room V survived, developing telekinesis and advanced reflexes. However, he was mangled in a fire he caused that destroyed the center, and lost all memory of who he was or where he came from.
Midpoint: Gordon and Evey watch as one of Gordon's latest TV appearances airs. In it he mocks Sutler, assuming the worst that will happen is a public apology. Meanwhile, Finch asks his detective what he would do if he found out their own government killed the 80,000 people in the biological attack on St. Mary's. That night, Creedy comes to Gordon's house and executes him, and Evey flees into the night, being captured at the last minute.
Evey comes to in a detention facility, where she is told she will be tortured until she reveals V's location. She is processed and left alone in a cell, where she finds a small roll of paper. On it she reads about the story of Valerie, a fellow inmate, who was captured and interned for being a lesbian. Valerie will die soon, but wrote this to tell the next person to be left there that she loved them, and that she hoped they wouldn't forget her story.
As Evey reads this story over the span of weeks, she is periodically tortured. Despite this, she refuses to reveal V's location. She is given a final chance to cave, before she is told she'll be executed behind the chemical sheds and the door of her cell is left open.
2nd Pinch Point: No guards come to take her away so she wanders into the hall, only to find she had been kept in a fake cell inside V's hideout. He had been torturing her this whole time, because she had previously told him how she wished she wasn't afraid anymore. He believed he could take away her fear by showing her what had been down to him. She has a panic attack, and he takes her onto the roof so she can stand in the rain and catch her bearings.
Later on, Evey tells V she's leaving his hideout. She thanks him for taking away her fear but says she will not stay there any longer. He asks her to come see him once before the 5th of November, and she agrees. V is distraught.
Meanwhile, Sutler meets with his administrators. Finch has filed a report that he believes V will use the blocked subway tunnels to blow up Parliament, but his idea is dismissed.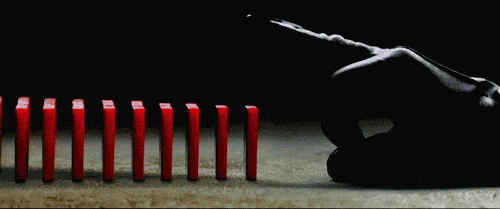 Finch and his detective decide to do some sleuthing, and find William Rookwood. They meet him at the monument to the St. Mary's victims, where he tells them how Sutler and his cronies used biological warfare to create chaos and cement their power in the government. They try to take him into protective custody, but he refuses. He demands they put Creedy under 25-hour surveillance.
V uses Creedy's surveillance to convince him Sutler planned to take him out if V's plan was successful. V offers to give himself up to Creedy and give him control over the government if Creedy brought Sutler to him on the 5th.
3rd Plot Point: Finch finds out Rookwood has been dead 20 years, and that V had tricked him. He is infuriated, and rededicates himself to stopping V's plan.
Act 3 (75%-100%)
Meanwhile, thousands of Guy Fawkes masks are shipped to houses all over London. Chaos begins as people use them to commit vandalism, rebellion, and anarchy. Creedy agrees to give Sutler over to V, a Fingerman kills a young girl and is beaten to death by a mob, and social life begins to break down.
Climax: Evey returns to V's hideout on the 4th, as he asked. They dance together, and V takes her to the subway, where he shows her the old subway cars filled with explosives headed to Parliament. He tells her it's her decision, that his time ends here. He leaves to confront Creedy and Sutler.
Climactic Moment: In a shootout, Creedy kills Sutler and V kills Creedy and his men, but is mortally wounded I the process. He drags himself back to Evey and she tells him she doesn't want him to die. He is grateful for her, and passes away content.
Resolution: Finch confronts Evey as she prepares to launch the subway train. He tries to stop her, while above them thousands of people dressed as V overwhelm the British soldiers. Evey refuses, and Finch gives up. They watch together as the Parliament building is destroyed and the reign of Adam Sutler and his government comes to an end.
Characters:
Character 1: Evey Hammond
Evey begins her arc unhappy in this system and full of old wounds, but too afraid to do anything about them. She has a rebellious spirit and knows things need to change in her life and in her country, but doing anything about it is too terrifying and too dangerous.
When she gets caught up in V's plans, she has to struggle between her fear of getting involved and V constantly pushing her further. She slowly begins taking action, at first to escape from V's plans but later to protect him as she is confronted with torture and internment.
Her darkest moment comes when V reveals he has been torturing her all along. While she is no longer afraid, she is also emotionally and mentally broken, and realizes V is a darker figure than she realizes. She questions her choice to defend him when she thought she was being interrogated.
Ultimately, Evey decides that V's goal of rebellion and change are worthwhile, and are what she's been working towards all along anyways. She accepts V's death and ultimately puls the lever that brings an end to the Parliament building and symbolizes the dawn of a new day in the UK.
Character 2: V
Unlike Evey, V undergoes a negative arc, becoming more and more consumed by his mission (though he is redeemed in the end). He begins his arc willing to kill and endanger others to achieve his goals, but he has some consideration for innocent bystander's safety and for an idea of honor. While he doesn't shy away from killing immoral people, he makes some effort to spare ordinary people.
As his arc continues and his plans come up against resistance from Evey and from the government, he pushes harder into them, becoming increasingly less apologetic for his actions. He goes so far as to capture, gaslight, and torture Evey to try and prove his point and make her see his actions as justified.
His lowest moment comes when he sees Evey's reaction to what he did to her, how much it damaged her and how she won't stay and be a part of his mission. Essentially, his goal failed and he paid a horrible price for his actions. Yet this doesn't stop him from pushing forward. He's in too deep.
V's moment of redemption comes when he lets Evey decide to launch the subway trains or not, realizing his revenge mission is between him, Sutler, and Creedy, not the rest of the country. He still won't back down on his mission, but he does have some conscious, and is rewarded for that when Evey tells him she doesn't want him to die. He is able to die in peace.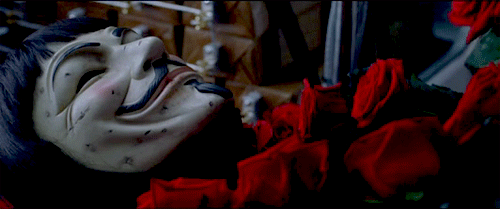 Character 3: Inspector Finch
The third major character of the movie, Finch follows a positive arc like Evey. Finch begins his arc working for the totalitarian government controlling the UK, however his family was Irish and there are clearly some concerns about his loyalty, though he works hard to quell those.
As Finch's arc progresses he is constantly tested to prove his loyalty to the government. As he reveals more and more about the government's past and the events at Larkhill, he questions what is right and wrong, and struggles to continue investigating V.
Finch's lowest moment comes when he realizes he was tricked by V, disguised as Rookwood. He is enraged that he was a fool, that all of his anxiety and stress was a lie. Yet the concerns he felt based on the information he uncovered continue to weigh on him.
Finally, Finch's arc resolves with him realizing that, even if nothing he uncovered was true, the government that he's been working for is poison for his country. He allows Evey to launch the subway cars, and watches as Parliament is destroyed.
Theme: The will of the people
This theme is intertwined in every aspect of this movie. In terms of characters, all three of the main characters struggle with their own desires and decisions to rebel, as well as with the lack of freedom they have over their own lives. When they begin to exercise their will, the government punishes them, yet they can't stop doing so. However, these three characters aren't the only ones who show this. The minor recurring faces in the movie also show this need to express their will, to make their voices and lives known, to be free.
Because of the relation to the characters, this theme is also tied in closely to the plot. What's interesting is that this movie seems to follow three separate plot lines, intertwined at major events. It's a movie that's densely packed with information and events. Despite this, everything comes together by the end and each individual plot line (one for each of the main characters) follows that character's unique experience with the movie's theme.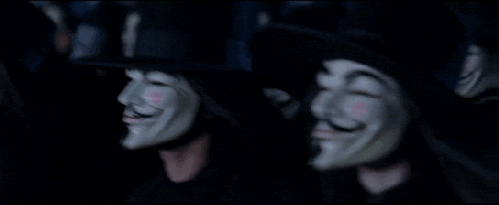 Lastly, this movie uses it's symbols less to relate to theme and more to relate to each individual character's journey. Certain symbols, such as the TV's all over Britain and the destruction of the Bailey and Parliament, are used to symbolize the people. However, the two most prominent symbols in the movie, V's mask and the roses, are both symbols of V's personal mission of revenge and rebellion.
Pacing:
In terms of pacing, V for Vendetta never lets off the gas pedal. This is a tightly packed movie with very little down time. This probably isn't the best; the movie could use more quiet moments, and those that are there are often rushed. However, this is a result of telling a story with three protagonists and three intertwined plot lines, all in one 2.5 hour movie. There just isn't the time to spend on much of anything.
Conclusion:
Overall, V for Vendetta is a well done movie with tons of information packed into its short run time and, for authors, it's a great movie to study because of how it uses it's three concurrent protagonists. The way it weaves these three protagonist's separate plot lines, story structures, arcs, and experiences into one cohesive whole is impressive and worth taking note of. While it's certainly flawed in many ways (having three separate Third Plot Points makes sense for the three protagonists, but feels a bit jumpy for the viewer), it's still a great film that's well worth your time.