How to Choose the Perfect Pen Name
There's more to publishing than your novel itself…
As strange as it may sound, it's actually true. How you present yourself as an author is often just as important as the quality of your stories, because that's what readers will see before they ever dive into your novel. This is why polishing your author bio and choosing an author photo is so important—and why you should put some serious thought into your pen name.
From Mark Twain to Elena Ferrante, tons of authors use pen names. Of course, whether a pen name is right for you won't always be clear—and even when it is, choosing the right one is often its own challenge. So today, let's dive into the pros and cons of pen names, along with everything you'll need to consider before choosing your new name!
_______________________________
This article is adapted from an excerpt of my book, The Ten Day Author. If you like what you see, you can find much more detail—including step-by-step guides, templates, and examples to walk you through the self-publishing process—in the book itself.
_______________________________
The Power of Using a Pen Name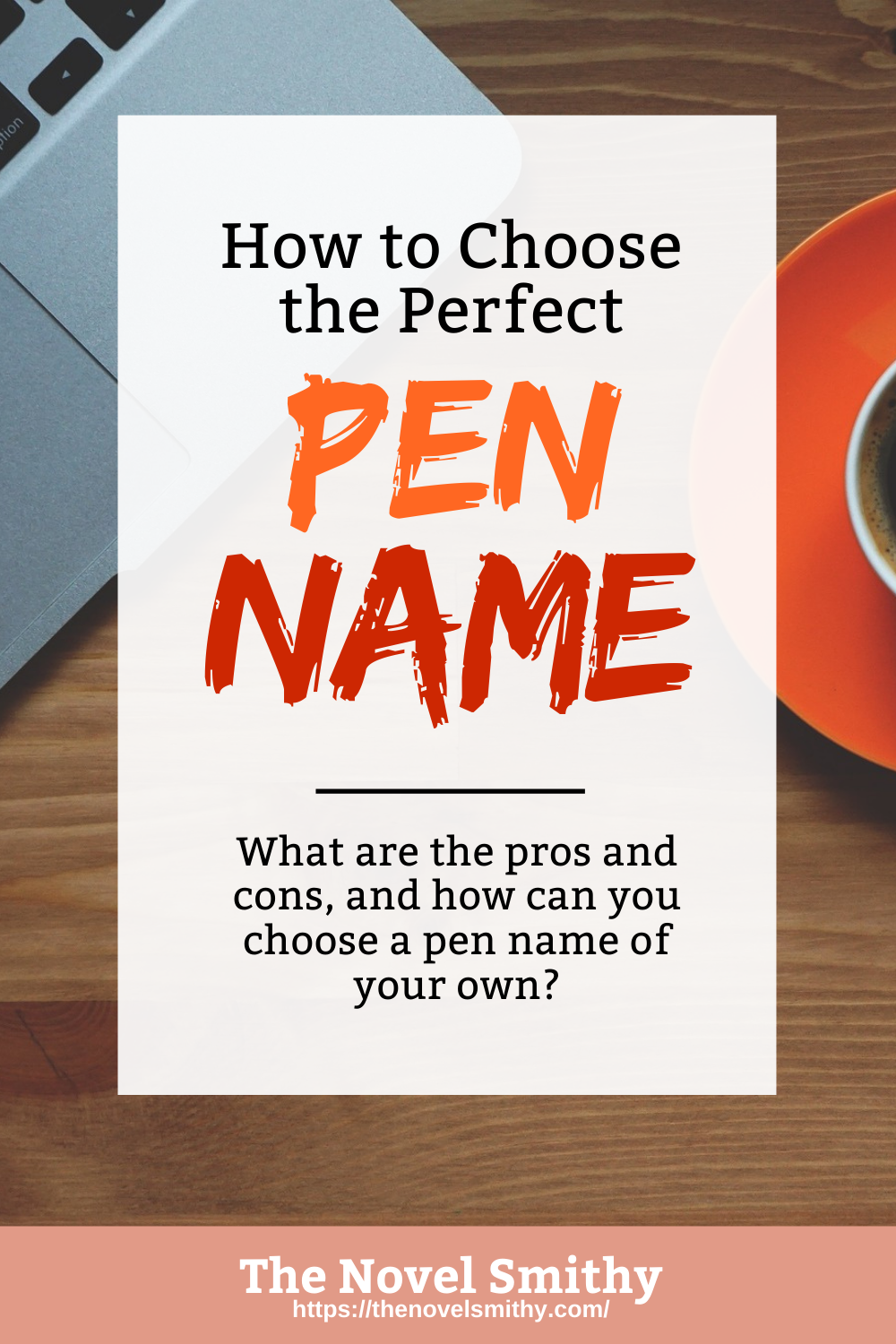 When it comes to self-publishing a novel, you want to give your story the best possible chance at success. Typically, that means choosing the right publishing strategy, creating a polished final manuscript, and commissioning a professional cover. However, there's one other aspect of this that many authors overlook:
Their pen name.
Simply put, your pen name is the alias you go by when publishing your novels, and you might be surprised by just how much power this name can have.
For many authors, their pen name gives them a way to separate their writing life from their every-day life, as well as a way to safeguard their privacy—especially if they write in more sensitive genres.
Meanwhile, others view pen names as another form of marketing. You see, alongside your author bio, your pen name will play a big role in how readers perceive your stories. This means that, just like you want to carefully choose your novel's title and craft your book's blurb, you also want to tailor your pen name to attract the kinds of readers most likely to enjoy your writing. All of this brings us to an important question…
Should you use a pen name—and if so, how can you choose the right name for you?
Well, as you might imagine, there's no one way to pick a pen name. Instead, you'll need to assess the pros and cons and figure out what fits your unique situation. Only then can you figure out what kind of pen name is best for you—as well as navigate the legal and logistical hurdles that come with using a pen name!
The Pros and Cons of Using a Pen Name
Why You Should Use a Pen Name:
First up, let's discuss the benefits of using a pen name, as well as why so many authors use pen names to begin with.
You see, pen names are popular for a reason—in fact, they're popular for many reasons. From creating a more cohesive author brand to providing separation between your day job and your writing, there are a lot of practical arguments for using a pen name. This is especially true if you're writing in controversial genres like horror or erotica, or even just genres your employer or neighbors might judge you for.
Of course, there are more creative reasons to use a pen name too, such as honoring a family member or dear friend, co-writing with another author, or even just better expressing your author persona.
Overall, there are seven situations where using a pen name might benefit you:
#1: You write in a sensitive genre and want to maintain your privacy.

#2: You want to create some separation between your everyday life and writing life.

#3: Your name is the same or similar to another author's.

#4: Your name is difficult to spell or pronounce for your target audience.

#5: You're partnering with another author and want to publish under a single name.

#6: Your genre is heavily skewed towards certain types of names, and your legal name would negatively affect your work.

#7: You prefer a pen name, for whatever reason feels right to you.
Why You Should Not Use a Pen Name:
Alongside these pros, using a pen name also comes with some cons, mostly involving logistics.
For starters, each pen name you use is another author brand you need to establish—including setting up an author website, writing a bio, and building your readership. That's a lot of extra work, and is a big reason why most authors only write under one or two pen names at most. Anything more than that and things get harder to keep up with.
Likewise, pen names simply aren't for everyone! Not all authors want to juggle a whole extra persona, and some are perfectly happy publishing under their legal name. Overall, if you don't have the desire to use a pen name, there's nothing wrong with simply publishing under your legal name.
In total, there are five situations where using a pen name might hold back your writing:
#1: The thought of managing an alias stresses you out.

#2: You've already established a readership under another name.

#3: Your desired pen name is too similar to another author's.

#4: You're already juggling multiple pen names.

#5: You prefer your legal name, for whatever reason feels right to you.
5 Types of Pen Names and How to Choose Yours
Based on Real Life:
Next up, if you've decided you want to publish under a pen name, then it's time to start brainstorming! Of course, while you may already have an idea of what pen name you'd like to use, you might also be at a loss…
In that case, there are a few types of pen names you can use for inspiration.
Perhaps the most common of those is the "based on real life" pen name. Many authors use some version of their legal name for their pen name, either to fit in better within their genre or simply due to personal preference. It's also common for authors to be inspired by the name of a loved one, friend, or idol as part of their pen name.
First Two Initials:
Similar to the option above, many authors use their legal initials as part of their pen name, though these initials can also be made up. This is very common in some genres, especially genres that skew towards one gender or the other—J. A. Abraams is much more neutral compared to Jennifer Ashley Abraams or Jackson Anthony Abraams, after all.
However, if you do go this route, take the time to ensure your initials aren't too similar to another author's, especially within your genre. It's much easier to accidentally copy someone's initials than it is their full name, so it's worth being extra careful here.
Genre Specific:
Some pen names are designed to evoke a specific tone, often as a way for authors to brand themselves within a certain genre.
For instance, names with a distinct vibe like Margaret Castle or Jack Knight mesh better in some genres than others, and these types of names are especially prevalent in certain circles—though it's easy for these names to border on gag names if taken too far.
Gag Names:
Speaking of gag names, these pen names are those that are meant to be tongue-in-cheek, often using innuendos or common plays-on-words to be purposefully over the top. This is especially common in genres like erotica and comedy, where few readers would bat an eye at a name like Richard Long.
Of course, you want to balance going over the top with respecting your reader here—make sure the gag name you choose matches the tone of your stories!
Completely Original:
Finally, some pen names don't have a specific theme or origin—they're simply a name the author likes. Whether you heard it in passing or made it up on the spot, you don't always need a reason to use the pen name you chose! Ultimately, regardless of what naming scheme you use, your final pen name only needs to meet a few criteria.
Your pen name should:
Be a name you feel comfortable going by
Fit the tone of your novel and genre
Be distinct from other common names
Not be the same as another author's name, or otherwise overlap significantly
Be easy for readers to say, spell, and remember
Mesh well with the brand and persona you want to create as an author
Three Common Questions About Pen Names
What if You Can't Think of a Unique Name?
If you ever find yourself stuck while trying to create your pen name, I recommend browsing baby name websites or other online naming databases.
Here are two of my favorites:
From there, write down a few options. Then, read them aloud. Take some time to try them on for size and see how they feel, and check to ensure no one else is already using them. Again, you want your pen name to be distinct—both so readers can find you, and so you aren't copying another author (even on accident).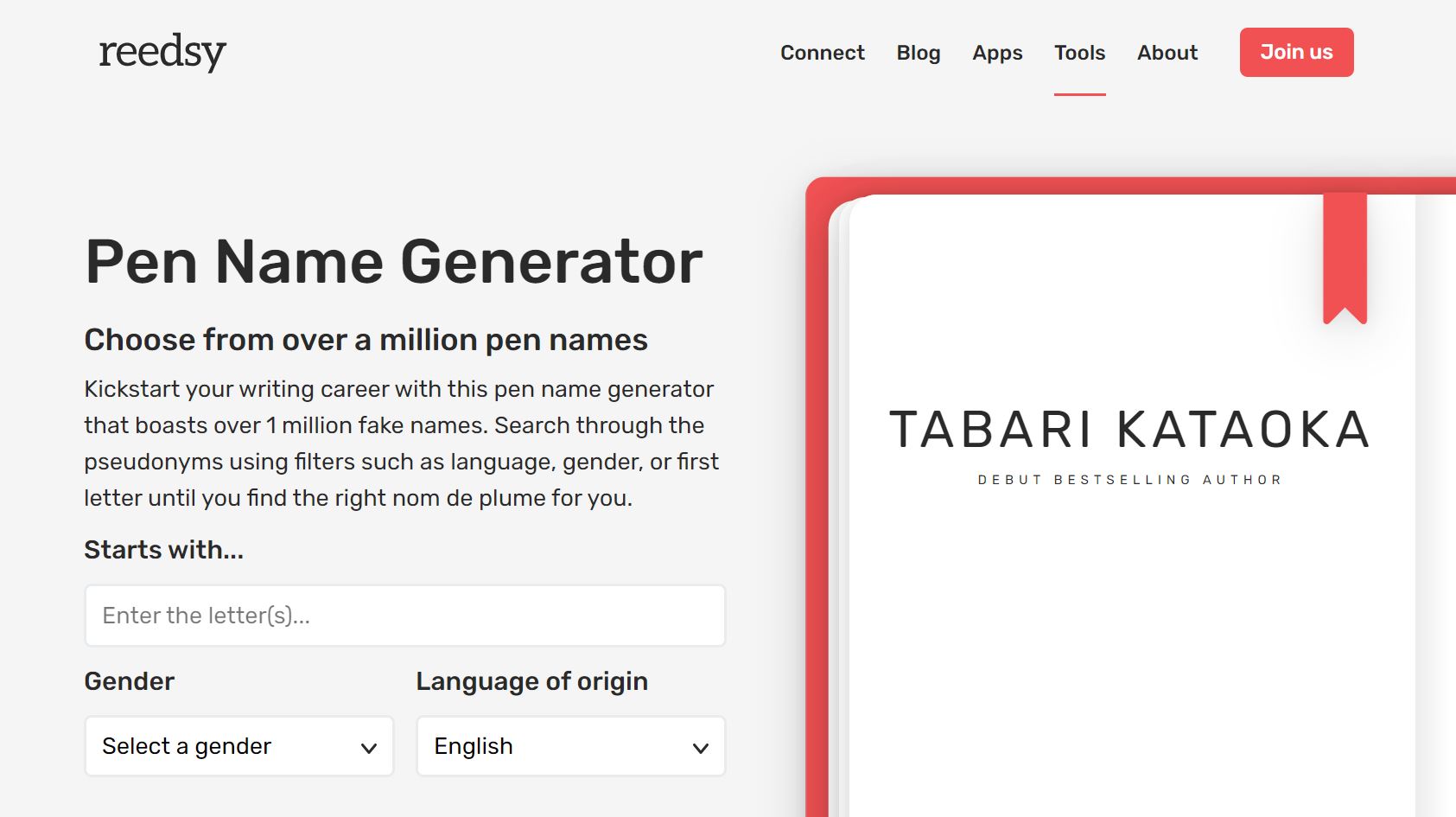 Of course, if baby name websites aren't much help, you might also consider using a pen name generator like this one from Reedsy. Alternatively, try skimming through the bestsellers lists for your novel's genre. Ideally, you'll notice something of a pattern. This can help you narrow down your options until you find your perfect name.
However, I do have one warning for you—and that is to not obsess over this.
In the end, so long as your pen name isn't glaringly out of place within your novel's genre, this is one part of the self-publishing process where you have a lot of leeway to express yourself. Really, the most important thing is to pick a pen name that feels right to you.
Can You Use Multiple Pen Names?
When you first start researching pen names, you'll likely come across stories of authors who use two, three, or even four different names to publish their novels. In fact, many well-known authors—including Agatha Christie and Dean Koontz—used something of a hybrid approach, publishing under both their legal names and multiple more anonymous pen names.
Unfortunately, this also comes with a lot of drawbacks.
You see, every time you create a new pen name, you're essentially starting your author brand from scratch. You're a "new person" now, meaning it's usually wise to pick a pen name and stick to it—otherwise, you're forcing yourself to do a lot of duplicate work as you try to rebuild your readership. Because of this, most authors usually only manage one or two pen names at most, if they choose to use one at all.
Of course, there are certainly author that break this rule with no issue!
Some authors juggle a whole variety of pen names, either to distinguish between the many genres they write in or simply to give their author brand a bit of a reset. In the end, whether you use multiple names is up to you—just make sure the benefit of multiple names outweighs the extra work they'll require.
Are Pen Names Legal?
Alongside these questions, many authors also worry about the legal implications of pen names.
Can you legally publish your writing under a fake name?
Will you still own your stories if you didn't publish them under your legal name?
Do you need to register any special copyright or license to use a pen name?
Luckily, pen names are relatively easy to handle—at least in the US where I'm based.
While you'll publish your novel under your pen name, you'll still be required to use your legal name in official documents and tax filings, as well as when setting up accounts on the major publishing platforms. If you wanted to use your pen name to receive royalty payments, you would first need to register that name as a business in whatever area you live. Fortunately, this isn't usually necessary, as you can legally copyright and publish your novels under your pen name without setting up a business first.
Essentially, if you're confused by the legal aspect of pen names, think of them as simply an alternative way of identifying yourself in the eyes of the law. What you write and publish is still your responsibility, which means you'll need to abide by any rules and regulations for your area. However, as part of that, you'll also get all the protections afforded to you under the law—regardless of whether you're writing with a pen name or not.
What to Do With Your New Pen Name
Finally, with your pen name in hand, you might think your work here is done—but not so fast!
As tempting as it may be to choose your pen name and move on, there are actually a few final tasks you should take care of. These will ensure you have a solid foundation to build from when you publish your novel. None of these tasks are mandatory, but they can be beneficial if you have the time:
#1: Buy a web domain that contains your pen name.

#2: Set up an author website under your new name.

#3: Create an email with your pen name—Gmail is a great free option.

#4: Write your author bio and figure out your pen name's persona.
Of course, saying you should handle these tasks and actually doing so are two very different things…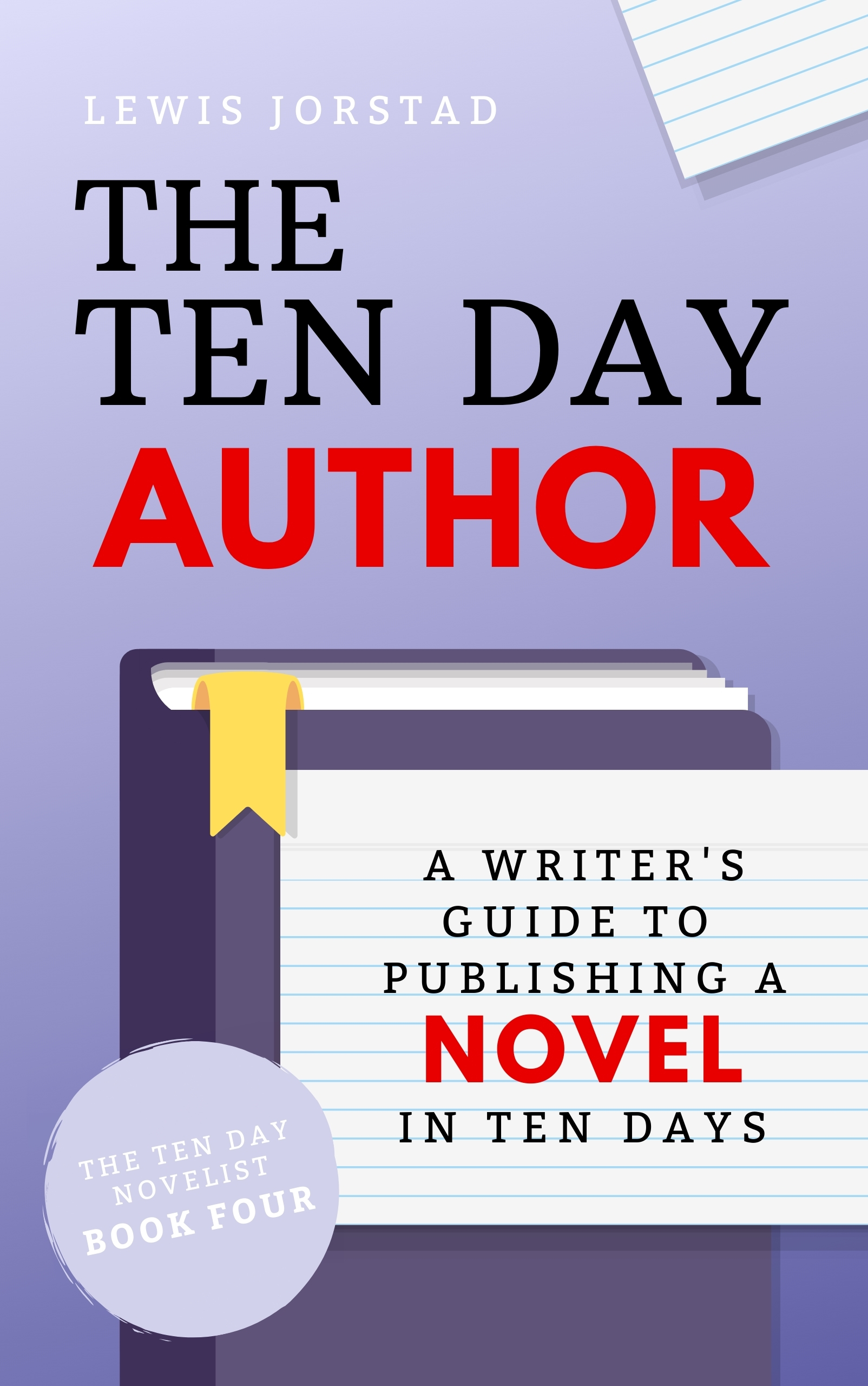 That's where The Ten Day Author comes in.
In this book, I'll walk you through every step of the self-publishing process, from researching your options to preparing your manuscript and hitting publish. There's even a whole chapter dedicated to pen names, author bios, and all the things you can do to put your best foot forward as a new author—along with how to incorporate those things into a solid author website.
Overall, if you're preparing to self-publish your novel, this book would be a great place to start—but even if you aren't, I hope this article helped you!
At the end of the day, pen names are both a powerful tool in an author's arsenal, as well as a wonderful way to express ourselves as writers. Regardless of how you plan to use yours, I hope you have fun with it. 🙂
What's your unique pen name? Let me know in the comments!