Writing a Strong Midpoint: The Story Structure Series Part Five
You've officially reached the middle of your protagonist's journey…
A time for reflection and growth, the Midpoint is a big step on your protagonist's adventure. They're a long way from home, caught up in a strange new world with strange new people. Yet, for the first time on their journey they can look back on where they've been and no longer feel unsure if they should've left home at all.
It's no wonder then that the Midpoint is thought of as a turning point for your story. Here your characters get the last boost they need to feel confident on their quest, as well as the last piece of the puzzle to pursue the conflict full force! We're beginning our march to the finale, but we have a few things to take care of before we set out.
_______________________________
This article is part of a series of posts about the Three Act Structure. If you'd like to check out the rest of the series, make sure to browse the other articles listed at the end of this post.
_______________________________
The Midpoint: Your Novel's Turning Point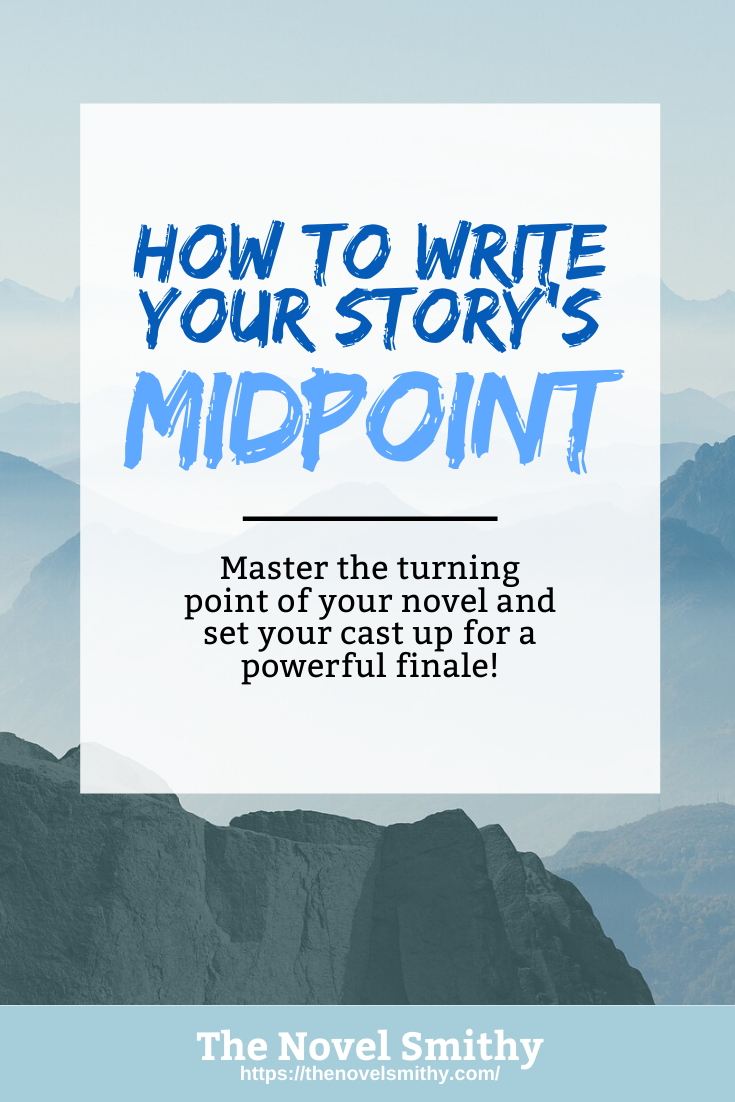 We've finally reached the halfway mark of both Act 2 and your novel as a whole, appropriately called the Midpoint. This plot point holds up the center of your story in terms of plot, character, and pacing. With a weak Midpoint your story will sag in the middle at best, or collapse entirely at worst. However, this only explains the Midpoint's surface role.
What it actually does requires a little more depth to explain.
Essentially, your Midpoint acts as the turning point for Act 2. Here your protagonist moves from a period of reaction to action by overcoming a major challenge. This challenge is the logical culmination of the tests and trials of the first half of Act 2 and forces your protagonist to demonstrate their newly gained skills and knowledge.
This Midpoint is a lot like your protagonist's college midterm—no final exam, but critical if they want to reach their final at all.
By overcoming the Midpoint they'll prove to themselves and others that they've earned their place on this journey, often gaining a final necessary lesson as a reward for their success. From this point forward, your protagonist feels equipped to confront the challenges ahead for the first time, meaning they can finally engage with the conflict instead of just reacting to it. This shift is incredibly important for both your protagonist, as well as your story's pacing and plot.
The Midpoint and Your Protagonist:
The Midpoint is just as pivotal within your protagonist's arc as it is within your story's structure.
When it comes to character arcs, the Midpoint offers a "solution" to your protagonist's want. In overcoming the Midpoint, they seem to have found the key to achieving their want, without having to go through the difficult process of actually addressing what they really need. It's easier to ignore their inner struggle, after all, so that's exactly what your protagonist will do.
However, this doesn't mean they haven't grown during Act 2.0!
They've likely begun to uncover their truth—the real remedy to their inner struggle—through their various tests and trials. Yet, they'll still be resistant to accepting that truth, preferring to sidestep around this necessary change. Thus, the solution they find at the Midpoint is important and represents their growth, but is only a half-step in their arc.
The Midpoint and Your Pacing:
Your story's Midpoint is a catalyst for good reason.
Without this strong turning point you'll often stunt both your plot's development and your characters' arcs. Your story needs this defining moment of growth and the accompanying shift towards action, and if you overlook it it's easy to set yourself up for a weak Third Plot Point (a moment tied to your character's growth at the Midpoint) or Climax (a moment tied to both the plot and character developments of the Midpoint).
At best, a weak Midpoint will only cause uneven pacing, leaving you to cram so much necessary development late into Act 2 that it feels rushed or bloated. These developments then lack time to breathe or be expanded on, lessening their impact at the Climax. At worst, however, a weak Midpoint can stunt your plot and prevent it reaching its full potential.
So, while many plot points in the Three Act Structure offer you a lot of flexibility, because of its importance the Midpoint needs to occur as close to your 50% mark as possible. It simply pulls too much weight to be overlooked.
How the Midpoint Works in Practice
Disney's Mulan:
A Recap of Act 2:
Last time we had to skip around a bit in Mulan's story, bypassing her Midpoint entirely.
So, bear with me as we turn around and play some catch up.
Mulan's Midpoint occurs as part of a long musical number that sums up what would have otherwise been an extensive period of training. Mulan's army commander is Shang, the up-and-coming son of a powerful Chinese general. He's been left in charge of getting the new recruits into shape, and is under pressure from both his father and the Emperor's counsel, who stays to supervise his progress.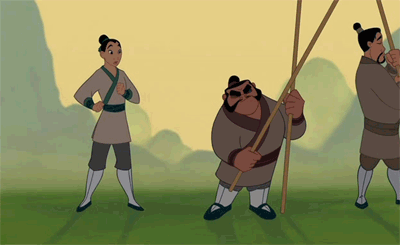 As a result, Shang has no patience for failure, and starts the recruits off with a difficult goal—fetch an arrow from on top of a tall pole set up in the middle of camp. However, there's a catch. They must do this while held down by cumbersome metal weights.
One by one the men attempt to climb the pole, but none succeed. Shang leaves the arrow in the middle of camp as a symbol of their goal. What follows are a series of failures by Mulan and the other recruits, none of them able to keep up with Shang's demands. Mulan in particular falls behind and is harassed by the other soldiers, until she is asked to leave the army entirely.
The Midpoint:
All of this leads up to Mulan's Midpoint. She is crushed by her failure and unsure of what will wait for her when she returns home. However, before she leaves camp she looks back up at the arrow.
Suddenly, she realizes she should be thinking smarter, not harder.
Taking the weights that had been such a burden before, Mulan wraps them around the pole to use as grips, aiding her efforts. As the sun rises, she slowly reaches the top until finally, as Shang leaves his tent for the morning, she tosses the arrow down at his feet. She's overcome her Midpoint challenge, gained the respect of her fellow soldiers, and shown her unique talents.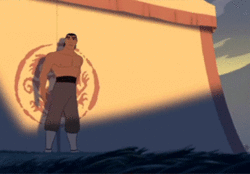 This is Mulan's catalyst. Suddenly she has the confidence to take charge within her story. The next few scenes show her outpacing even Shang and she begins to earn her place among her fellow soldiers, who have found the strength to succeed as well.
However, as we discussed earlier, Mulan still isn't confronting her need.
She is still hiding behind the identity of Ping, and the respect she is gaining from others isn't being earned by her true self—instead coming from a disguise. This makes sense at this point in her story, but for her to truly complete her character arc she'll have to be forced to confront her inner struggle head on. Fortunately, that will come later, at her Third Plot Point.
Nausicaä of the Valley of the Wind:
Finding a New Ally:
When we last saw Nausicaä, she had just overcome her First Pinch Point, protecting the other hostages before diving into the Toxic Jungle to find the crashed fighter pilot. The following scene introduces us to that pilot, an important character on Nausicaä's journey: Asbel.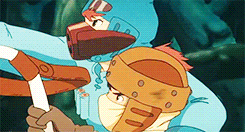 Asbel's positive arc will play an important role in developing Nausicaä's character as the story progresses, but for now we find him struggling to beat back a wave of insects that were agitated when he crashed into the jungle. However, he can't fight against the entire horde alone.
Fortunately, at the last moment Nausicaä swoops in on her glider to snatch Asbel away from death. Yet, as they try to escape they're hit by a flying insect, knocking them down to the Jungle floor, where the pair is caught by quicksand and pulled deep beneath the Jungle's surface.
Nausicaä's Dream:
In the next scene, we see Nausicaä dreaming of herself as a child. She struggles to hide a baby Ohm from her father and the rest of the village, but they take it away despite her protests.  She's chided by her father, and told that insects and humans simply cannot live together.
It's implied that only a foolish child would believe otherwise.
While the audience is left to wonder if Nausicaä and Asbel will survive their fall, this dream takes a moment to highlight Nausicaä's doubts about her truth—and just in time for the Midpoint. Can humanity really live alongside the Jungle, or will the two inevitably destroy each other? This question is central to her story, but we'll soon find our answer.
The Midpoint:
When Nausicaä wakes up, she finds herself in a blue cavern deep below the roots of the Toxic Jungle. The air and water here are clean, and as she and Asbel explore they slowly realize the trees of the Jungle are purifying the earth.
In realizing this, Nausicaä reaches a turning point, one strengthened by her dream.
Previously she had to trust her truth on faith alone, struggling to prove it was real. Now she has that proof. She no longer needs to question herself, hiding her work in a garden below her castle. She can begin putting her truth into action, because she now knows beyond a shadow of a doubt that the Toxic Jungle isn't evil, and that humanity can learn to live alongside it.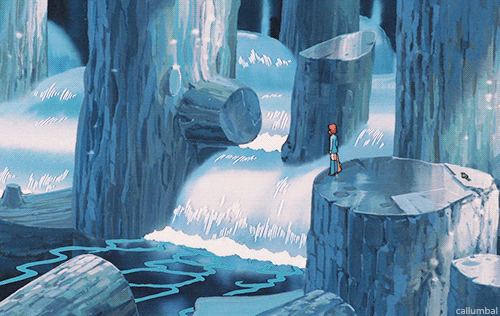 For a flat arc characyer, this is a perfect Midpoint. As I've said many times before, flat arcs don't seek to grow the flat arc character themselves, but to help them heal the world around them. The knowledge Nausicaä finds in this cavern does exactly that, allowing her to pursue her truth without fear later in the story.
However, this certainly won't be easy. While she now has proof, others may be less than willing to believe her. We'll see this come up more as Asbel's character develops in later scenes.
Writing Your Novel's Turning Point
At the end of the day, what you need to remember when writing the Midpoint is that this is meant to be a turning point. What new information, discovery, event, or triumph will help your protagonist take charge of your plot and start actively driving your story?
Whatever it may be, this should be the focus of your story's Midpoint.
Do you have any questions about the Midpoint? Let me know in the comments!
ACT 1
ACT 2

The Story Structure Series Pt.5: Writing a Strong Midpoint

ACT 3