The Novel Smithy Just Got a Redesign!
The New Year is all about new beginnings…
I've been meaning to update the design of this site for a while now, but it was never enough of a priority to rise to the top of my to-do list. That all changed this year—and, after weeks of work and lots of late nights, The Novel Smithy finally has a whole new look!
For the most part, I tried to keep the feel of this site the same. However, there are some pretty big changes I think you should know about. So, let me introduce you to all the cool new things you'll find on The (newly redesigned) Novel Smithy!
What Sparked This Change?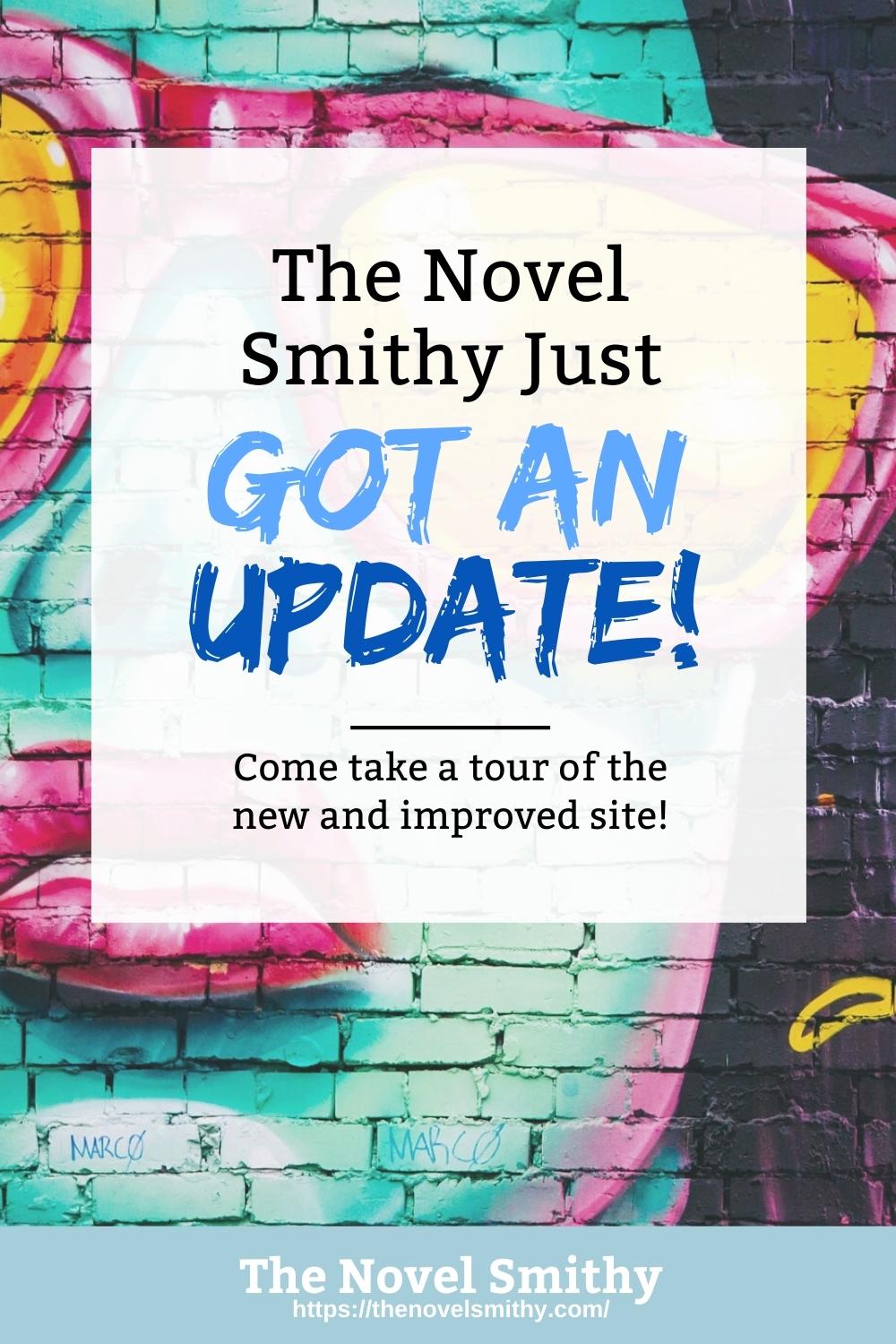 When I started The Novel Smithy back in 2018, I was doing everything myself. I had a small budget and no knowledge of web design, but I did have a good idea of what I wanted. Since I couldn't hire anyone to help me, I dove in alone. By the end of the process, I had spent about a month painstakingly building this site using cobbled-together code, advice from friends, and lots of trial and error.
Luckily, the final result worked—but it was also less than ideal.
Things on the old site broke a lot, and I've spent many nights over the last few years trying to figure out why something was suddenly a complete mess. My fragile setup was also rather limiting. As this site has grown, I've wanted to do things that my original design simply couldn't support.
Because of these issues, updating this website has been lingering on my to-do list for a while. Usually other things like books and articles took priority—but this year the stars aligned! I had someone with experience in web development agree to help me, and we set out to give The Novel Smithy a much needed overhaul.
This new site is the product of that work.
While we strived to keep the same feel as the old site, we've also made a lot of updates, such as making the site faster and easier to navigate. A ton of small things have been spruced up under the hood, and even more small tweaks were made to the frontend. Pages are now wider, we have a whole new FAQ setup, and I've rewritten a ton of content.
Beyond those small changes though, we've also added six entirely new sections to the site that I think you should know about…
6 New Sections on The Novel Smithy!
The Home Page:
First up, The Novel Smithy has been in dire need of a proper home page for years—and we finally have one!
This landing page will provide quick navigation to some of the most important and highly trafficked sections of the website. It'll also serve as the site's first impression for new visitors. Rather than being thrown directly into the blog, this will give them a chance to peruse what I have to offer, learn about this site's purpose, and find what they're looking for more easily.
Of all these new sections, this one definitely features the most dramatic change!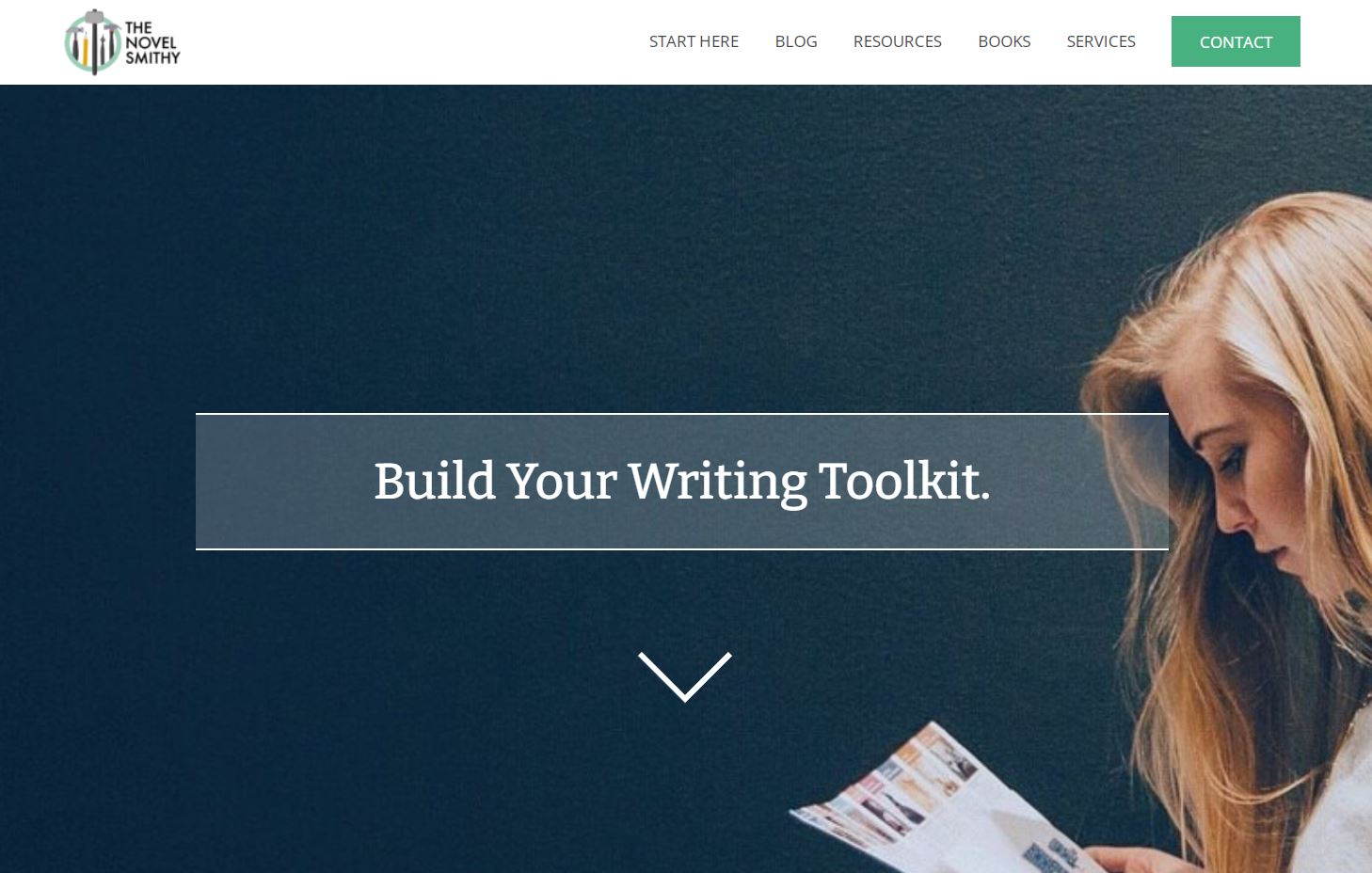 👉 You can check out the new home page here.
Start Here:
Alongside the home page, I've also added a handy new "Start Here" page.
This page is all about welcoming new writers to the site, providing handy links to my free resource library, editing services, and about page. It also contains a new recommendations section, with links to some of my favorite books and tools for writers. If you've been looking to add to your reading list, this is a great place to start.
👉 You can check out the new start here page here.
Books and Workbooks:
Speaking of reading lists, that brings us to the "Books and Workbooks" section—which now serves as The Novel Smithy's shop!
I've wanted to offer resources other than ebooks for a while, but I never had a good way to get them in reader's hands. This section changes all that. Not only does it provide details on all my books and other resources, but it also gives you the option to buy them on your favorite retailer or from me directly.
This is awesome, for a few reasons!
For starters, you can purchase my books as both ebooks and PDFs, meaning you can read them on any device you choose—not just Kindle. This will also give me the ability to create in-depth workbooks and other resources that wouldn't work as traditional ebooks, like my new Fiction Outlining Template for Scrivener. If you missed out on this template during the Escape the Plot Forest Summit last fall, it's now available in the shop with a few bonus templates added in for good measure.
I plan to write an article about selling direct to readers (and why wide authors should consider it) in the future, but for now this new shop offers a ton of exciting possibilities.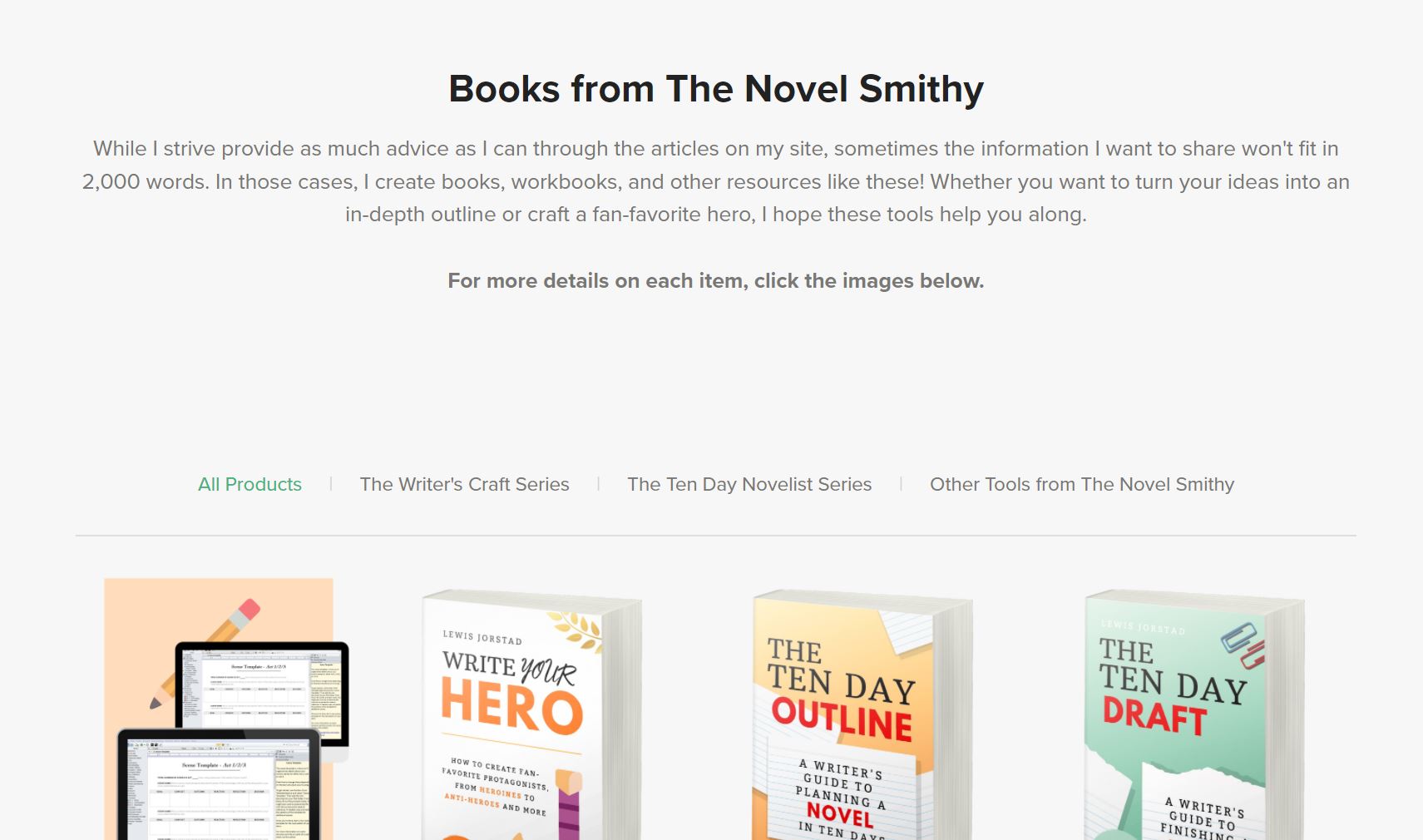 👉 You can check out the new books page here.
Editing Services:
Next up, I've also done a major revamp of my editing services—both the pages and the services themselves.
From now on, I'll be offering both my normal developmental editing service, as well as guided book coaching programs designed around specific parts of the writing process. Each program has its own dedicated page, meaning you can find all the details you need in one place—whether that's an FAQ, timeline, or links to get in touch.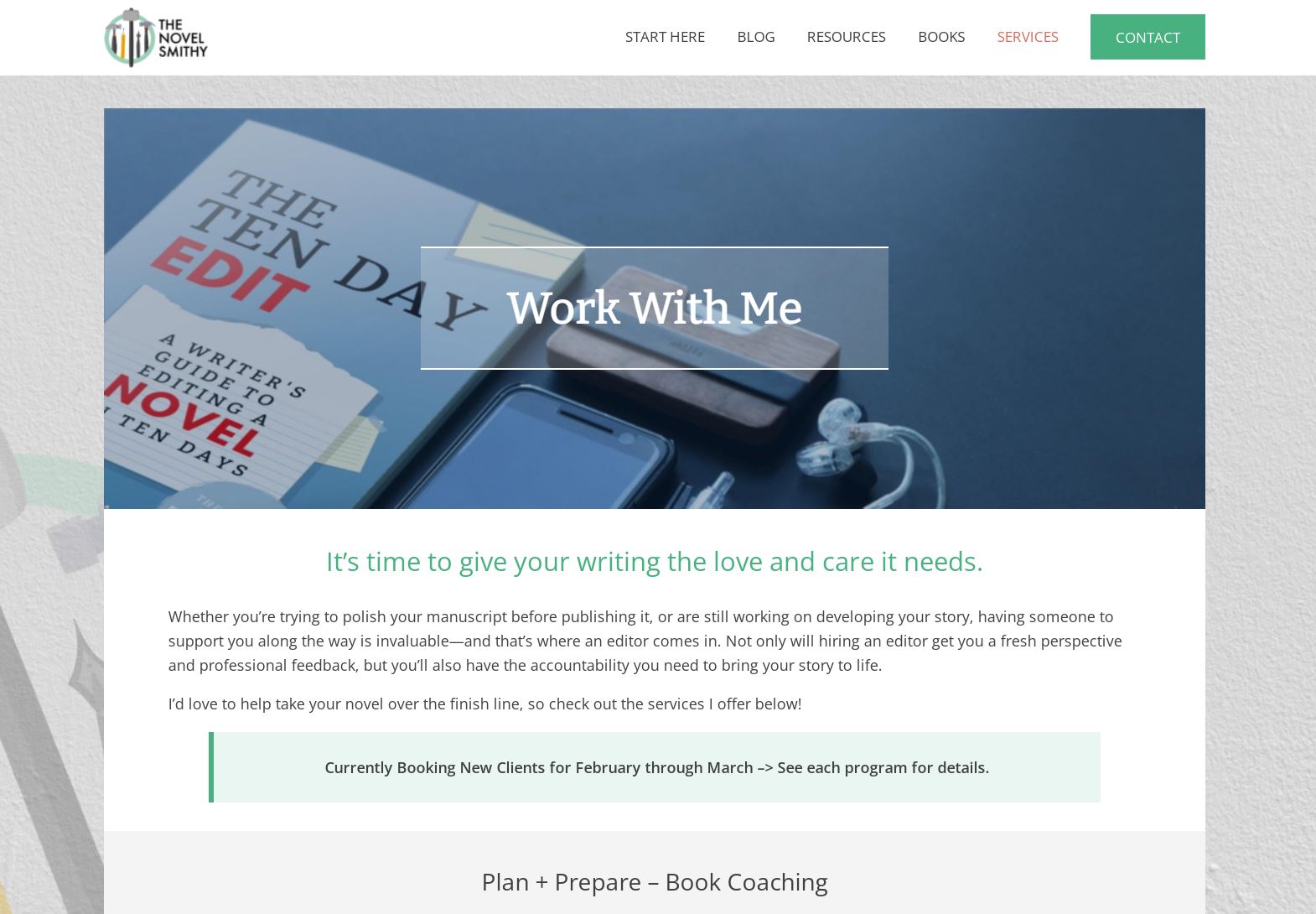 👉 You can check out the new services page here.
Resources:
Of all these new sections, the "Resources" section is a bit of a catch-all, and is also the most subtle—this section simply contains links to other important content on the site.
Right now, it's pretty sparse, containing only a link to the Resource Library and the new First Chapters Writing Contest details page. However, I expect this section to grow over time. If there's anything you'd like to see here, definitely let me know!
The Archives:
Last but not least, we have the brand new "Archives" section.
In the past, the only way to browse older posts on the site was to page all the way back to the first page of my blog feed—and, considering the site is always growing, that just wasn't practical anymore.
Enter, the archives!
This section allows you to browse all of my past articles, either by date or by category. Each category also includes links to my most popular posts on that subject, in case you need some inspiration for what to read next. Between the search feature and this new section, browsing the site should be easier than ever.
👉 You can check out the new archives here.
The Novel Smithy just got a major redesign! You should definitely check it out. 😍
Click To Tweet
What Do You Think?
All in all, a lot has changed, but a lot has also stayed the same. The purpose of this site is still to help writers develop their writing craft, feel confident telling their unique stories, and write their dream novels—and, of course, my favorite color is still green!
So, with that in mind, don't hesitate to poke around and see what's new. Then, let me know what you think of the changes! I hope this update makes The Novel Smithy an even better resource for you on your writing journey. 🥳
What do you think of the new design? Let me know down in the comments!