The 2019 First Chapters Writing Contest
It's that time of year again!
With NaNoWriMo officially over and the holiday season just beyond the horizon, it's time to start thinking about what you'll do with your newly minted NaNoWriMo draft.
Unfortunately, many writers lose steam at this point, shoving their drafts in a drawer to collect dust. However, I have a better idea, and your first draft doesn't even have to be complete to join in the fun. Why not enter a writing contest? Specifically, the second annual First Chapters Writing Contest!
This writing contest has received a major overhaul since this article was published. You can find the updated contest page, as well as a record of past winners, here.
What is the First Chapters Writing Contest?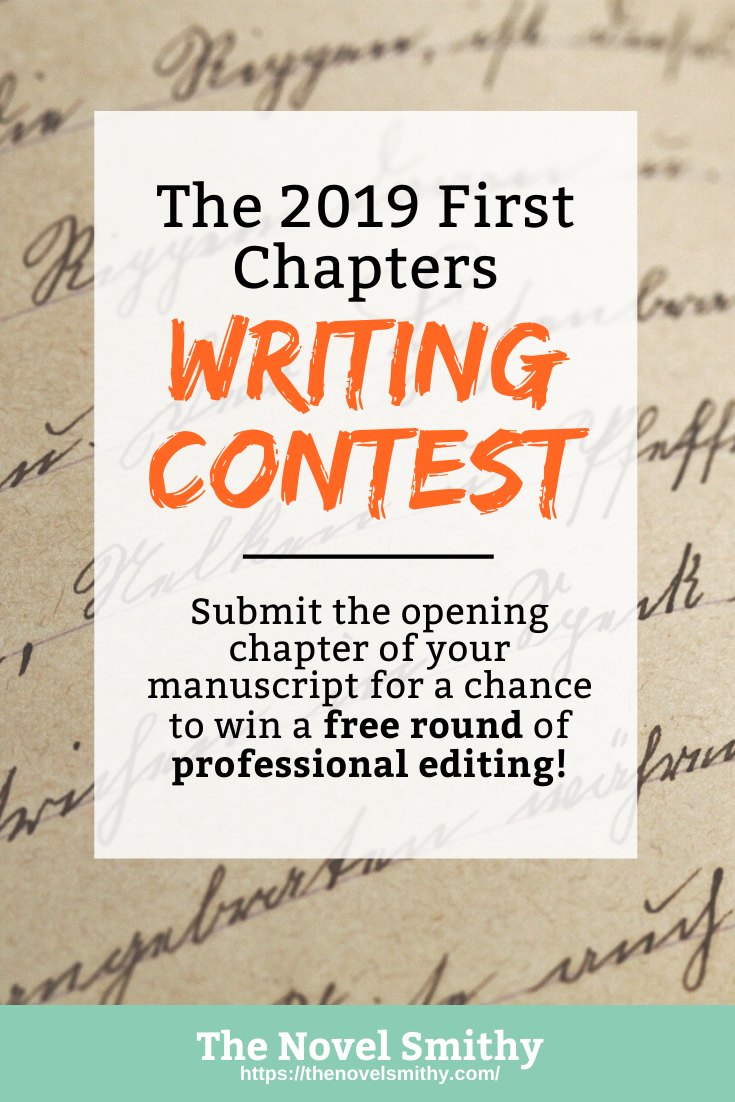 Almost all of us know how important it is to work with an editor before sending our books out for publication. Not only do editors provide an experienced, expert opinion, but they can give targeted advice and spot errors we never would have seen otherwise.
Of course, working with an editor isn't possible for everyone. As with hiring any professional, there is a cost involved—but what if there was a way to work with an editor despite this cost?
Enter the First Chapters Writing Contest!
This is an awesome opportunity for writers of all levels to potentially get in-depth feedback on their draft. Not only that, but this is also a way to show yourself you're taking your writing seriously. Even though NaNoWriMo is over, that doesn't mean your writing should be put on the back burner!
Still, you might be wondering: why just your first chapter?
Well, this way you have less to edit over the next few weeks, and you can focus on polishing and perfecting your first chapter's prose, dialog, and Hook. Plus, I can give you more time to send in your entries before I have to cut off submissions, since each entry will take a bit less time to thoroughly review.
By entering the contest, you might win:
1st Place: A free round of developmental editing for your manuscript (up to 50,000 words)

2nd Place: A critique of your first chapter submission and a thirty minute follow up consultation
How to Enter the Contest
To enter the First Chapters Writing Contest, you'll need to complete a few steps. Don't worry—none of these should take more than five or ten minutes.
Fill out this short survey to submit your entry (up to 5,000 words) as either a PDF or .docx file.
Make sure your submission is free of major errors, and is in a standard, 12 point font.
Please no gore or erotica submissions (these will be automatically disqualified).
Submissions will remain open until December 20th.
The winner will be announced on the blog on December 24th.
If you're ready to submit right away, that's great! However, it's well worth taking the time to polish your first chapter before entering it into the contest—this will maximize your chances of winning.
Specifically, I'll be looking for these traits in the winning submissions:
Entries should be relatively polished, with no major grammatical or spelling errors.
They should have an intriguing Hook that encourages readers to want more.
You should take the time to write a strong premise to include with your submission.
Entries must follow ALL submission requirements—failure to do so will result in automatic disqualification.
Fortunately, these should be easy enough to take care of. In fact, you can probably edit your first chapter and prepare it for submission in a single afternoon!
Rules of the 2019 First Chapters Writing Contest
As with any contest, there are some rules to follow. A few of these are legally required, but most are simply designed to ensure the contest runs smoothly.
(The 2019 rules are no longer available.)
Of course, if you have any questions, feel free to leave a comment below or contact me via email. I'm so excited to see your submissions and read the amazing stories you've created. This year is shaping up to be a fantastic one, and I hope you're just as excited as I am. 🙂
Do you think you have what it takes to win? Let me know in the comments!