The 2020 First Chapters Writing Contest
The 3rd annual First Chapters Writing Contest is officially here!
The year is almost over, and at this point, I think we can all agree—2020 has been a struggle. Between sporadic lockdowns and a dangerous virus, life just hasn't feel very normal this year.
Fortunately, that doesn't mean 2020 was a total waste. After all, amid all the craziness of this year, a lot of people found the time to take stock of their lives and recommit themselves to what they truly care about—and for many, that means writing! Still, some familiarity would be nice. So, to wrap up this strange year, it's time to dive into something that has become a yearly event for readers of The Novel Smithy: The First Chapters Writing Contest!
This writing contest has received a major overhaul since this article was published. You can find the updated contest page, as well as a record of past winners, here.
What is the First Chapters Writing Contest?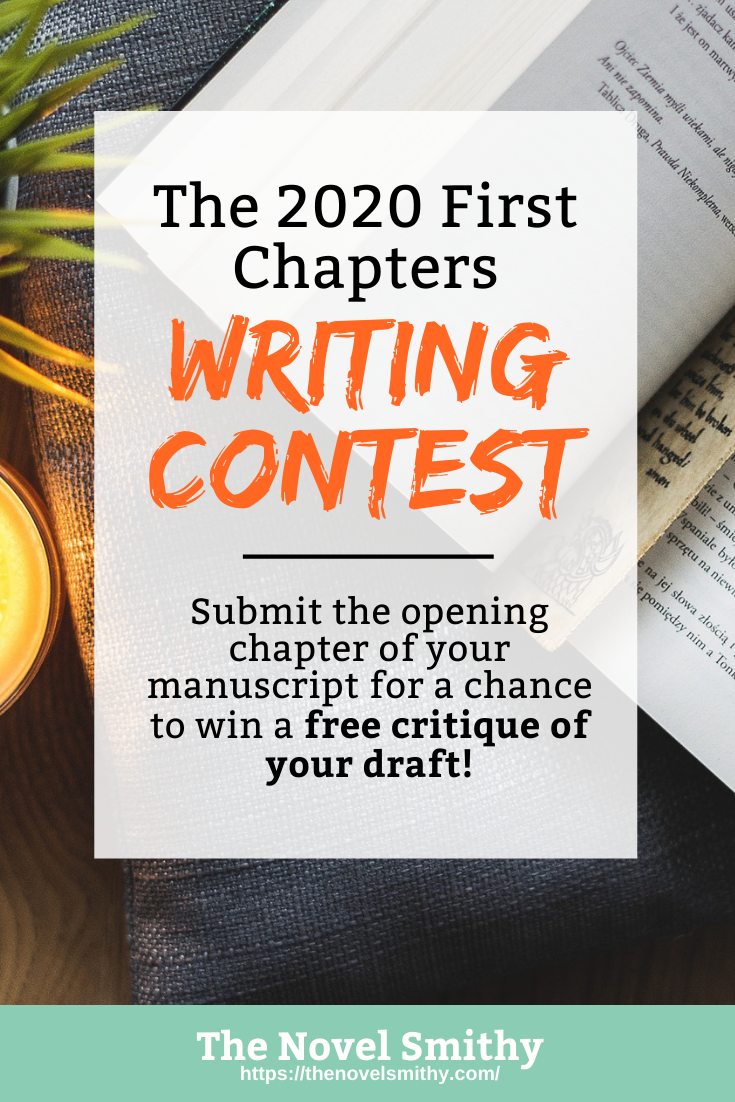 If you've been hanging around The Novel Smithy for very long, then the First Chapters Writing Contest should feel like an old friend by now. However, we've gotten a lot of new readers this year (to which I say, welcome!) meaning not everyone will have gone through this process before. So, let me walk you through the basics of what the First Chapters Writing Contest is all about.
You see, most writers know how important it is to work with an editor (or two) before sending their novel out for publication, but that doesn't make hiring an editor easy. Unfortunately, no matter how important professional editing is, it's also a big expense—one that can be hard to justify as a first-time author.
Enter the First Chapters Writing Contest!
This is an awesome opportunity for writers of all levels to get in-depth feedback on their current novel. Not only that, but it's also a great way to prove you're taking your writing seriously—both to yourself and others. After all, even though NaNoWriMo is over, that doesn't mean your writing should be put on the back burner!
Best of all, since you're only submitting your first chapter, you have plenty of time to focus on polishing and perfecting it over the next few weeks. 🙂
By entering the contest, you might win:
How to Enter the Contest
To enter the First Chapters Writing Contest, you'll need to complete a few steps. Don't worry—none of these should take more than ten minutes.
Fill out this short survey to submit your entry (up to 5,000 words) as either a PDF or .docx file.
Make sure your submission is free of major errors, and is in a standard, 12 point font.
Please no gore, horror, or erotica submissions (these will automatically be disqualified).
Submissions will remain open until December 19th.
The winner will be announced on the blog on December 22nd.
If you're ready to submit right away, great! However, it's worth taking the time to polish your first chapter before entering it into the contest—this will maximize your chances of winning.
Specifically, I'll be looking for these traits in the winning submissions:
Entries should be thoroughly proofread, with no major grammatical or spelling errors.
They should have an intriguing Hook that encourages readers to want more.
You should take the time to write a strong premise to include with your submission.
Entries must follow ALL submission requirements—failure to do so will result in automatic disqualification.
Fortunately, you should be able to edit your first chapter and prepare it for submission in a single afternoon. Here are some articles that can help:
Rules of the 2020 First Chapters Writing Contest
Of course, as with any contest, there are some rules to follow. A few of these are legally required, but most are just designed to ensure the contest runs smoothly.
Before submitting your entry, take a moment to look through the 2020 contest rules here.
Of course, if you have any questions, feel free to leave a comment below or contact me via email. I'm super excited to get your submissions and read the amazing stories you've created. While this year has been crazy, it'll be nice to end it on a positive note. 🙂
Do you think you have what it takes to win? Let me know in the comments!