The 2020 First Chapters Writing Contest Winners
It's time to announce the winners!
It's been exactly two weeks since entries opened for the third annual First Chapters Writing Contest, and in that time I've received some amazing submissions. From intense science fiction adventures, to Victorian romances and murder mysteries, there has been a huge variety of entries this year—and I won't lie, I've really struggled to pick the winners.
Of course, eventually deliberations had to come to an end. So, today I'm excited to announce the winners of the 2020 First Chapters Writing Contest!
This writing contest has received a major overhaul since this article was published. You can find the updated contest page, as well as a record of past winners, here.
What Made a Winning Submission?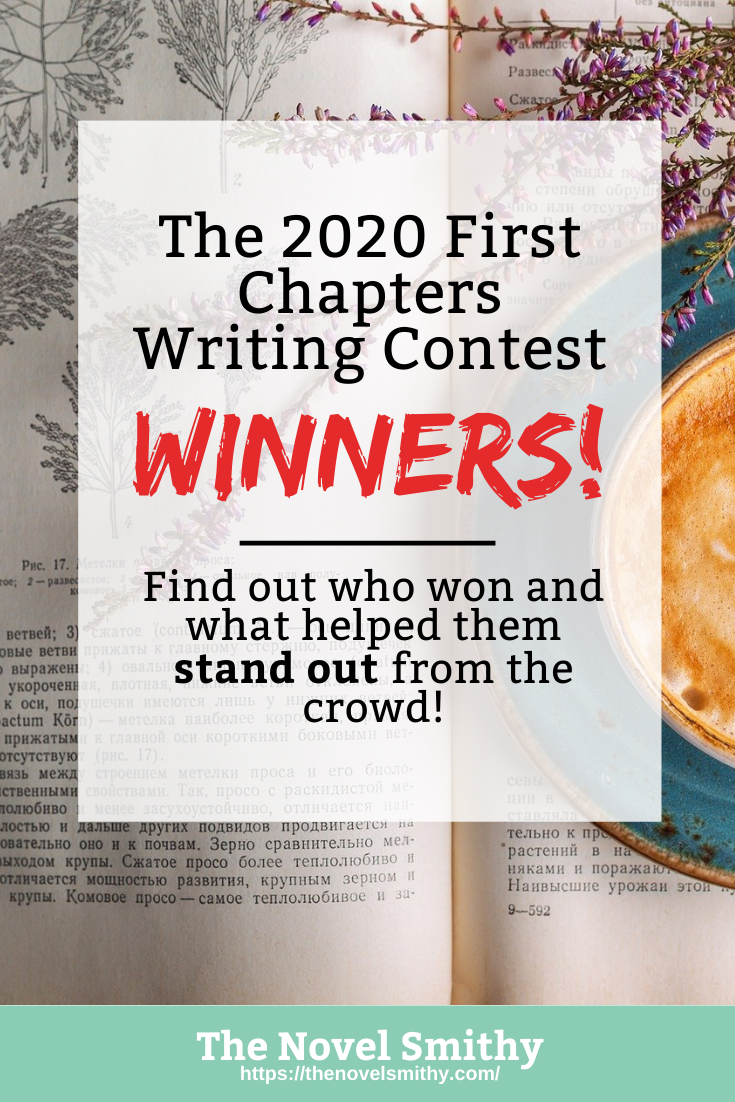 As is tradition by now, I judge all submissions based on a few common criteria:
Did the submission have a strong Hook that encouraged me to read more?
Was there something unique about the story's world or characters?
Had they undergone a basic level of editing for prose and clarity?
And did they follow all the rules and submission guidelines for the contest?
In years past, most of the submissions I received simply didn't meet these criteria. Either they fulfilled only one or two (such as having a solid Hook, but very little editing to speak of), or occasionally they struck out on all four.
However, this year that was not the case!
Not only were most of the submissions solid first chapters in their own right, but it was clear that their authors put a lot of work into polishing and preparing them before submitting. Still, I had to pick the winners somehow, and there were a few important traits that stood out in the winning submissions.
For starters, their Hooks were very strong—but more importantly than that, they also managed to strike a balance.
You see, some entries worked too hard to avoid any kind of backstory or exposition during their Hook, and the result was that I quickly found myself lost in their story, unsure who or what was worth paying attention to. On the other hand, the winning entries managed to avoid revealing too much, while also sprinkling in just enough exposition to keep me oriented within the story.
Beyond their Hooks, both winning submissions also had outstanding worldbuilding.
Not only did these details elevate their story itself, but it also highlighted the quality of their prose. I was genuinely blown away by the prose in a number of submissions, but these final two combined that strong writing with intensely vibrant, living worlds. Though I reread a handful of submissions while creating my shortlist, I couldn't help but come back to the final winners just to see their story worlds in action.
And of course, last but not least, they followed all the submission guidelines!
Every year I get a handful of submissions that completely ignore the rules for the contest, no matter how many stellar submissions I get. Ultimately, I have to disqualify these chapters regardless of how good they may be—so if you plan to submit a first chapter next year, definitely read the guidelines.
The Winners of the 2020 First Chapters Writing Contest
Alright, so with all that talk out of the way, here's the real question—who won this year's First Chapters Writing Content?
Well, I'm thrilled to congratulate Jennifer M. and Alyssa H. for their winning submissions!
"Who?" Eivan said, touching the ruined paper through Cas's fist.

The sheet clung to Cas's shoulders, a polyester blend prophet's mantle. His hair slipped forward to shade his eyes, sticking in the sweat lacing his temples. Cas let the paper fall to the floor. Eivan wore a dress shirt and a frown, both blinding in the hot afternoon sun.

"I don't know." Cas bent to swipe his sweatshirt off the ground, sheet sloughing off. He picked at the bleach spots marring the Nirvana on his hoodie and leaned into Eivan's shoulder, watching Eivan's pulse press against the skin above his collar. A-live a-live a-live. Cas laid two fingers on his wrist, pulse thumping in time with Eivan's beneath the scars. He traced each of the four Xs branding his skin, none made with permanent marker.

Cas forced a grin. His hand fell to his side. He whispered, shoving off Eivan's shoulder. "But you're the one who kills her." — Jennifer M.
Both Jennifer and Alyssa will receive a full critique of their first chapter submissions, as well as a storytelling consultation as their winning prize.
It was fantastic getting to read their submissions, and I can't wait to see where they go in 2021. Of course, that's to say nothing of the other fantastic first chapters I got to read this year—so many genuinely impressed me, and I hope to see more of them in the New Year!
What's Coming in 2021?
With this year's contest now complete, The Novel Smithy is officially on break until next year. I'll be stepping away from my computer for a few weeks to rest and recharge, before it's time to dive back in to another year of articles, editing, and books.
Fortunately, I have a lot of exciting things planned for 2021!
Not only will there be new articles and resources, but the fourth and final book in The Ten Day Novelist series will launch in the spring. That, along with the relaunch of Building Powerful Plots and a few other secret projects still in the works, and it'll be a busy year for sure. I'm looking forward to it, and I hope you are too. After all, I couldn't do what I do without your support. 🙂
So, I wish you all a happy holiday season! Stay safe out there, take some time to rest and have fun before 2020 is over, and I'll see you all again in a brand new year!
The Novel Smithy will return in the New Year, but for now, happy holidays!