A Complete Guide to Designing Fan-Favorite Book Covers
Like it or not, readers will judge your book by its cover.
Your novel's cover design is often the first thing readers see when they find your book, and it has a lot of important roles to play. Not only will your book cover tell them what genre you're writing in, but it'll also highlight key elements of your story and writing style. 
As a result, a high-quality book cover is one of the best investments you can make when self-publishing a novel—but let's be honest. Not everyone has the budget to hire a professional designer. Fortunately, creating DIY book covers on a budget is possible! So, let me share a few tips and tricks for making your DIY book cover the best it can be.
Can You Design Your Own Book Cover?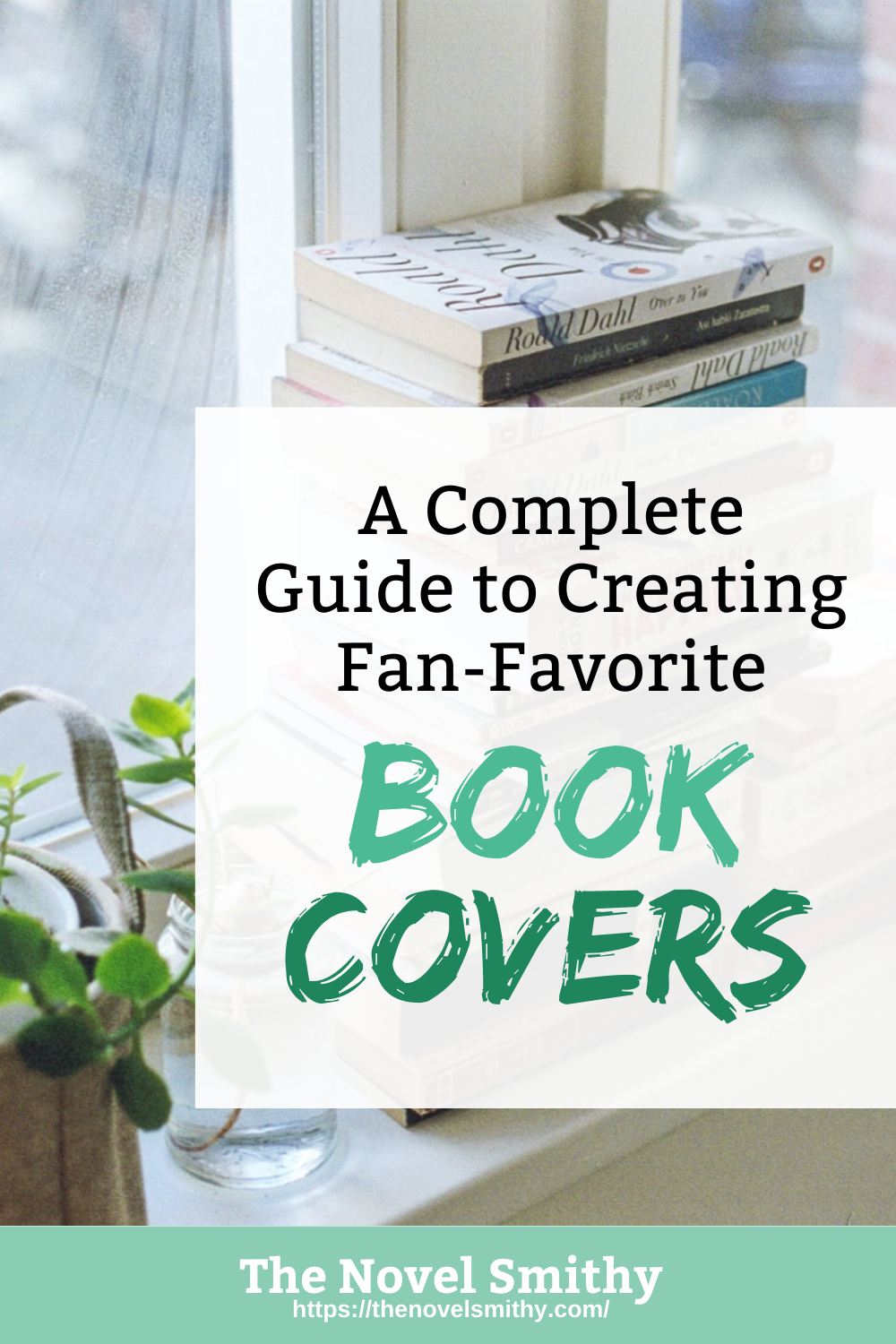 Designing your own book cover is definitely an intimidating process. From things like font and composition, to genre conventions, file requirements, and even the difference between ebook and print, you have a lot to juggle if you plan to go DIY. Because of this, many writers wonder:
Can you actually design your own book covers?
Well, the short answer is yes—you absolutely can! However, the long answer is a bit more complicated…
You see, your book cover will be critical to successfully self-publishing your novel. This is because your cover design will often form readers' first impressions of your story, meaning a bad design could easily push away readers who would otherwise love your novel.
All of this means that you should approach the cover design process with care. Most authors will be well-served by hiring a professional designer if they can afford it, or at least exploring pre-made covers as a more cost-effective alternative.
Fortunately, shelling out a ton of money isn't your only option.
Plenty of authors design their own covers and achieve great results, and you can too. In fact, I've designed all of my book covers to date, and so far, readers seem to like them! The trick is taking your time, as well as understanding a few important tips for designing your own book covers…
7 Things to Consider When Designing a Book Cover
Pay Attention to Format:
One of the first things you'll need to think about when designing your book cover is format. Depending on the specifics of your publishing plan, your final cover could look vastly different.
This is because of a few key elements.
Ebook vs. Print — Ebooks only require a simple image for their cover. Meanwhile, print books use "print wraps." These are print-ready PDFs that contain every part of the cover, including extra margins that will be trimmed off the final book.

Aspect Ratio — For ebooks, their aspect ratio determines the dimensions of the final cover. For example, 1.6:1 is a very common aspect ratio, but you could also use a 1.5:1 or even 1.2:1, depending on what you're designing. You can read more about aspect ratios here.

Trim Size — Similar to aspect ratios, trim sizes determine the final dimensions of print books. For example, my Ten Day Novelist series all have a 6" x 9" trim size, which is one of the most common sizes. You can find some other trim sizes here.

Publishing Platform — Finally, different publishing platforms require different formats. As a general rule, your cover will need to be a JPG and at least 2,500 pixels tall. However, the specifics could change from platform to platform.
That last one is particularly important, because you don't want to accidentally design a cover that doesn't comply with your publishing platform's rules. So, before you start designing, make sure to check all the relevant requirements.
Here are some links to the requirements of different publishing platforms:
Study Your Genre:
Alongside formatting requirements, you'll also want to spend time studying your genre.
You see, every genre has certain elements and patterns that appear in their book covers—and that clue readers into the type of story they're about to read. This means your novel's cover design should match those genre conventions in order to attract the right readers to your story.
This is where the term "target reader" comes into play.
Your target reader is the reader most likely to buy and enjoy your novel, meaning they're the person you want to attract through your cover design. To do so, you'll need to highlight design elements they'll recognize from other popular books in your genre, in order to catch their eye and let them know: "You'll like this book too!"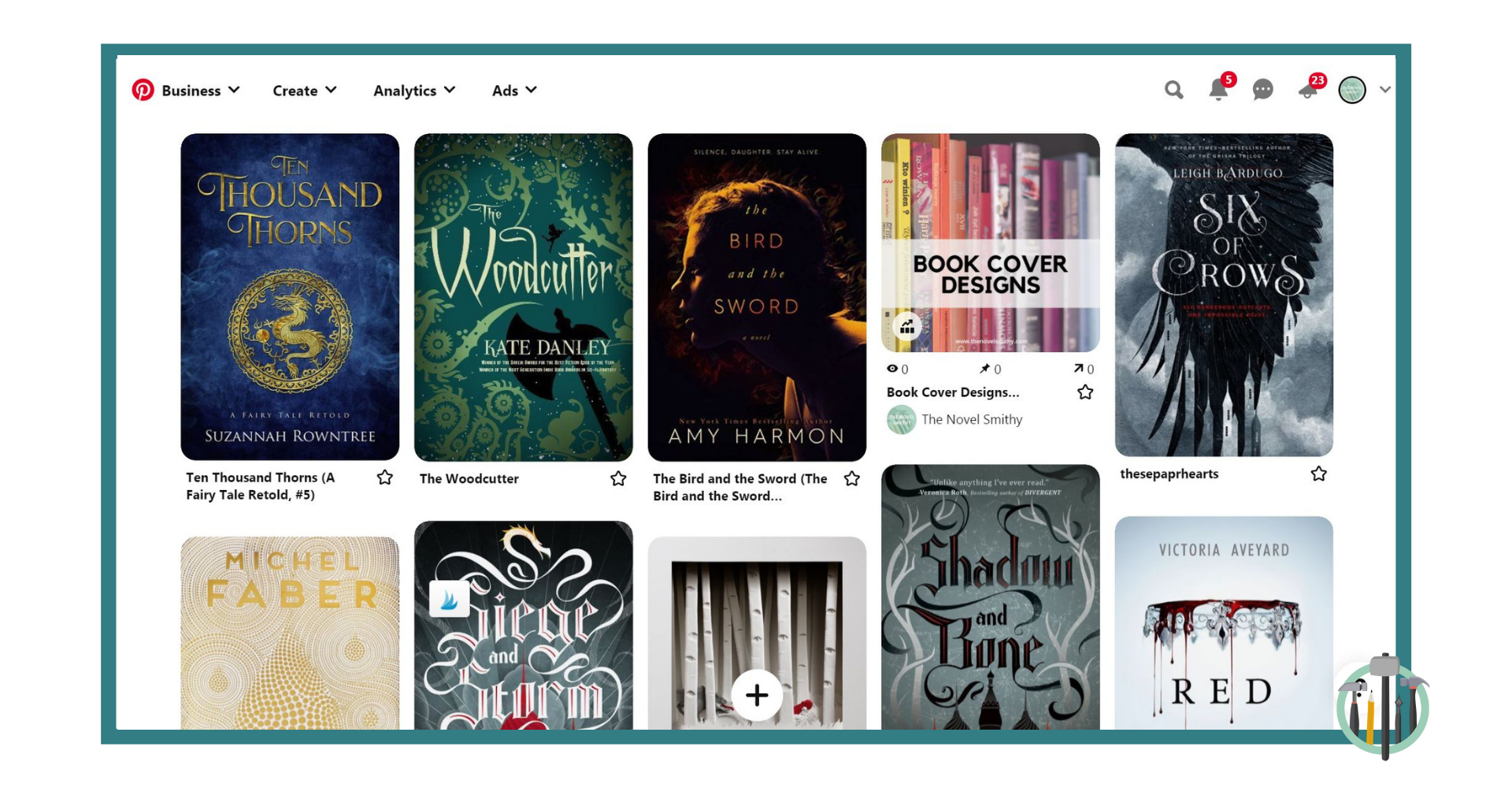 So, how should you conduct this research?
Well, I recommend browsing the bestsellers list for your genre, and then saving any covers that catch your eye. Ideally, you'll find these follow similar patterns. For instance, YA fairytales often feature a character prominently on the cover, while mysteries hide their characters in the shadows. Meanwhile, something like sci-fi almost always includes an epic shot of space!
Draw the Reader's Eye:
A key thing to consider when designing DIY book covers is how your cover design draws your reader's eyes. This refers to how the image frames a specific focal point, whether that's the title of the book or a specific figure—and it's this careful composition that often separates an average cover from a fantastic one.
This is another place where studying your genre will be very helpful.
You see, every genre has a different way of drawing the reader's eye, and they also highlight different things as their focal points. For example, clean romance uses bright backgrounds that sweep upwards towards the book's title, with the title highlighted at the top of the image.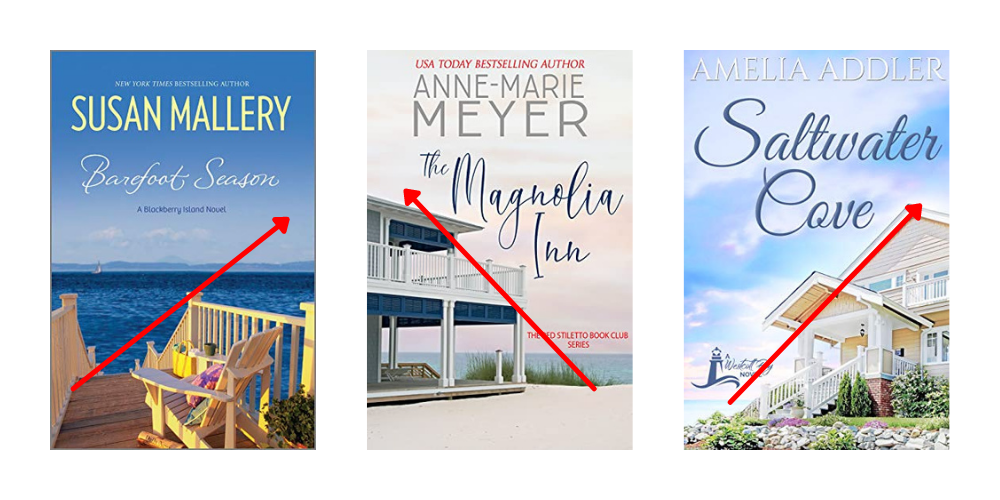 In contrast, thrillers are much darker, with carefully drawn lines in the background leading readers' eyes towards a central (often shadowy) figure.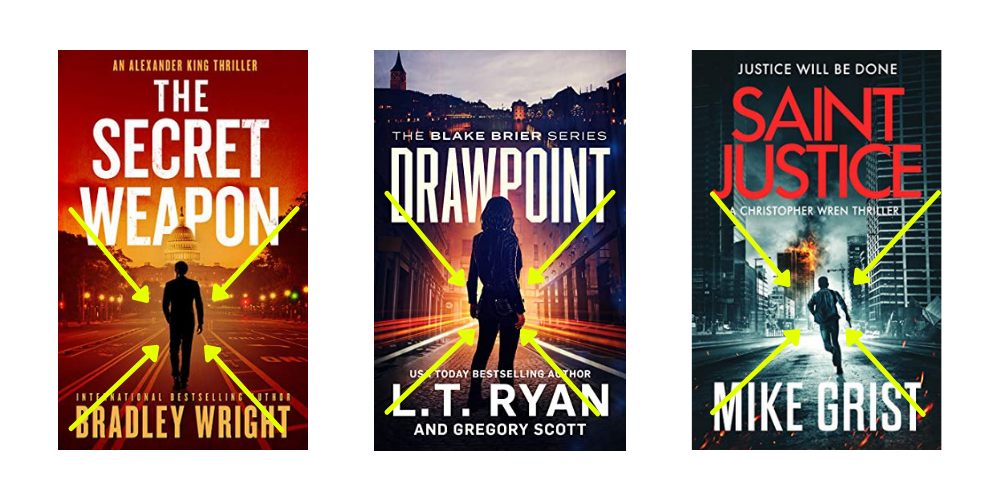 And, last but not least, YA dark fantasy often focuses heavily on typography, with the image split into a series of distinct horizontal sections.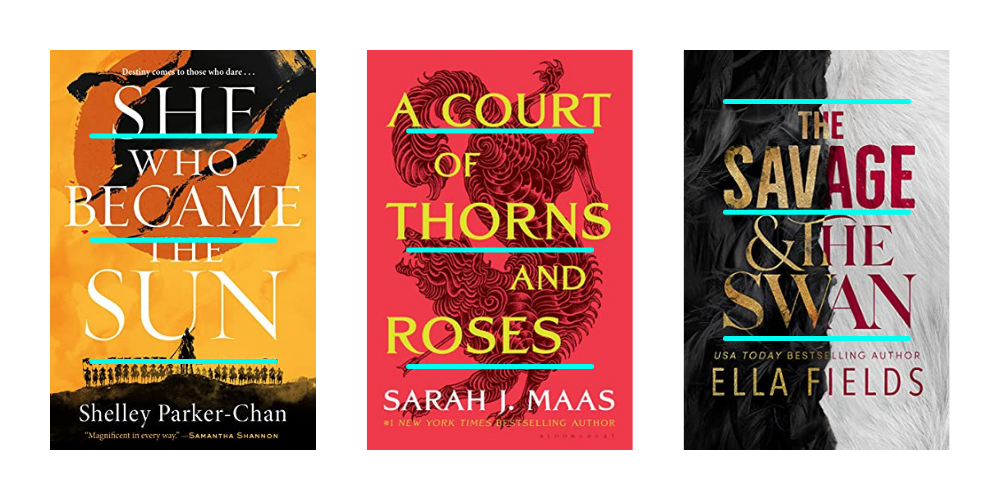 Of course, even within these three genres there is variation. YA fantasy also features a lot of covers that focus on a central figure, while some thrillers go all in on typography. Still, being able to look at the bestsellers in your genre and see how they compose their covers will go a long way towards helping you refine your own cover designs.
Don't Be Afraid to Iterate:
Like it or not, you'll probably go through a lot of rough drafts before landing on a book cover you're happy with. This is a normal part of the cover design process—and I'd argue it's actually a good thing!
For example, you might plan to base your cover design on an amulet that plays a key role in your story, but after some drafts, you realize an image of your protagonist fits your genre better. That's ok, and it's this process of experimenting that will ultimately help you create the best book cover possible.
What's more, this process doesn't stop once you find a design you like.
Eventually, you'll land on a basic cover design that fits your needs, but even then, you should ask yourself if there are any improvements you can make. These might be subtle, but even something like tweaking your background or adding highlights around your subject can go a long way in refining your design.
This is another place where researching your genre can help—if you pay attention to the background elements in your favorite book covers, you'll be able to better understand how those elements can strengthen your design too.
Above all, just don't be afraid to iterate!
Think in Terms of Thumbnails:
Now, I mentioned your cover's dimensions earlier in this list, but your novel's cover won't just need to look good at 2,560 x 1,600 pixels—it'll also need to look good as a thumbnail.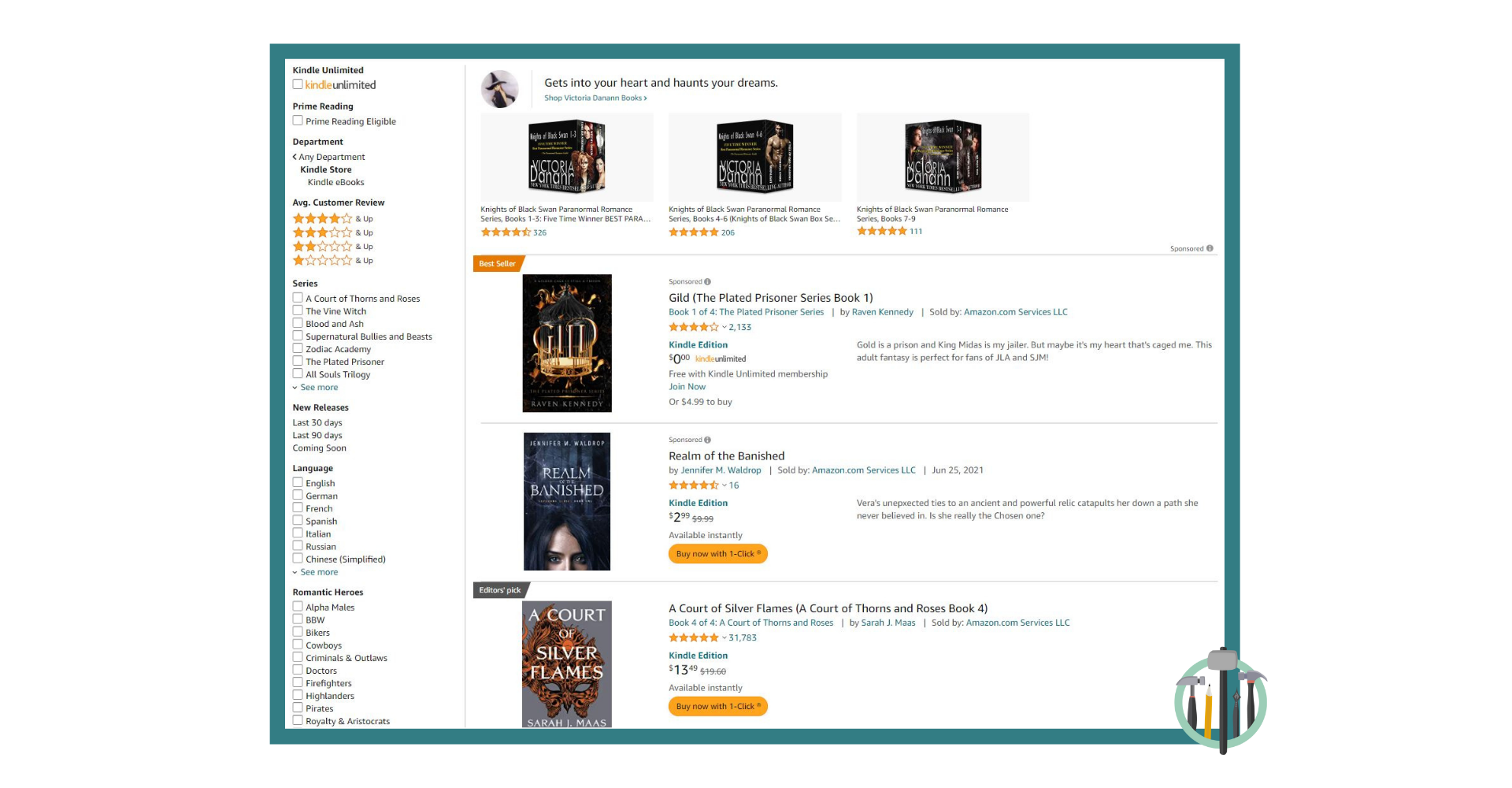 You see, when readers are browsing online for books, they'll be scrolling through a huge list of tiny thumbnails. This means your novel's cover needs to fulfill a few things, even at a small size:
It needs to have a clear subject
Its title should be easy to read
And it should signal what genre it falls under
So, how can you ensure your cover works as both a full-sized image and a thumbnail?
Well, if you already have a cover in the works, a simple trick is to shrink the image down to thumbnail size. Then, open up Amazon and search for similar books in your genre. You should end up with a page full of thumbnails, which you can then compare your book cover to.
Is the title of your cover still readable? Is the subject still clear? Does it grab readers' attention, and will it fit in with the other thumbnails from your genre? If so, you're good to go!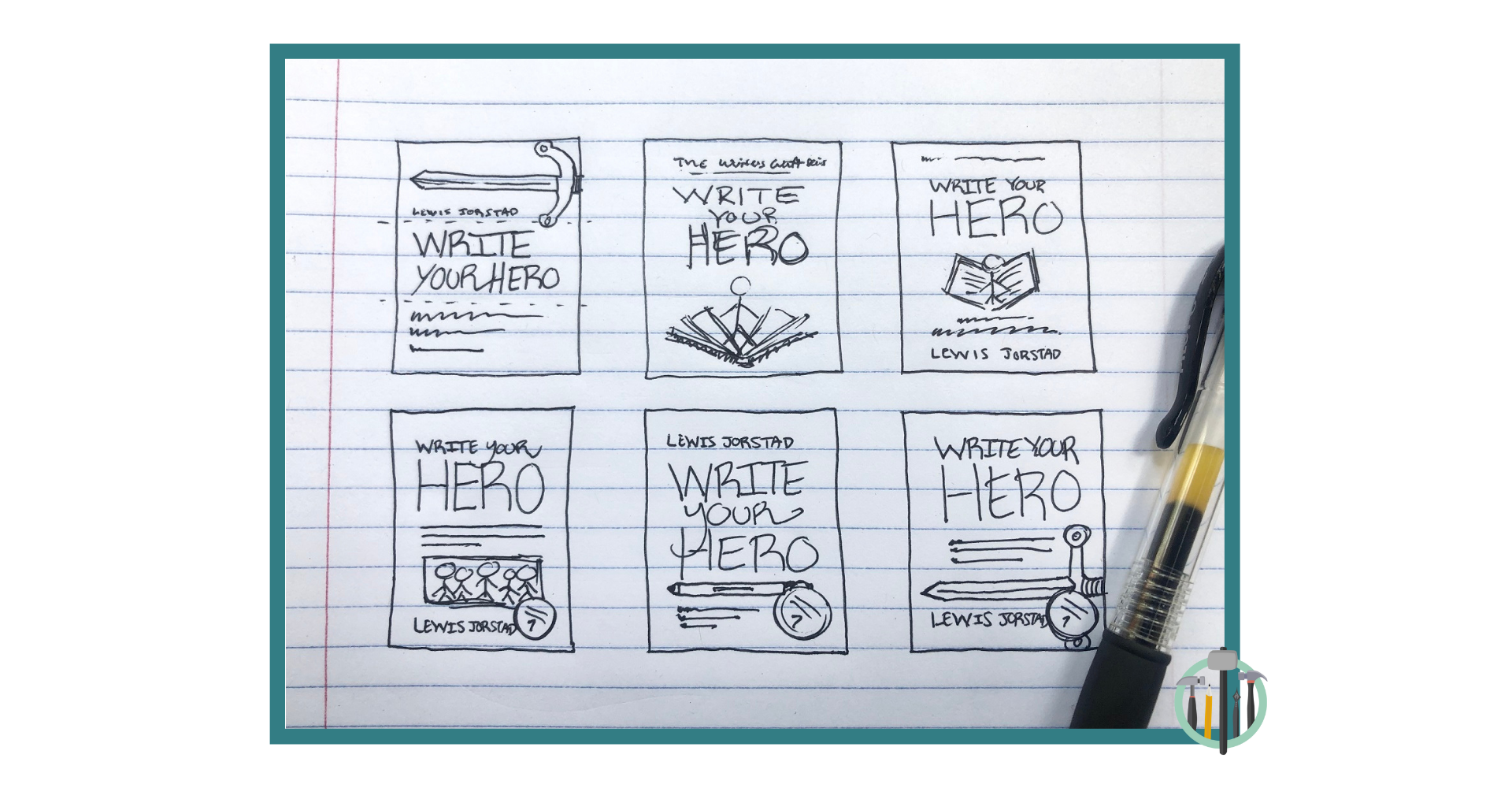 Alternatively, you might consider designing your book cover as a thumbnail first. Simply pull out a sheet of paper and sketch a series of small rectangles in the same rough dimensions as your cover—I recommend using lined paper to help with this. Then, draft a few designs, focusing on possible layouts that would work for your novel.
As an example, the thumbnails above are actually sketches for my upcoming book on character development, titled Write Your Hero! 🙂
Write Your Hero is live! You can grab the book (and learn all about writing fan-favorite protagonists) here.
Know Your Story:
Of course, no amount of genre conventions and formatting rules will replace a solid understanding of your story. After all, the job of a high-quality book cover is to attract your target reader—which means your cover needs to match the story inside.
Because of this, I encourage you to take some time to reflect on your story.
What sort of cover will best capture the tone of your novel? What key elements of your story do you want to highlight? Is your protagonist the most important part of your novel, or is it your worldbuilding, a key object, or a feeling?
You might also be writing a series, in which case your cover design will need to fit with every other cover in the set.
Ultimately, this is one place where authors have an advantage over cover designers, however small. Since you know your story better than anyone else, you should be able to identify the most important parts of it, and hopefully translate those parts onto your cover!
NOTE: While you want your design to match your novel, you don't want to recreate a specific scene from your story. Generally, this results in a cluttered design, and doesn't work as well as you might think. Instead, strive to highlight one or two key elements, as well as the basic setting, tone, or mood of your story.
Get a Second Opinion:
Last but not least, sometimes you just need a second opinion…
While you might love your cover as it is, there's no harm in enlisting fellow authors, beta readers, or friends as a second pair of eyes. Just like you (hopefully) hired an editor to review your story, you'll want to gather some second opinions to refine your book cover too.
So, how should you approach this?
Well, for starters, you'll want to reach out to people who are familiar with your story and your genre. Likewise, you also want them to be comfortable giving constructive criticism. If they have experience with cover design, even better—but even if they're just an avid reader in your genre, they should still be able to help!
Then, once you've found someone willing to help, ask them:
What genre do you think of when you see this cover?
What would you say the focal point of this cover is?
Are there any elements that seem confusing or cluttered?
What's your overall impression of this cover?
How would you improve this cover if you could?
What elements work about this cover?
If you were scrolling through Amazon, would this be a book you're interested in?
Overall, this is the perfect chance to step away from your cover and get a fresh perspective. While it might not be fun to hear criticism of your design, the end result is usually worth it.
After all, the feedback you get will ensure your final book cover is the best it can be!
NOTE: If you don't know who to ask to review your book cover, consider using an A/B testing site to gather opinions on potential designs. You can find more information here.
The Best Software for Creating Budget Book Covers
With all that said, I imagine you're interested in designing your own book cover at least partially for financial reasons. Hiring a professional designer is expensive, and even investing in a pre-made cover can cost a few hundred dollars. Not all authors have that much money in their budget, so designing your own book cover offers a tempting alternative.
The question is, what software should you use to design your cover?
A lot of people will immediately recommend Adobe Photoshop, and if you already have experience using it, then it's certainly a great option! However, Photoshop is also rather expensive—at the time of writing, a license could cost you anywhere from $20-$50 a month…
Fortunately, there are free alternatives out there, with my favorite being Canva!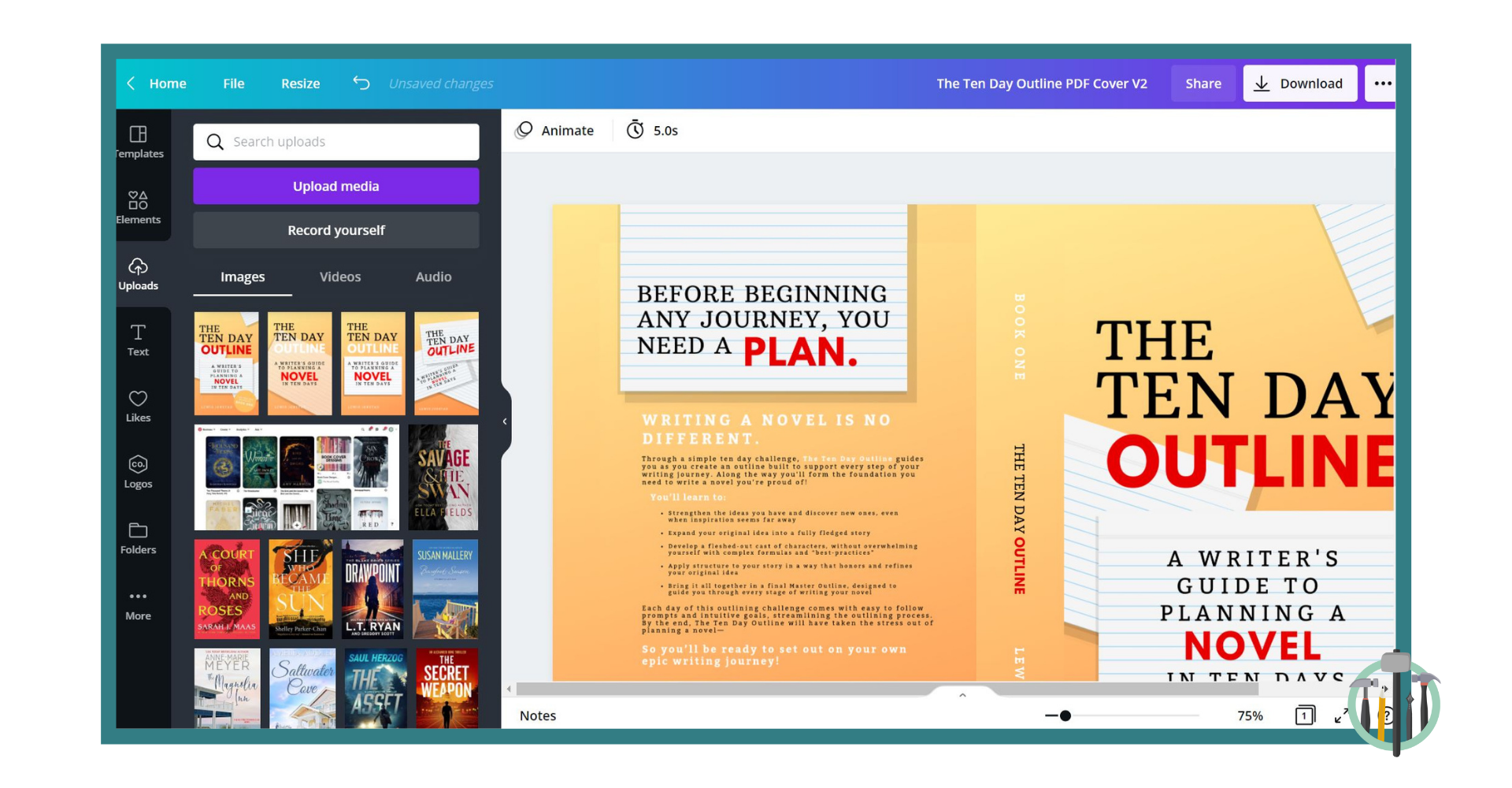 Canva is the program I use to design all my book covers, along with every other graphic you see on this site. It's fairly simple to get the hang of too, though there are some more advanced options once you master the basics.
Best of all, Canva is completely free—though you can invest in the Pro version if you want access to extra stock photos and images.
The only real drawback is that Canva isn't well-suited to illustration. If you plan to illustrate your own book covers, then investing in something like Photoshop (or a free alternative like Krita) will likely still be necessary.
My 5 Step Cover Design Process
Now that you understand some cover design tips (as well as what design software to use) it's time to put your new knowledge into action—and that means diving headfirst into the cover design process! Personally, my DIY cover design process is organized into five basic steps:
Gathering Ideas: First, I sketch out a series of thumbnails to test my design, and I also take time to review other designs in my genre. This is essentially my first draft.

Reviewing Requirements: Next, I double check the file requirements for my cover. If I'm also designing a print wrap, I'll use KDP's Paperback Cover Template to calculate the correct dimensions.

Creating a Draft: It's at this point that I'll open up Canva and actually begin creating a cover. At this stage, the design will stay fairly simply. My focus is just on getting the basic elements in place in a way I'm happy with.

Refining the Design: Once my basic cover is complete, I'll go in and adjust any background elements to ensure the composition is correct. This is also when I'll return to my genre research, to make sure I'm in line with other covers in my genre.

Getting Feedback: Finally, I'll take my finished cover and share it with trusted friends and beta readers. They'll help me decide if my cover is on the right track, and I'll use their feedback to make any necessary changes.
All in all, this cover design process is fairly simple, but I've used it to achieve some pretty good results. For example, while designing the cover for The Ten Day Outline, I knew I wanted a minimal design with bold font—and after a few variations, I landed on a design I liked.

Of course, I couldn't stop at one book cover!
Since this was a series, I needed a whole set of covers that followed the same visual style. Honestly, this was a bit challenging, both because I needed colors that worked with the red title font, and because my original paper-focused design was kind of hard to iterate on. Still, with some patience and experimentation, I created a final set of covers that worked.
In the end, this is what the final series looks like: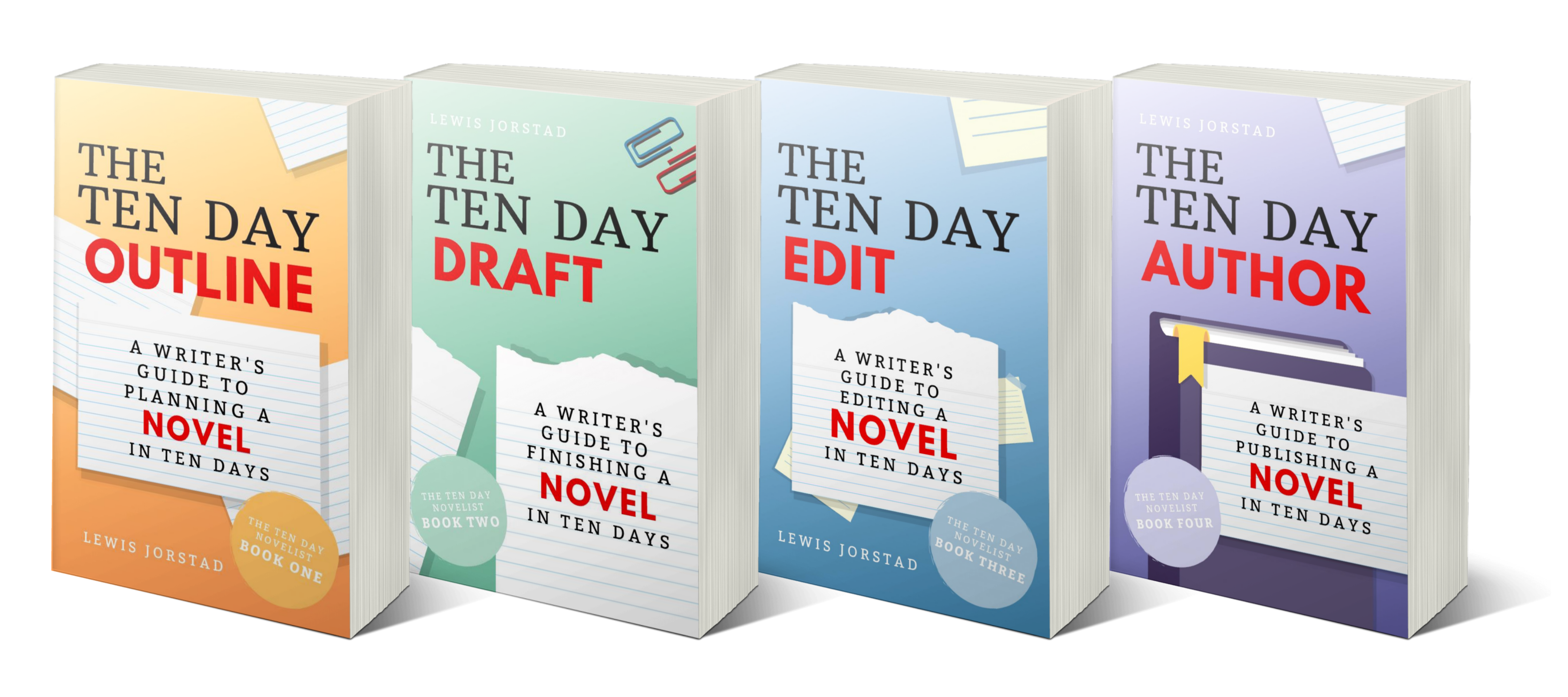 Bringing Your Book Cover to Life!
All in all, designing your own book covers is completely possible, even if you aren't a cover design expert. While most authors will be well-served by hiring a professional, if your budget or timeline doesn't allow for that, you don't have to give up hope! The key is to take your time, and to understand the most important conventions of your genre.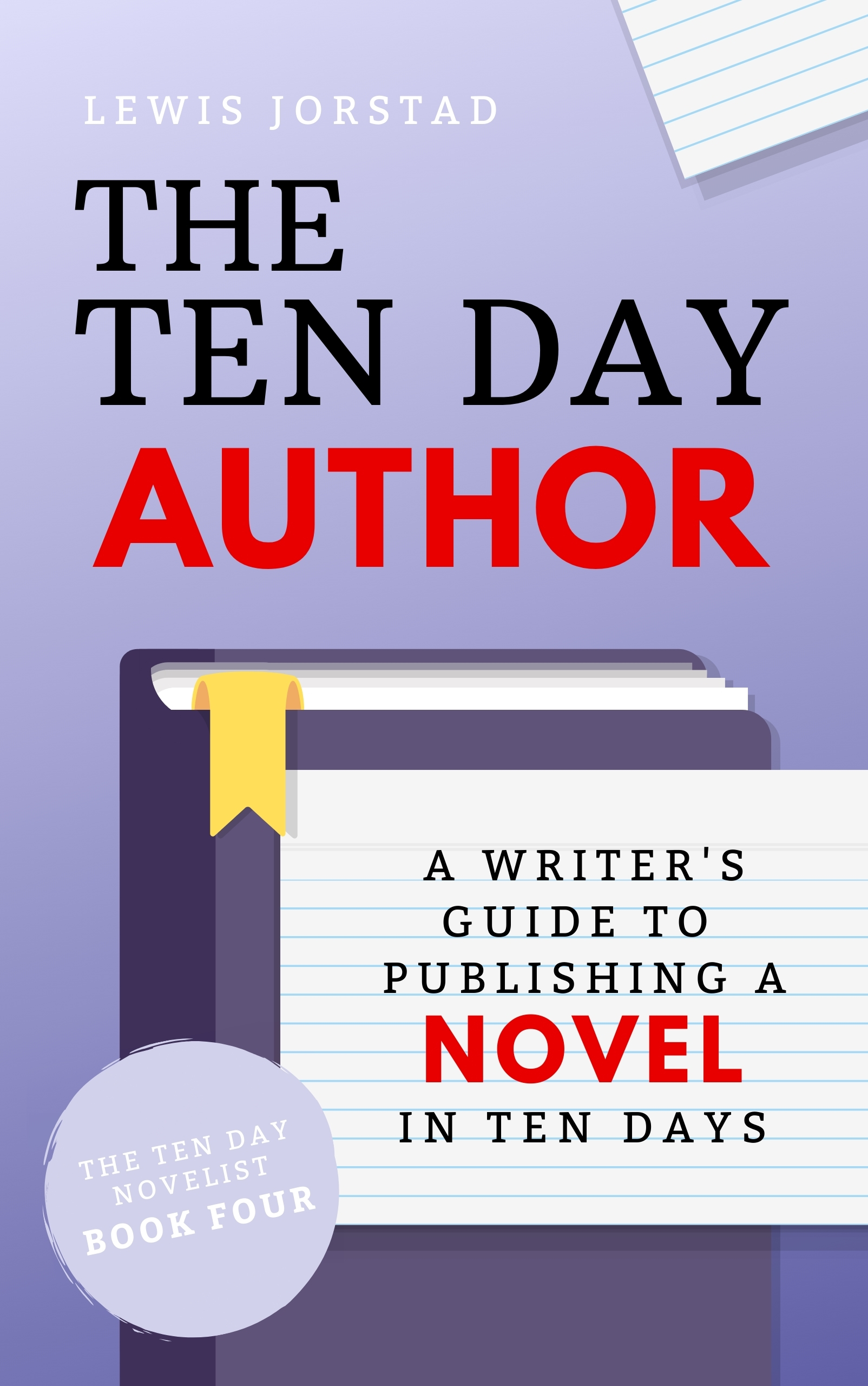 Here are the seven tips we covered in this article:
Pay Attention to Format
Study Your Genre
Draw the Reader's Eye
Don't Be Afraid to Iterate
Think in Terms of Thumbnails
Know Your Story
Get a Second Opinion
Of course, there's a lot more to the self-publishing process than just cover design. So, if you're setting out to self-publish a novel, definitely check out The Ten Day Author. This book will guide you through a simple, ten-day self-publishing process, including everything from cover design to formatting, pricing, and more.
If you're intimidated by the self-publishing process, this book will be a huge help—plus, you'll get to see one of my own covers in action! 😉
Are you designing your own book cover? Let me know in the comments!