Your Guide to Staying Inspired During NaNoWriMo
Staying inspired is a challenge for every writer.
Though you may start your story filled with ideas, as you get sucked into the day-to-day work of writing your novel it can become harder to find the original spark that ignited your creativity—and during a writing challenge like NaNoWriMo, this struggle to find your inspiration can be extra stressful.
Fortunately, you don't need to feel overwhelmed. There are ways to jumpstart your inspiration, no matter how impossible it may seem. In fact, there are two methods that, when used together, can help keep your ideas fresh and your mind creative!
_______________________________
This article is based on methods I developed for The Ten Day Outline. If you like what you see, you can find much more detail—including prompts and step-by-step guides—in the book itself.
I hope you'll check it out and let me know what you think in the comments below! 🙂
_______________________________
It's Hard to Stay Inspired During NaNoWriMo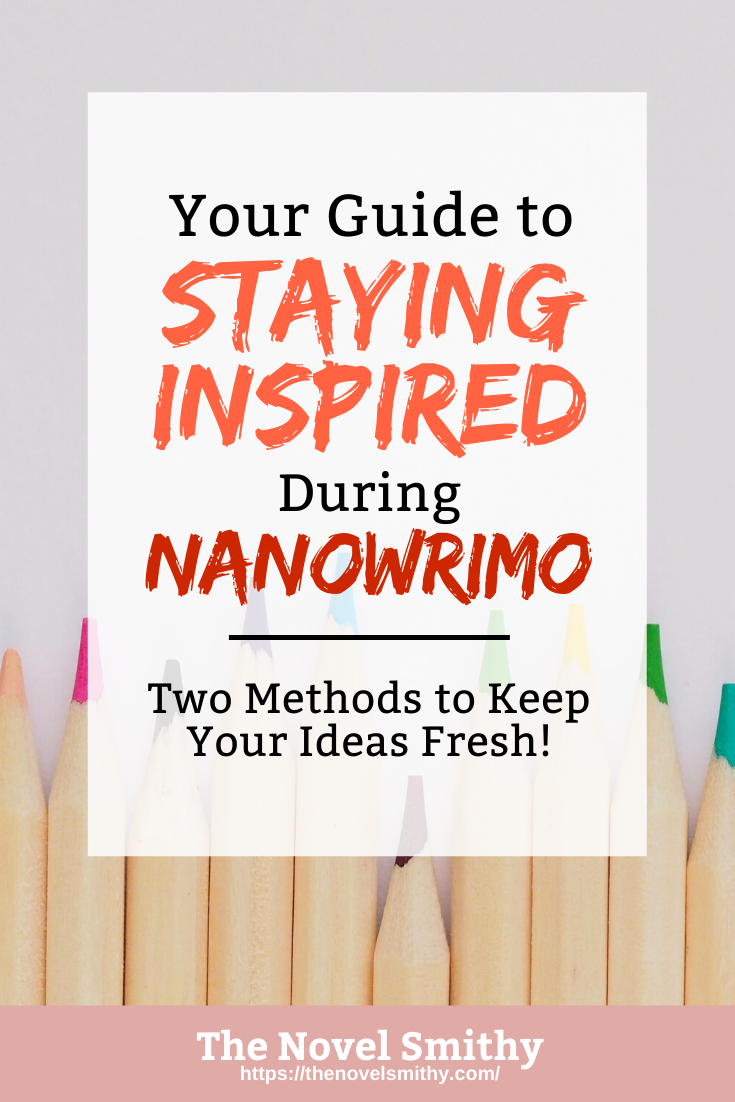 We're halfway into November, so I imagine many of you are well on your way to reaching your NaNoWriMo goals! Of course, you may also be unfamiliar with what NaNoWriMo even is.
At its core, National Novel Writing Month, is a yearly writing event that takes place during the month of November. Participants are challenged to write a fifty thousand word first draft in just thirty days, and the whole writing community rallies around the event. It's a blast every year, and a great celebration of what it means to be a novelist.
However, NaNoWriMo still presents a lot of unique challenges.
Writers need to constantly generate new ideas if they want to finish their draft on time. Unfortunately, most writers simply aren't used to this quick pace.
Many writers (perhaps yourself included) get into the habit of writing a scene or two whenever they're struck with an idea, before setting down their draft and waiting days or weeks for the next spark of inspiration to hit them. This means the fast writing style NaNoWriMo demands is a big change from their normal routine—and that's bound to throw anyone off.
While there are some preventative measures you can take (such as outlining your novel beforehand), when a mental block sets in it can feel impossible to shake. What if you don't have an outline, or what if you get stuck anyway? What then? Well, there are two routes you can take:
Either give in to your writer's block, or push yourself through it.
Personally, I prefer the later of these two, so today I'm going to walk you through the two methods I use to rediscover my inspiration no matter how far away it may seem.
How to Jumpstart Your Inspiration During NaNoWriMo
Create a Collection:
How many times have you looked at a photo or read a quote and suddenly felt intensely inspired? It can seem like this is just a stroke of luck, but in reality, you can repeat this feeling.
That's the purpose of creating a collection.
To get started, set aside a short block of time and peruse places like Pinterest or Google. Your goal is to find 100+ items and save them to a folder on your desktop, including anything from:
Photos
Drawings
Music
Quotes
Videos
Poems
Or Other Stories
Once you've gathered your 100 items in a common place, you'll want to sort them into categories. At the end of the day, these categories should be personal to you and your story, but if you need a place to start I tend to sort my collection into:
Settings
Characters
Tools and Objects
Plants and Animals
Culture
Finally, after sorting your collection you'll want to remove any items that no longer match your vision for your story. While they may have felt right at first, it's natural for your understanding of your novel to grow and evolve throughout this process, so take some time to remove anything that no longer fits.
From here on out, your collection can act as a curated museum of inspiration, designed to help spark new ideas and capture the tone of your story. Whenever you're beset by writer's block, pause your work and flip through your collection. Perhaps you take a moment to describe one of the photos you saved, or maybe you draw on a poem or quote that resonated with you. Whatever you choose to do, by turning to your collection you can help jumpstart your inspiration and keep yourself moving closer to your NaNoWriMo goals.
Mix and Match:
Of course, there is one instance where your collection won't be much help, and that's when you simply don't know where your story should go next. Let's face it—no matter how perfectly we plan our novels, sometimes they'll throw us for a loop.
Fortunately, there is a way to keep your story moving, regardless of how uninspired you may feel.
To get started, open a blank document or pull out a sheet of paper. Write down your question about your story and then consider it carefully. Push yourself to answer it, even if your answer feels unsatisfactory at first, and then push yourself to answer it again—yes, a second time.
Once you have two answers written down, pull out a highlighter and highlight your favorite parts from both. Whether you highlight a single word or an entire answer is up to you, but now you can look at ways to combine these elements into something unique. For instance, perhaps you ask, "Who are my hero's parents?"
Your two answers could look something like this:
They're enemy spies, secretly using the hero to help them collect information.

Their mother is the villain, though the hero doesn't know that yet.
Once you consider these answers and combine them, your final answer might look like this:
Their parents are enemy spies, secretly working to thwart the hero' plans while hoping they'll never have to fight them face to face.
What you're doing here is forcing yourself to move past your first instincts and look at your story from a new and unique angle. While this process may feel frustrating in the moment, the result is a better understanding of your story overall, as well as a great way to recapture your inspiration whenever you're feeling lost!
—–
At the end of the day, staying inspired is possible, whether during NaNoWriMo or any other time of year—the key is having tools and methods in place to help yourself along.
After all, we all feel uninspired and out of ideas at some point. Though NaNoWriMo can exacerbate those feelings, we don't have to give in to them. There are ways to stay inspired, meaning there's nothing standing in the way of us and completing our novels! 🙂
How do you stay inspired when you write? Let me know in the comments!