Your Game Plan to Break Through Writer's Block for Good
Some days it seems impossible to write another word…
We all know how it feels. The cursor blinks at you in disapproval on a blank page. The words are there, somewhere in the back of your mind, but you just can't bring them to your fingertips. You're frustrated, overwhelmed, and stuck. Unfortunately, you have what we in the writing world call writer's block.
But don't despair! There are seven things you can do to get back to being a productive, happy writer, while simultaneously setting yourself up for success down the road.
7 Steps to Help You Overcome Writer's Block
At first glance, this plan might seem extreme—seven steps aren't something to sneeze at!
However, for the most extreme bouts of writer's block, this seven-step game plan will be just what you need to overcome it. If you have a more minor case of writer's block feel free to mix and match the steps to suit your situation.
"This morning I took out a comma and this afternoon I put it back in again." – Oscar Wilde
#1: Take a Break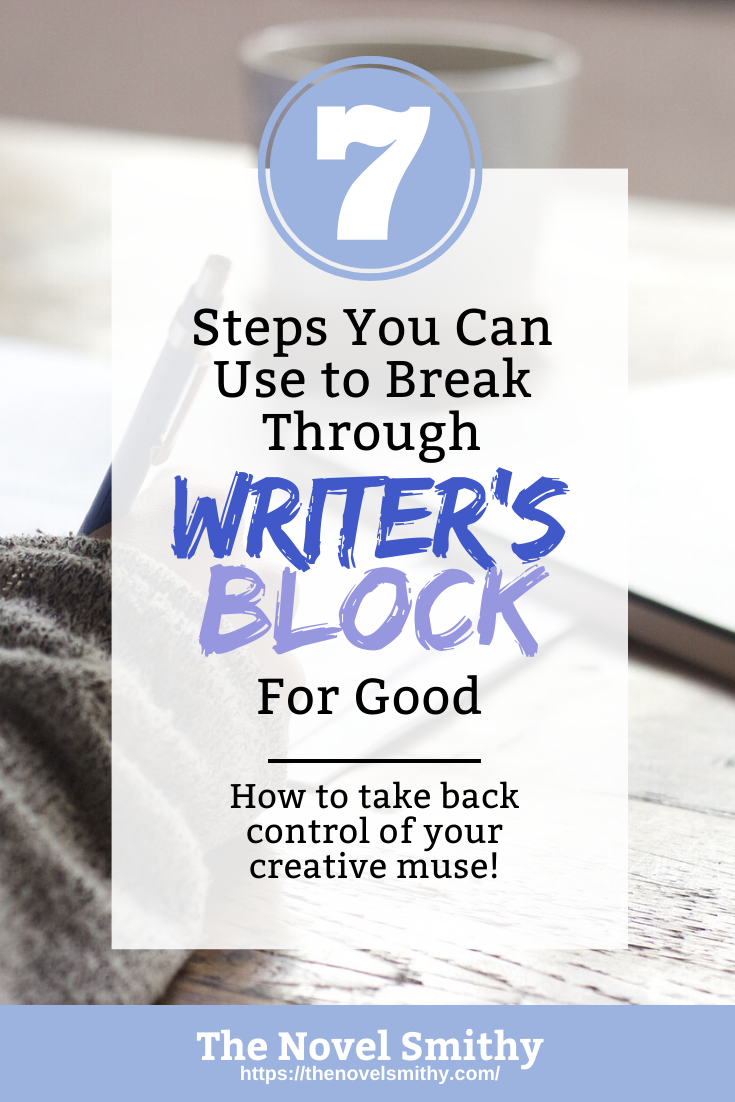 First things first—take a break.
I'm sure you can guess why. Your brain is fried, you're stressed and frustrated, and the best thing you can do right now is to take a moment to rest.
However, don't take too long for this. It's best to set a short time limit and stick to it. I usually opt for 15 to 30 minutes, but it depends on your writing schedule and how much time you have. I always recommend giving yourself less time than you think you need, because you can add more if you have to later. Most importantly, this is a time to let your brain reboot, so don't even think about writing!
Instead, here are some recommendations to help you relax:
Take a walk.
Do some stretches or light exercise.
Make yourself something to drink.
Talk to a friend.
Hang out with your pets or take them for a walk.
Write out your to-do list and put it in a drawer somewhere out of sight for later.
#2: Prepare
Now that you've taken a break and your brain is less overwhelmed, let's break down your writing tasks into manageable, less overwhelming goals. For instance, instead of "write a book this year," you might start with "write one chapter this month."
To do this, begin by writing out what you want to accomplish this month. Next, break that large task into weekly, and then daily goals. If you want to take this even further, write out small bite size tasks that will help you reach your daily goal, so you can enjoy crossing things off your to-do list each day!
Here's a set of example goals:
Monthly Goal = Write one chapter of around 4,000-5,000 words
Weekly Goal = Write 1500 words each week
Daily Goal = Write 250 words each day
Daily Tasks = Write a scene where your protagonist meets their soon to be sidekick
Of course, as you write down your schedule keep in mind that you'll want to vary your goals to keep things fresh. Perhaps on days with limited writing time you set a word count as your goal, while you try to tackle larger projects like your First Plot Point on a day with more time to spare.
Not only does this help get you past the monotony of only focusing on word counts, but you may write more than you otherwise would have by focusing on full scenes. This isn't mandatory of course—some people work great with word counts, others hate using them at all. Just focus on what works best for your writing style and schedule, and mix things up when you're in a rut!
#3: Find your "Why"
Now that you've finished Step #2, take a moment to think about why you're writing this story.
What motivates you?
This should go beyond "because I want to write a novel." Think deep. Do you have a story needing to be told? Is this therapy for you? Do you want to share a unique perspective or lesson with your readers? Bring them joy or comfort? Whatever your reason may be, make it meaningful to you.
Once you've found your reason for writing, jot it down on a post-it note or a piece of tape and stick it in front of your writing space. This way, whenever you get stuck or loose your motivation you can look up and remind yourself why you're writing to begin with. Your "Why" can help give you momentum not only for today or next week, but for the duration of your writing journey!
#4: Brainstorm
You've taken a break, set out your goals for the next few weeks, and found your motivation. You may think it's time to write, but I'd recommend a few more steps before you begin.
First, set another timer for 3-5 minutes. If you wanted to take it one step further, turn on a song that inspires you and use that as your timer instead!
You're going to want to lean back and brainstorm until your timer goes off.
During this time, be open to any and all ideas, but keep them story related. Don't go wandering off thinking about groceries or the movie you want to watch tonight. As the time limit ends or your song wraps up, jot down a few notes that describe what you imagined. For this step, be in the moment! Let your mind be open to your muse and to all of your creative, wild thoughts. This will help in the next step.
#5: Write Freestyle
It's time to return to your writing. Whether it's in a notebook or a Scrivener file, jump down a few lines to give yourself space from what you previously wrote. Then, write down the date and time and begin writing.
However, you're not going to be writing about your story just yet. Instead, this is a time for you to write stream of consciousness, with no inner editor and no organization.
Just go for it and try to write a paragraph or two this way.
This will help get your brain back into a writing space, while also loosening up the muscles of your fingers and getting them used to writing again. Which finally brings us to Step #6!
#6: Continue Writing!
Now that you've taken a break to de-stress, laid out a plan of attack for your writing goals, found your motivation, taken time to brainstorm, and gotten back into the writing mindset, it's time to continue where you left off! There's no need to delete your freestyle writing either. Just move down another few lines and continue—who knows, you may have come up with some cool ideas in that section.
As you write, try to maintain your momentum.
If you still feel stuck on a certain scene or detail, skip it/ Make a note to yourself to come back later and fill it in. Keep writing with what's inspiring you and over time those tricky scenes will become clear.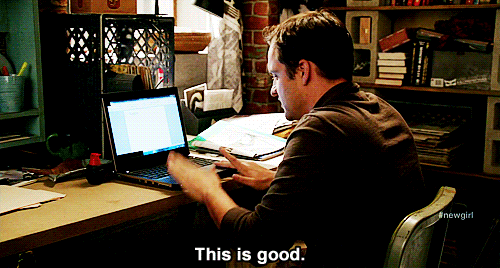 As an added tip, this is where an outline can become super helpful. These keep you aware of where in your story you are at each moment. Even if you need to skip around or pass over an entire section of your story to stay moving, you can make a quick note in your outline and keep writing, comfortable knowing that you can come back and continue without feeling lost.
Now you may have skipped a few steps to get to this one, especially if you've been using this method for a while—for instance, you won't need to find your "Why" every time you get writer's block. Don't worry about this! The goal of all the above steps is simply to get you to this point.
Do the ones you need in the moment, and reserve the full game plan for when you're really, truly stuck.
#7: Set Yourself up for Success
"But wait," you might be wondering, "why is there a Step #7 if I've already begun writing?" Well, because you need to set yourself up for success next time too.
Trust me, your future self with thank you.
At the end of your writing session, take a final pause—around 5 minutes or less—and jot down a few brief notes about where you want to take your story next. This is a time for you to record any ideas you have for upcoming scenes, characters, or events, as well as anything you thought of that inspired you during your writing session today.
Now you have something you can come back to and reference when you next sit down to write. This will help you maintain your momentum so you can start your next session without a hitch, already having something to move forward with!
"The important thing is to have good water in the well, and it is better to take a regular amount out than to pump the well dry and wait for it to refill." – Ernest Hemingway
And with that, you're done!
You've had a successful writing session and blasted through your writer's block. However, I have a few final recommendations to make sure your writing stays fun and productive. After all, just like there are things to do when you are suffering from writer's block, there are definitely things not to do!
What NOT to Do When You Have Writer's Block
Don't Start Researching:
First, don't get sucked into a research hole looking at pictures, reading about different time periods and events, or watching movies—which technically counts as research. Instead, set aside dedicated research time in Step #2 and stick to that, otherwise you'll waste all your writing time browsing the internet.
Of course, if you find a section that needs outside research to write, make a note and skip to the next scene. It's easier to come back on your research days to fill those sections in.
Don't Give Into Distractions:
In the same vein, don't check your email, scroll Instagram, watch TV, or anything else that will suck you in and distract you from writing. These distractions are easy ways to feed your procrastination, not your writing habits.
Don't Feel Guilty:
Lastly, don't stress about missing word counts!
If you enjoy your writing, you're that much more likely to stick with it. Everyone gets writer's block, so remind yourself why you're writing this in the first place, and keep having fun. When you're really stuck, focus on taking care of your mind and body first and foremost, so you can get back to an enjoyable, productive writing session. 🙂
How do you overcome writer's block? Let me know in the comments!