How to Stop Procrastinating and Start Writing
NaNo is almost here, and I've set a big goal this year.
You see, I've been working on my sword and sorcery novel—The Child Hunters—for almost a full year, but this November is when I finally plan to finish it. I'm equal parts excited and nervous, but fortunately, NaNoWriMo seemed like the perfect excuse to focus on my fiction and let my other work take a temporary backseat.
The question is, why has this taken so long?
Well, if you asked, I would probably tell you it's because I've been working on my Ten Day Novelist series, or recording my online course, or any numbers of miscellaneous things. However, here's the real secret—I was just procrastinating…
Why Do Writers Procrastinate?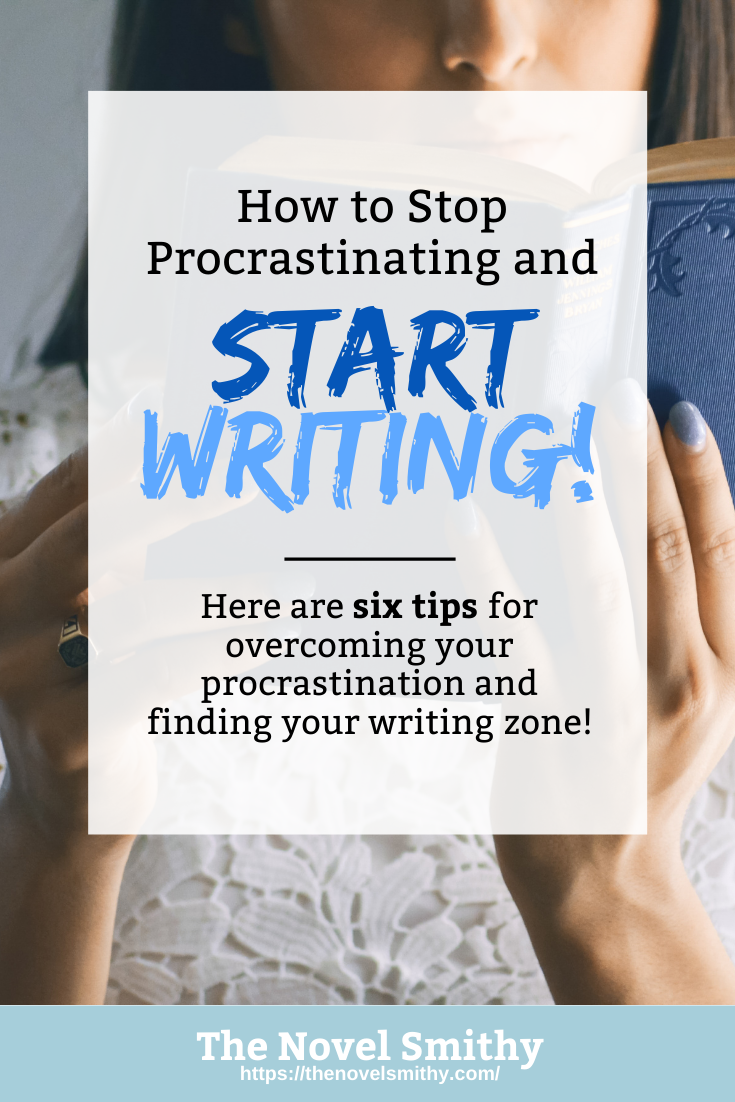 As embarrassing as it may be to admit, there's something about me you should know.
I'm a serial procrastinator.
I have tons of ideas and projects I want to complete, and I'm proud to say that after many years of practice I can write pretty quickly. So, it stands to reason that I should have finished The Child Hunters and moved on to other novels months ago—right?
Well, no. Instead, I've obsessed over every word and spent hours running myself in circles trying to satisfy my perfectionism. Even more ironically, I can finish articles and course scripts all day, but when it comes time to tell a story, suddenly I can't shake the nagging voice that everything I write will disappoint my readers.
Fortunately, I'm definitely not the only writer who struggles with this. In fact, I'd even say most writers do to varying degrees. The problem is, few of us understand the real cause of procrastination…
Where Procrastination Comes From:
You see, the idea that procrastination is a personal failing simply isn't true.
Despite what you may have been told, almost all procrastination is tied to two things: fear and perfectionism. It isn't about a lack of self-control or willpower, and it doesn't mean you're lazy. Instead, it's just the result of the negative emotions you feel around a certain task:
#1: You're afraid you don't know what you're doing.

#2: You worry your novel won't succeed.

#3: You think writing is too hard, or that you aren't up to the task.

#4: You want your story to be everything you imagine, but don't know how to get it there.
When these negative feelings combine, you end up with the perfect storm for procrastination, and thus you never start writing—basically, you're experiencing an emotional block.
So, how do you overcome this?
Well, I'm obviously no expert, and I imagine I'll struggle with my procrastination for a long time to come. However, I am determined to finish this novel by the time December rolls around, and I've been doing a lot of research in hopes of helping myself get there.
Not only that, but I imagine you and many other writers have similar goals for this year's NaNoWriMo. So, here are the six tricks I've found for beating procrastination—or at least the ones I plan to try this November!
Procrastination is fueled by negative emotions—meaning the best way to beat it, is to refuse to feed it. #positivity #amwriting
Click To Tweet
6 Ways to Beat Procrastination and Start Writing
Keep Your First Draft a Secret:
As tempting as it may be to shout to the rooftops about your fledgling first draft, you actually might find it helps to keep it a secret—or at least the details of it.
This is because first drafts are meant to be bad.
Your first draft is your chance to experiment, wander, and make mistakes, so having other people judging the content of that draft can easily put a damper on your progress.
Instead, give yourself space to just write. Write freehand, dictate your story through your phone, write your draft as an email, or whatever else you need to do to stop taking your first draft seriously. Focus only on putting words on the page, always aware that everything you write can—and probably will be—edited and refined later.
In fact, this was why I developed and wrote The Ten Day Draft last year. I needed something to push me to ignore my inner editor and instead focus only on the words at hand, and challenges and deadlines have a way of doing that for me.
Speaking of deadlines…
Set Difficult Deadlines:
Like I mentioned earlier, I hate the thought of disappointing my readers, and that includes missing deadlines. As a result, setting firm deadlines and then sharing them with people who will hold me accountable can be a very effective form of motivation. Of course, there are drawbacks to setting deadlines as a writer.
On the one hand, having deadlines to measure your progress by can be very helpful. However, you still need to ensure those deadlines are fair, while also leaving room for mistakes or unexpected challenges—after all, you don't want to add any more stress to the writing process.
So, if you choose to set deadlines for yourself, keep them balanced.
Give yourself generous amounts of time to write and build in a few extra days as backups in case you need them. That way you have a deadline to help push you forward, but also enough space to actually achieve your goals in a healthy, positive way.
Plan Your Story Ahead of Time:
Alongside setting reasonable deadlines, having an outline of your story is by far the most helpful trick for beating procrastination that I've found yet. Of course, this is another tip I recommend with caution, but that works wonders if all goes well.
You see, it's easy for planning your novel to quickly become a form of procrastination, keeping you from actually sitting down and writing it. Still, having a solid outline to guide you not only gives you something to plan your writing schedule around, but also an easy way to measure your progress, set goals, avoid writer's block, and write a better first draft.
The key is knowing what your outline needs, and how to complete it quickly.
Personally, I've developed a ten-day process for outlining my novels, starting from the basics of my story and drilling down all the way to a brief scene by scene synopsis. With this system, I always know where my story is going, meaning there's less downtime where my inner editor can start playing procrastination-triggering tricks on me.
Really though, whatever outlining method works for you is great! Just keep it focused on the essential details about your plot and characters, and you'll be good to go. 🙂
If you're interested in learning more about my outlining process, check out this article: 10 Steps for Outlining Your Next Novel. You can also find the book I wrote on the subject here: The Ten Day Outline.
Find Your Support System:
Earlier in this article I talked about accountability, and really, nothing keeps you quite as accountable as a good group of writing friends.
These friends should push you to keep moving towards your goals, while still being there to build you up when you need some patience and compassion. Basically, this is one of those "social pressure" tricks, where having other people hold you to your goals can give you the extra boost you need to overcome your procrastination.
Best of all, this doesn't have to be a one-way street!
Not only can your friends support you, but you can also act as an accountability partner for them too. This way you both have the support you need to reach your goals, while also getting to feel proud of your friend's accomplishments and your role in helping them get there.
Do the Bare Minimum:
At first glance, this next piece of advice might seem counterintuitive, but hear me out.
"If something is worth doing, it's worth doing poorly." – G.K. Chesterton
Sounds strange, right? Well, think about it—you're working on your English 101 final, and you know that whatever grade you get on this essay will determine your grade for the class. You've been procrastinating for weeks now, and you're left with just two hours before the deadline.
So, should you give up?
Not at all! After all, a sub-average paper might still pass the class, but a blank page can only get you an F. While it might seem like there's "no point" since you've already procrastinated so much, there's always value in doing something—even if it's not your best work.
The same principle is true when writing. If you're feeling stuck and nothing seems to help, do the bare minimum and call it a day. Half-ass it. If your goal was to write 500 words, write 100, or even just 10. Anything is better than nothing, because every word you write gets you one step closer to the finish line, and that means it's worth doing!
Learn to Forgive:
Finally, I've saved the most important trick on this list for last. You see, there's a big secret in the writing world…
None of us know what we're doing.
Yeah, there are the JRR Tolkeins, Terry Pratchetts, and Ursula K Le Guins of the world, but even they had to start from scratch with each new novel they wrote. The truth is, no one is perfect, and we're all just trying to do our best—and that's equally true no matter how put together we seem on the outside.
So, learn to forgive yourself when things go wrong. If you miss a deadline, that's ok. If you scrap an idea or realize your original plan doesn't work, that's ok too. At the end of the day, all of this is just part of being a writer. The best thing you can do is pause, shout a few angry words until you feel better, and then keep moving forward without regret.
After all, procrastination is fueled by negative emotions—meaning the best way to beat it, is to refuse to feed it.
"…self-compassion supports motivation and personal growth… Best of all, self-compassion doesn't require anything external — just a commitment to meeting your challenges with greater acceptance and kindness rather than rumination and regret." – Why You Procrastinate (It Has Nothing to Do With Self-Control)
I'll See You on the Other Side!
Ultimately, as hard as it is to accept that procrastination is a part of life, acceptance is the best medicine. The more we can find our motivation and forgive our mistakes, the better off we'll be!
Fortunately, with NaNoWriMo coming up, we all have the perfect excuse to focus on our writing and start putting some of these tips into action. If you're planning to write a novel this November (or have some tips for overcoming procrastination) let me know in the comments. Hopefully I'll have some fiction updates of my own to share by the end of the year. 🙂
Here's to a productive NaNoWriMo season!