The 2018 First Chapters Writing Contest Winners
The winners have been chosen!
Throughout December I've received so many great submissions for the 2018 First Chapters Writing Contest. From epic treasure hunts to dark assassinations, there's been an amazing variety in the chapters you've sent me!
Of course, the contest had to close eventually. This morning it was time to pick the winners and deciding was no easy task! With so many great submissions the winners had to stand above the rest to succeed.
This writing contest has received a major overhaul since this article was published. You can find the updated contest page, as well as a record of past winners, here.
The Traits of a Winning Submission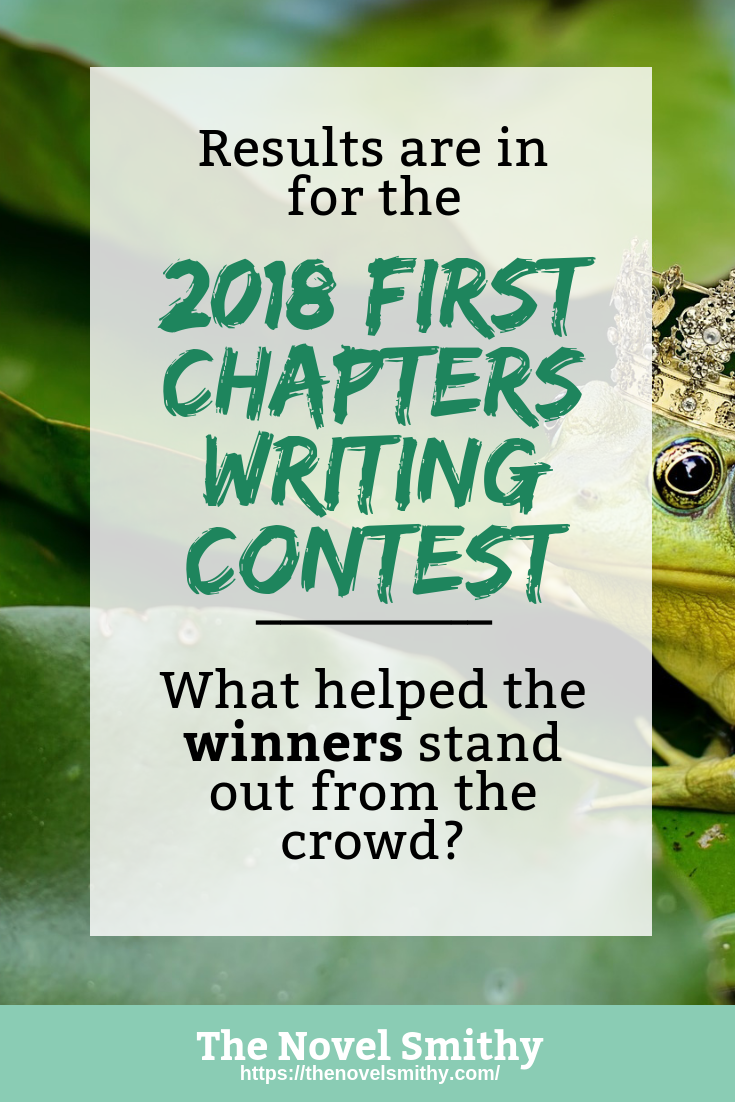 So, what were the final factors in determining the winners?
My primary metric was the strength of their Hook.
Both of the winning submissions immediately grabbed my attention, intrigued me to read more, and avoided unnecessary backstory or descriptions. They were to the point, impactful, and hinted of deeper mysteries without revealing them up front.
They fulfilled all the roles of a strong Hook—an excellent sign indeed!
However, a strong Hook wasn't limited to the winners.
Ultimately, it was their high level of polish that helped the winning submissions stand out from the crowd.
Their authors had clearly taken the time to edit their first chapter, refining prose, tweaking dialog, and perfecting descriptions. They paid attention to the contest's requirements and actually followed them (which not everyone did).
While I expected each submission to be in the early stages of editing, it was refreshing to see stories that had been significantly cleaned up before submission.
Overall, each of the submissions had their own unique flaws, even the winners—some were burdened by heavy handed descriptions while others struggled with dialog or characterization. Instead of looking for perfection, what determined the winners was the level of care they had paid to their submission.
Their first chapters were enjoyable, engaging reads—a promising sign for their future success!
Drum Roll Please!
With all that said, who won the 2018 First Chapters Writing Contest?
I'm excited to congratulate Brooke G., who won first place for PHENIX, and Kristi S., who won second place for Wrath!
"Choosing to spare a child was Roy's first mistake as an assassin. Raising the boy was his second. But, when Roy is given an assignment from PHENIX, the boy, Asher, decides to tag along. Roy wants to retire from PHENIX. Asher wants answers. PHENIX is at war with another organization. When these circumstances collide, it becomes a race against time that could destroy everything."

– Brooke G., PHENIX
Brooke's first place prize will be a round of developmental editing for her manuscript, and Kristi will receive a full critique of her first chapter submission for winning second place.
I hope to see their submissions become published novels in the coming year—that way you can enjoy reading them as much as I did!
"I stood outside the shop door and waited.

For what? I'm not sure.

Gram didn't have the courage to come along and see what her husband had been up to before he disappeared on his last expedition and went back to bed, sick with grief. I had no intentions of going inside the shop tonight, but while I tossed hay to the cattle and finished up my chores like any other day, it beckoned to me, as if an invisible thread had secured itself to my mind and slowly reeled my thoughts and finally my body over to its locked door." 

– Kristi S., Wrath
The New Year
If you submitted a first chapter but weren't one of the two winners, don't despair. Not only will you have another chance in 2019, but I'm always available to work with through consultations or my editing services. And of course, you'll have a full year of new articles on The Novel Smithy to help you work through the toughest problems you'll face while writing your novel.
There are big things to come next year—whether you're only beginning to write or are in the final stages of editing, 2019 can be the year you finish your novel. If you have any questions along the way, I hope you'll be in touch!
The Novel Smithy will return in the New Year, but in the meantime I wish you all a happy holiday season! 🙂
What do you think of the winning submissions? Let me know in the comments!