Act 2 and the First Pinch Point: The Story Structure Series Part Four
You're finally ready to begin the bulk of your story!
By the time you reach Act 2, you'll have spent pages and pages building to this moment, meaning it's finally time to let loose all of your crazy ideas and plot twists—right?
Well yes, and no. Act 2 is where you'll get to explore your story in a deeper way, giving you time to dive into all the ideas that inspired you to start writing in the first place. However, there are also some important roles Act 2 needs to fill. After all, to come out with the best possible story, even Act 2 needs a bit of structure.
_______________________________
This article is part of a series of posts about the Three Act Structure. If you'd like to check out the rest of the series, make sure to browse the other articles listed at the end of this post.
_______________________________
What is Act 2?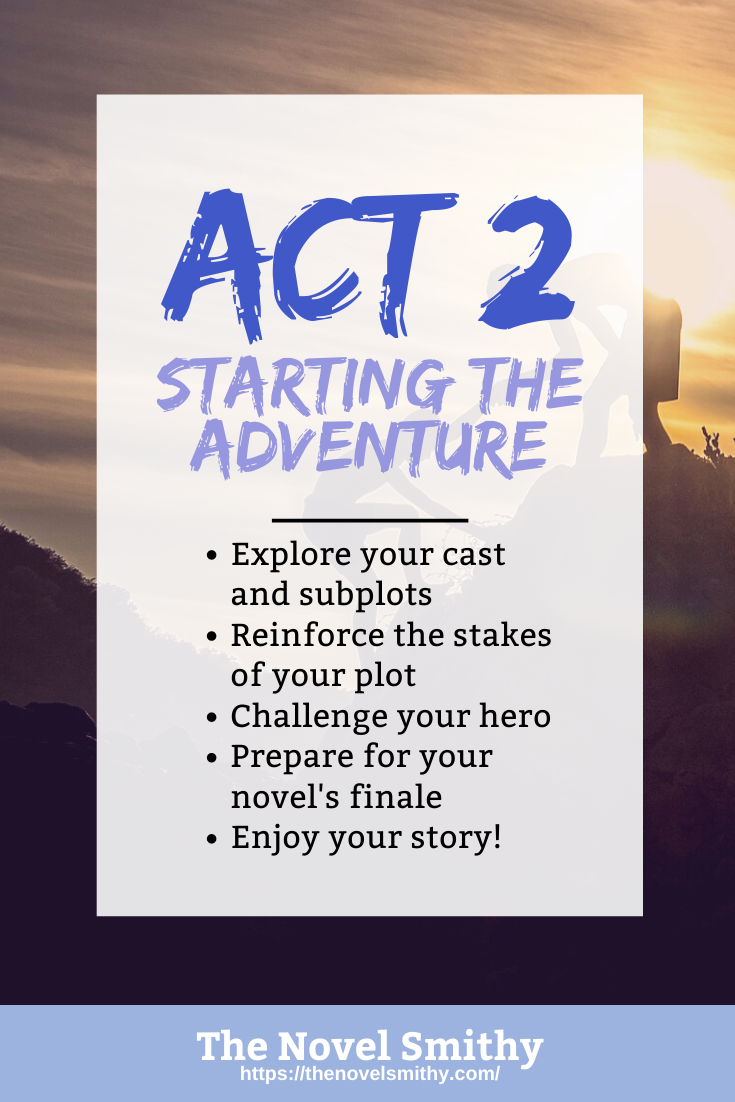 Act 2 forms the bulk of your story, around half of your novel's total runtime. Specifically, it will consist of a series of tests and trials meant to challenge your protagonist and further develop your plot and any subplots you might have.
Fortunately, this is a fairly straightforward act, with a lot of time and flexibility to make it as complex or as simple as you want. One of the main benefits of Act 2 is the large amount of space you have to experiment with your story, after all.
However Act 2 does have a few specific—and important—plot points to keep in mind:
These four components serve to escalate your story's conflict, keeping your plot moving and providing moments of growth and failure for your characters. The trials you create throughout Act 2 are all about further developing your story through your cast, themes, subplots, and worldbuilding, and can be some of the most memorable adventures in your book.
Think of Luke and Han exploring the Death Star as they search for Princess Leia, Bilbo Baggins sneaking through Smaug's dark lair, or Kuzco running from Yzma and Kronk as a newly transformed llama. These adventures may be frightening, silly, or serious, but no matter their tone they all defined the movies they came from—and Act 2 will do the same for your novel.
The Difference Between Act 2.0 and 2.5:
For many writers, the wide open space of Act 2 is encouraging and exciting. There's so much time to play and so many fun ideas to explore, and that's great! That's one of the most enjoyable parts of the writing experience.
However, for some, Act 2 is intimidating precisely because of how open it is.
Some of us simply need more structure to guide our writing, and this is where Act 2.0 and 2.5 come into play. Because Act 2 is so large, it's helpful to split it into two halves. Each half ends up around the length of Act 1, making them a much more manageable size. Of course, it isn't just the shorter length that makes this method helpful either. Each half serves a distinct purpose for your protagonist's development.
For starters, Act 2.0 focuses on a period of reaction driven by the decision your protagonist made at the First Plot Point. This first half sees your character pushed forward by the plot, doing everything they can to keep up in their new world. They're punished for their lack of skills, tripped up at every turn, but all the while they're learning.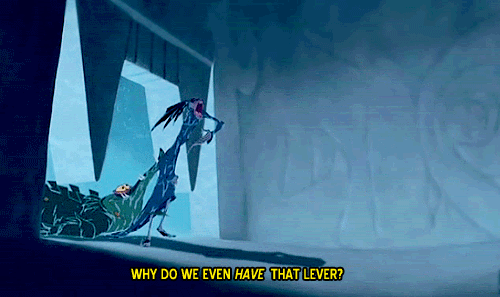 Slowly they begin to succeed thanks to these hard lessons.
Then, after the trials of the first half, the skills and knowledge your character has gained will come into full force for Act 2.5, beginning a period of action. The start of this second half comes at the Midpoint, which acts as a turning point for both your plot and characters.
All the lessons learned in Act 2.0 let your protagonist drive the story in Act 2.5, actively working towards a solution to their problems. They're finally equipped to handle this new world and take charge of their story, though their growth isn't over yet. I'll talk a lot more about that when we discuss the Third Plot Point at the end of Act 2.
When looked at as a whole, these distinct halves combine to form a natural growth from reaction to action for your protagonist. Plus, the narrative shift at the Midpoint keeps your story from sagging and gives you space to develop the plot threads needed for Act 3.
The First Pinch Point: A Reminder of the Stakes
The first major plot points of Act 2 is one often forgotten by writers. Yet, this First Pinch Point plays an important role in developing both your antagonist and your story's conflict.
Essentially, it serves to either introduce or remind your audience of the antagonist and the stakes of your story. It shows why the conflict is real and threatening and why your antagonist is powerful, all while often foreshadowing a future attack by your antagonist.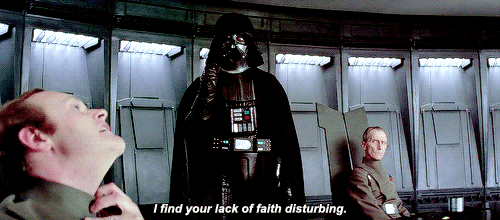 What's interesting about this First Pinch Point is that it doesn't necessarily involve your protagonist themselves. This plot point could be a wholly separate scene that the protagonist never sees or interacts with, one meant to forewarn the audience of what's coming while the protagonist remains ignorant.
This doesn't mean they can't be involved, of course, but it is important to remember that they're in a period of reaction, unequipped to deal with the conflict even if they are a part of the First Pinch Point. They should be caught off guard, and your antagonist should be the one firmly in control of this scene.
How the First Pinch Point Affects Your Readers:
This First Pinch Point is important primarily because it acts as a moment for your antagonist to shine, highlighting their power and their ability to shape your novel's conflict.
However, beyond that, it also serves as an important reminder.
The beginning of Act 2 is a long stretch full of exploration and growth for your characters, and it can be easy for both you and your readers to get distracted from the core conflict of your story. The First Pinch Point's placement comes midway between the start of Act 2 and your Midpoint, making it's the perfect time to remind everyone of the stakes of this journey.
While it should come up organically in your story—much like the Hook—halfway between the start of Act 2 and the Midpoint is a good ballpark to shoot for. This midway placement is ideal because it keeps the tests your characters undergo relevant to the broader conflict, helping the plot progress even as you explore subplots or your wider cast.
Studying Act 2 in Action
Disney's Mulan:
Act 2:
When we last saw Mulan, she had just disguised herself as her father's son and run away to join the army. This was the culmination of Act 1 and a somber moment that set the stakes for the rest of her adventure. Fortunately, Act 2 opens more lightheartedly, helping to balance the movie back towards its otherwise friendly tone.
After discover she had run away, Mulan's grandmother prayed to their ancestors to protect Mulan. The spirits answered in the form of Mushu, a disgraced dragon guardian of Mulan's family. He is sent to bring Mulan home, leading to a series of comical mishaps when Mulan meets Mushu—her new teacher in all things "man"—and stumbles awkwardly into the Chinese army under the fake name of Ping.
The following series of tests perfectly represent the reaction phase of Act 2.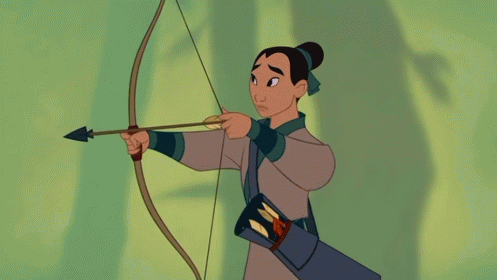 Mulan struggles as her new commander Shang tries to turn the new recruits into soldiers. She is hated by the other soldiers and fails all of her training, until she is eventually asked to leave. Of course, Mulan eventually overcomes these challenges, but that won't happen until the Midpoint.
During this first half of Act 2, Mulan makes many enemies and just as many mistakes. These mistakes come from her attempts to "think like a man" instead of drawing on her own unique skills. All of Mulan's struggles come from her failure to find value in her own ideas and talents, and only as she learns to embrace her own intelligence does she begin to succeed. This directly ties into her inner struggle, developing her character arc as well.
Mulan's Mentor:
Let me pause for a moment to return to Mushu, Mulan's dragon guardian.
He functions as a comedic sidekick and mentor figure, and gets roped into joining Mulan's adventure through a series of amusing mishaps. When the ancestors ask him to awaken the Great Stone Dragon to save Mulan, he finds nothing but a lifeless statue. Of course, he can't admit this to the ancestors, and pretends that he's the Great Stone Dragon instead.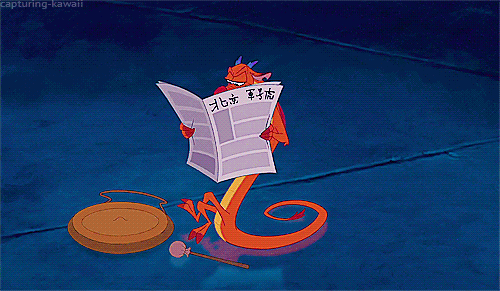 This is important because Mushu represents the second major character arc found in the movie, with his arc being strongly tied to Mulan's. He's motivated by a desire to regain his place among the other guardians, but is held back by an inner stryggle of selfishness, combined with a lack of self-worth.
He doesn't go after Mulan to save her, but to save himself from humiliation.
Furthermore, he actively tries to get Mulan onto the front lines—hoping that if he makes her a war hero, he'll gain glory for himself as well. All of this represents Mushu's attempts to find his self-worth through others, and we'll see his arc come up multiple times throughout the rest of the film.
The First Pinch Point:
Lastly, we come to Mulan's First Pinch Point, which occurs out of order in this movie.
You see, the First Pinch Point actually occurs in a scene directly after the Midpoint, which is a bit awkward and something I would not recommended for a novel. Because of movies' shortened runtime and compressed storytelling, they can get away with a bit more flexibility in terms of their structure. While a novel may have fifty pages between key plot points, a movie may only have five minutes.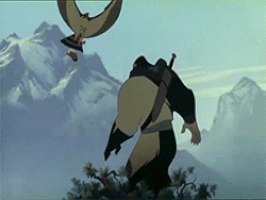 Returning to the story at hand, Mulan's First Pinch Point sees the leader of the Huns scouting for the Chinese army. He finds a young girl's doll and decides to attack the mountain village it came from, knowing the Chinese Army is stationed there as well. He's looking for a fight and knows he can win. But the scene also makes it clear he enjoys the prospect of finding the girl who owned the doll and seeing that she suffers.
Of course, all of this is done subtly, and most kids would never notice the meaning behind this scene. For adults, this First Pinch Point expertly reinforces the stakes despite its weird placement and shows the true malevolence of the antagonist.
Additionally, this scene has no need for Mulan.
She never even knows this scene occurs. Nevertheless, it's important for the audience to be reminded of the wider conflict, with this scene also foreshadowing important events that'll occur closer to the end of Act 2, setting Mulan up for the Climax.
Symbolism:
Not only does Mulan's First Pinch Point fulfill all the normal roles of that plot point, but it also makes an important thematic statement as well.
By using the doll, a symbol of femininity and family, the movie is reminding the audience of Mulan's inner struggle and her unhappiness as a woman in a severely patriarchal society. The doll is a symbol of powerlessness, of those looked down on in society, and it's one that will come up again later on during an important scene for Mulan's character arc.
Nausicaä of the Valley of the Wind:
Act 2:
After Nausicaä became a hostage to the Tolmekian invaders and Act 2 began, she was given one night to say goodbye to her beloved home. This was a fairly brief scene, but it revealed important information that furthered her flat arc in a major way.
During the last night before she is taken away, Nausicaä retreats to a secret garden she built deep beneath her father's castle. While searching for her, Lord Yupa discovers this hidden room and is amazed by its contents. Inside are all varieties of poisonous plants from the Toxic Jungle. Understandably confused, Nausicaä explains that the plants aren't toxic when grown in clean water, and that it's the polluted earth that's been producing the toxins spread by the plants.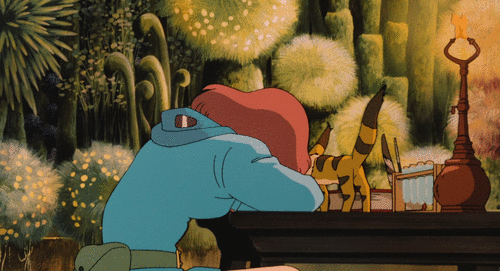 This revelation is huge, both for the movie's worldbuilding and for Nausicaä's arc.
As a flat arc character, Act 2 is not concerned with helping her overcome an inner struggle of her own. Instead, the focus is on her struggle to validate and uphold the truth she already knows. This reveal to the audience is a huge step in that arc as it does exactly that—by showing us the plants aren't toxic on their own, we realize that Nausicaä's hope for the world may be achievable after all.
However, what follows for Nausicaä is less positive.
She's loaded aboard the Tolmekian airships along with a handful of other hostages and the fleet takes off, leaving behind a regiment of soldiers to resurrect the dormant weapon from the Inciting Event. On the way back to Tolmekia, a lone fighter pilot attacks the ships, shooting down the fleet but crashing his own plane in the process.
Nausicaä's Foil Character:
After this attack, Nausicaä and another hostage struggle to flee the wreckage. Then, in another important moment of character development, Nausicaä allows Princess Kushana to escape with them. It would have been easy to let her die, but by allowing Kushana to live Nausicaä is proving her commitment to her truth of peace, even while knowing the same mercy wouldn't have been afforded to her.
This foil moment only grows stronger as the next scene transitions into the First Pinch Point.
After escaping the burning fleet, Nausicaä and the other hostages—along with Princess Kushana—make a crash landing in the Toxic Jungle. Everyone panics, with Kushana drawing a gun on the other hostages to regain control. Yet, Nausicaä remains calm throughout, which becomes especially important when they find they've landed in an Ohm nest.
The First Pinch Point:
If you remember the Ohm from the first article in this series, these are the guardians of the Jungle, and they're easily enraged by outsiders. Any threatening behavior from the intruding humans would condemn them to death, but Nausicaä remains calm. She approaches the Ohm and opens her arms to them, asking them to forgive the disturbance.
What follows is a great moment of foreshadowing.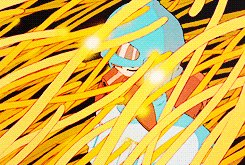 One of the Ohm surrounds her in golden strands and shows her an image of a large tree, somehow communicating that the fighter pilor survived the crash. After this message the group of Ohm retreat into the Jungle, letting the humans go.
This is a complex scene, but it fulfills all the needs of the First Pinch Point. It reasserts the power of the Ohm and the role they play in the Jungle, something the audience may have forgotten about during the long Tolmekian invasion, and foreshadows their capacity for mercy. Their importance to the story isn't yet clear, but that's ok—by keeping them in the back of the audience's mind, the film is making sure that when they come back up later, they won't feel contrived or unfounded.
Your Goals for Act 2
Now that you understand the basics of Act 2, lets recap your goals for this act:
This is your chance to explore your cast, world, and plot—so take advantage of it!
Spend some time developing your protagonist's arc.
Introduce readers to the other members of your cast.
Challenge your protagonist as they grow their skills and knowledge
Create a turning point that will shift your protagonist from reaction to action
Prepare for the dark moment that begins Act 3
In part four, we'll take a deep dive into your story's Midpoint, so stay tuned!
Do you have any questions about Act 2? Let me know in the comments!
ACT 1
ACT 2

The Story Structure Series Pt.4: Act 2 and the First Pinch Point

ACT 3