The Basics of Act 3: The Story Structure Series Part Seven
Act 3 marks the beginning of the end for your story…
This is the last act of the Three Act Structure, and this is where your story's threads will finally come together. Here your characters will face their final confrontation with your antagonist and overcome the conflict your entire novel has been building towards.
Of course, Act 3 does more than simply end your novel—and that's where it becomes a bit more complicated. It's responsible not only for bringing your story to a satisfying conclusion, but also for completing your protagonist's arc, tying into your overall theme, setting the tone for the end of your novel, and leaving your readers satisfied with the journey they've just completed.
_______________________________
This article is part of a series of posts about the Three Act Structure. If you'd like to check out the rest of the series, make sure to browse the other articles listed at the end of this post.
_______________________________
What is Act 3?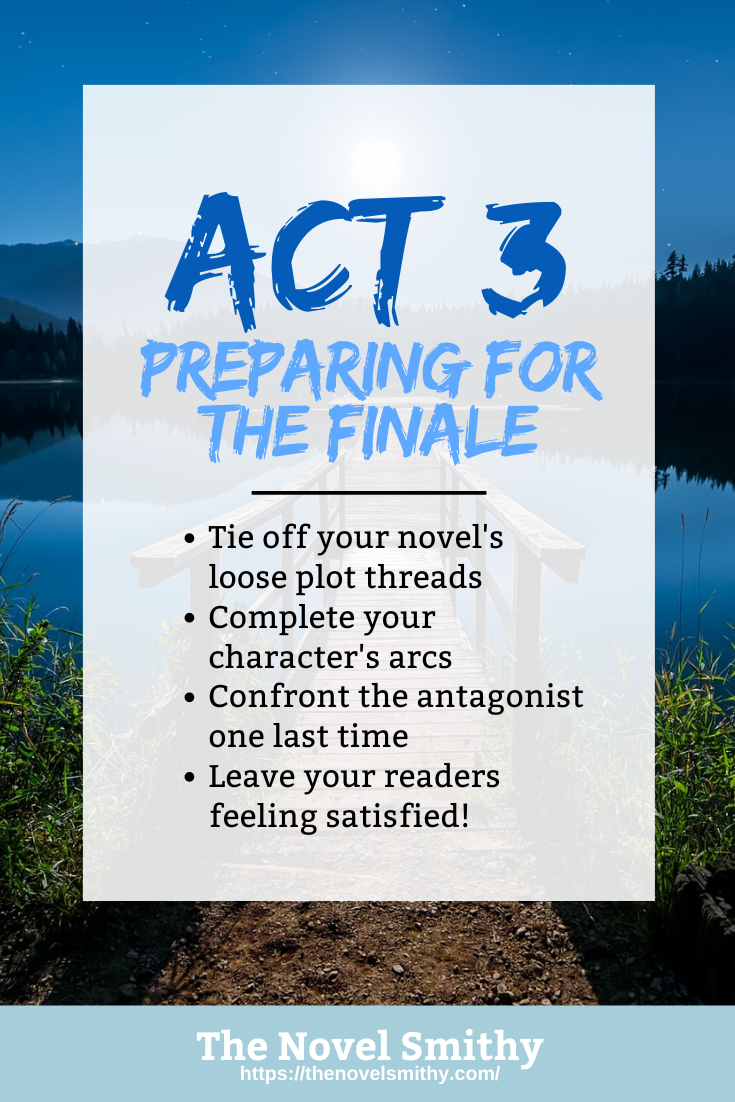 In simple terms, Act 3 is the end of your story. It takes all the pieces you've been moving into place for the last hundred or so pages and puts them on a crash course towards one another. This culminates in the final confrontation between your protagonist and antagonist.
However, there's a lot more to the last quarter of your story than a final battle.
Act 3 fulfills a lot of critical functions within the broader Three Act Structure, and is meant to provide your characters and readers with closure for the journey they've just completed together. You see, Act 3 is the final test of the skills and knowledge your characters have gained throughout their story. All of their past achievements should become relevant again here.
Of course, before any final confrontation can begin, your protagonist needs to rise back up from the low point that was the Third Plot Point. The opening of Act 3 provides them with time to reflect on their flaws and undergo a last major moment of growth. Only once this reflection is over and they reengage with the conflict can you move on to the plot points of Act 3:
Your Climax will increase the pace and tension of your story as your protagonist approaches the Climactic Moment, their final showdown with your antagonist. Once this battle is won, the Resolution provides a a last change for rest, camaraderie, and a hint of what life will be like after your story ends.
When put together, these plot points tie your cast, themes, plot, symbolism, and tone into one cohesive package, leaving your reader feeling satisfied that your story is complete!
Act 3 and Your Plot:
When looking specifically at your plot, Act 3 contains two extremes—The Climactic Moment and the Resolution.
In the Climactic Moment, all relevant developments from your story come together, equipping your protagonist to succeed in their final battle. This is a dramatic and intense scene that should push your story to its logical conclusion. On the other hand, the Resolution takes the time to show the aftermath of that conflict, and to imply a living, breathing world that will continue long after your reader turns the last page.
Both of these extremes are important, and both should feel like the natural extension of the rest of your story. You've been building to these two moments from page one, after all.
Act 3 and Your Characters:
Your protagonist goes through a similar process of extreme tension followed by release during Act 3. Act 3 acts as the end of their character arc, where they finally recognize their truth, overcome their inner struggle, and fulfill their need.
As I've mentioned before, not all character arcs are the same. Negative arcs are a special case, as well as flat arcs. Click the links to read more on how those two types of characters will affect your story's structure.
This requires reflection on the part of your protagonist, especially after the downturn they experienced at the Third Plot Point. They'll be forced face to face with their inner struggle, and your story will demands they overcome it if they want to succeed. Essentially, you're backing them into a corner. This period of intense pressure culminates in the Climax, ending with their success or failure in the Climactic Moment, where they prove whether or not they've grown through their actions.
The Resolution then provides a moment of rest after this taxing ordeal.
Often your protagonist will regroup with friends from their journey, return home a changed person, or reflect on all they've experienced. They should have time to see how their new outlook will affect their life going forward. Where they started and where they've ended should show a clear contrast for both themselves and your readers.
This jump from high to low intensity lets your reader experience catharsis, a term we've covered before and will look at again in depth in the last article of this series. However, we aren't quite there yet, as we've only just begun Act 3—there are still a few challenges left before your story ends!
How Act 3 Looks in Action
Disney's Mulan:
Entering Act 3:
In the last article in the series, the other soldiers had just discovered Mulan was a woman and had abandoned her in the mountains as a result—though Shang did choose to spare her life. Still, her friends had left her behind and marched on to the Imperial City without her, carrying news of the defeated Hun army.
Mulan's next scene marks the beginning of Act 3, starting with a moment of reflection.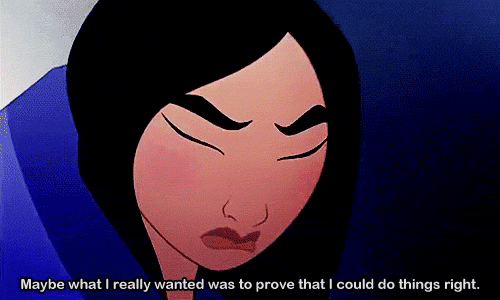 Mulan and Mushu are sitting together in the snow, and Mulan finally acknowledges her inner struggle directly. How can she feel worthwhile and valuable when society doesn't see her as such, no matter what she accomplishes? Why are her talents and skills less meaningful, simply because she's a woman?
Throughout her journey she's struggled to be useful, to appreciate her skills and talents, and to earn other's respect. Yet, her Third Plot Point showed her that the respect she did earn wasn't for her true self, but for her male disguise. Once they discovered she was a woman, her achievements became irrelevant. Now defeated and vulnerable, she's teetering on the edge of believing she isn't worth anything after all.
A Mentor:
That's where Mushu comes in.
Throughout the movie, Mushu has been struggling through his own arc, pulled between his selfish want to gain status among the other ancestors and his need to put Mulan before himself. He starts this scene as his usual comedic self, trying to lessen the gravity of the situation with witty comments.
Yet he quickly realizes this isn't enough.
Mushu overcomes his arc in this moment, owning up to being a fraud and risking Mulan's safety to further his own goals. It's a short scene, but it's powerful. When Mulan says they have no choice but to return home, Mushu doesn't fight her, instead promising to stay by her side and support her, even though he knows he'll be returning as a failure too. He has finally realized that their friendship is more valuable than any status or praise could ever be.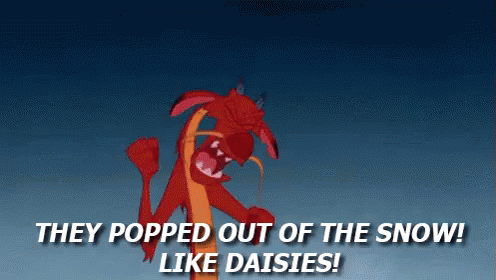 On top of completing his own arc, Mushu also helps bring Mulan back from the brink, just as any good mentor figure should. His admission of his own flaws and reassurance that Mulan did everything with good intentions helps remind her of the real point of this quest. Her truth—that self worth comes from within—is in sight. All she needs to do is reach out and accept it.
Of course, Mulan needs to reengage with the conflict of the story to put her truth into practice, and the next scene does just that. As she's preparing to return home, she sees the remnants of the Hun army rising out of the snow, headed for the Imperial City. She knows the danger her friends and the Emperor are in and realizes that, despite being abandoned by them, she has to act to protect them.
Nausicaä of the Valley of the Wind:
Entering Act 3:
Just like with Mulan, we last saw Nausicaä reach her lowest point when she was captured by the King of Pejite and found out about his plan to attack the Valley of the Wind.
Nausicaä's Act 3 starts back in the Valley, where Princess Kushana has escaped and rejoined the Tolmekian army. Meanwhile the villagers turn on the invaders. They escape the Valley and flee to an old hideout at the Acid Lake, with Tolmekian tanks in pursuit. The fighting only stops once the Tolmekians have surrounded the hideout, ending in a standoff.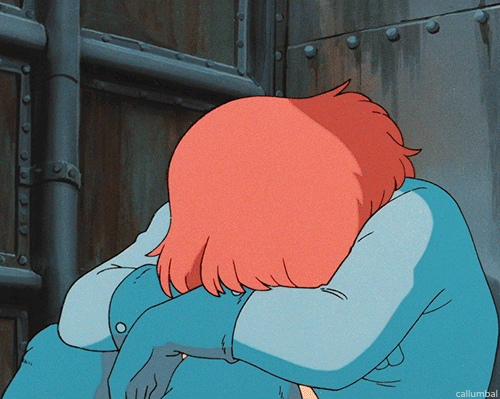 Turning away from this bleak scene, the movie returns to Nausicaä, who is freed from her cell aboard the Pejite airship by Asbel and his mother. The women of Pejite apologize for their treatment of her, now convinced that peace is necessary thanks to Asbel's effort to share Nausicaä's message. This is extremely important, because this proves that her role as a flat arc character is paying off.
Her truth can change people, but she still has a long way to go to stop this war.
This leads to Nausicaä's escape from the airship, her meet up with Lord Yupa—who goes back to help defend the Pejites from an oncoming Tolmekian attack—and the start of her race to the Valley. Back at the Acid Lake, the people of the Valley remain trapped by Princess Kushana's army. All of the pieces are in place to begin the Climax.
A Focus on Plot:
Overall, these scenes are more straightforward than Mulan's start to Act 3.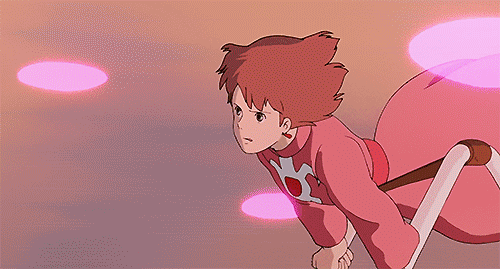 They primarily deal with plot related issues, and focus on getting the stage set for the confrontation that's to come. This is partly because of Nausicaä's arc—her character defining moment will occur closer to the Climactic Moment. Fortunately, Asbel's support during the Third Plot Point proved she could spread her truth, so the movie didn't need to reinforce that much further.
Of course, I'm sure you've noticed a pattern with this movie by now.
With so much happening in the plot and worldbuilding, it hasn't had as much space to dedicate to character growth. Fortunately, Nausicaä's flat arc doesn't need a ton of time to be done well. We understand Nausicaä's truth and are clearly on her side, so now it's simply a matter of seeing if she can overcome all the challenges standing in her way.
Your Goals for Act 3
At the end of the day, Act 3 will either be the easiest act you write, or the hardest.
For some writers, they'll have already set up everything they need to pull off Act 3 throughout the rest of their story, meaning now will simply be the time to pay off those promises. However, for others, Act 3 will be a challenge. They'll need to help their protagonist overcome their darkest moment, all while setting the stage for their final confrontation—and that's a lot to pull off in the final hours of your story.
Either way, keep these requirements for Act 3 in mind and all should be well:
Tie up your story's loose plot threads and subplots.
Complete your important character arcs, including for secondary characters.
Set your protagonist up to confront the antagonist one final time.
Create catharsis for your readers by providing closure for your story.
In our next article we'll dive deeper into the specific plot points of Act 3 and the finale of the Three Act Structure as a whole, so stay tuned!
Do you have any questions about Act 3? Let me know in the comments!
ACT 1
ACT 2
ACT 3

The Story Structure Series Pt.7: The Basics of Act 3