Character Arcs 102: Flat Arcs
Flat arcs are the black sheep of character arcs…
You see, flat arcs are unique when compared to other character arcs. Whereas positive and negative arcs are all about a character changing from within, flat arcs are more concerned with changing the outside world. Of course, despite these differences, flat arcs are no less important for your characters.
While positive and negative arcs are concerned with the internal change your characters go through, flat arcs focus on characters that have already discovered their truth and overcome their inner struggle. But how is this possible if character arcs are all about change?
_______________________________
This post is the second in a larger series about character arcs and character creation in general. If you'd like to read the first article in the series, you can find it here: Character Arcs 101: Positive and Negative Arcs.
I hope you'll check it out! 🙂
_______________________________
What Are Character Arcs?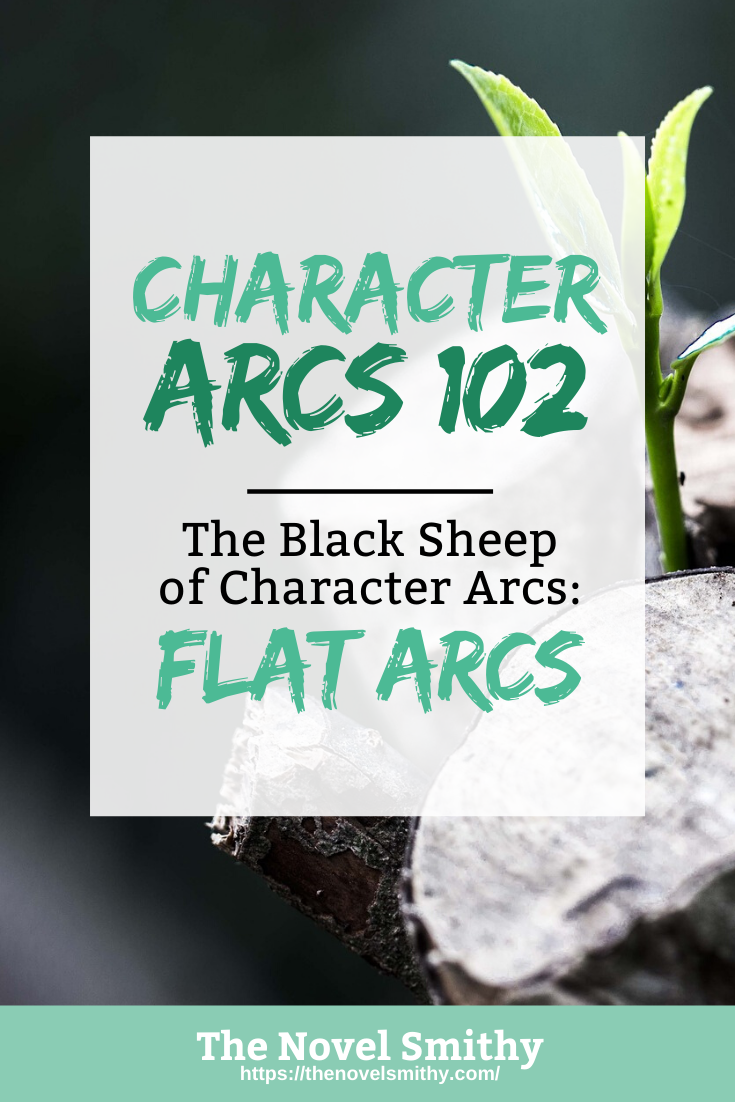 While I introduced the basics of character arcs in much more detail in Character Arcs 101: Positive and Negative Arcs, let's cover a few quick definitions to make sure you're up to speed if you missed that post. For starters, a character arc is defined as:
"A character arc is the internal transformation of a character as they struggle to overcome major flaws or wounds."
From there, most character arcs are classified as one of two types:
Positive arcs
Negative arcs
However, that is only part of a much larger picture.
You see, both positive and negative character arcs are what's called a "change arc." These arcs are all about the character growing and learning, ultimately transforming as a person—either for better or for worse.
Alongside these two change arcs is the flat arc, or the black sheep of character arcs. This flat arc focuses on a character who doesn't need to change personally, and instead needs to improve and shape the world around them.
Of course, change arcs and flat arcs still follow many of the same principles.
Both will be intimately tied to your story's structure, and both will shape your novel's theme. Likewise, flat arcs are just as critical to get right as positive or negative arcs—they will still define your character's journey, and still serve to keep your readers engaged.
Flat Arcs: Shaping the World Around Them
Flat arcs are still character arcs, but instead of growing and changing as a character, flat arc characters stay the same. Instead, their journey is about learning to uphold their inner truth in a world that doesn't accept it, allowing them to overcome the external conflict along the way. This is why flat arcs are a somewhat different beast from positive and negative arcs, which focus on a character's internal growth.
In a flat arc, the character already knows their inner truth—often the theme of their story. Unfortunately, they live in a world or community that doesn't, and that is instead overtaken by an inner struggle that the character's truth stands in contrast to.
This shifts the focus of their story from their own change, to other's change.
Of course, positive and negative arc characters affect those around them too. However, that isn't the focus of their journey, whereas it is the entire journey for a flat arc character.
To succeed in the external conflict of their plot, a flat arc character must hold fast to their inner truth and act on it, spreading it to the world around them.
Flat Arcs and the Three Act Structure
Act 1:
The beginning of a flat arc introduces the community the character lives in and helps the audience begin understanding their inner truth. They'll often seem separate from their world—the people around them don't understand or accept their truth, and likely won't understand the character's behavior as a result.
The flat arc character may even hide their truth to shield themselves from other's judgement.
For example, one of the first feature films directed by Hayao Miyazaki, Nausicaä of the Valley of the Wind, features a flat arc character as its protagonist, a young princess names Nausicaä. She lives in a post-apocalyptic world where humanity is always at risk from the ever expanding Toxic Jungle and the towering Ohm, large insect-like creatures that fly into a red-eyed rage to protect the other giant insects that populate this world.
Based on that description, it would be easy to understand why the human population outright loathes the Toxic Jungle, trying to destroy it at every turn, while fighting amongst themselves as well. However, Nausicaä has a different perspective. She thrives in the Toxic Jungle and works in harmony with the insects.
As a result, she struggles to find a way for humans to coexist with the world around them and to heal her world's inner struggle—violence and decay.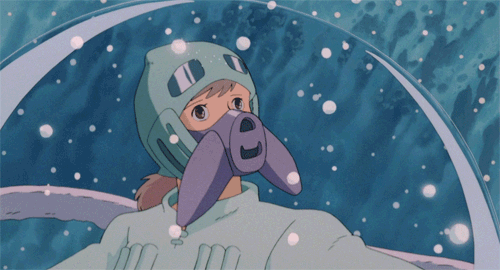 Act 2:
Act 2 of a flat arc progresses much like that of a positive arc, with the character struggling through a series of tests and trials. However, instead of learning to overcome a inner struggle, a flat arc character puts their truth to the test, using it to solve a variety of conflicts and highlighting the inner struggle of the world around them. Specifically, the Midpoint of a flat arc affirms—or even proves—the character's truth by revealing new information.
However, this doesn't make upholding their truth easy.
The Third Plot Point, as always, acts a dark moment for the flat arc character. All they've worked towards seems to have failed and they're left with a choice—either give up, assuming they're powerless to enact change, or risk everything to continue. This cannot be an easy decision, and in choosing to continue they're facing great sacrifice.
Nausicaä's Midpoint comes in a reveal to the audience—the Toxic Jungle isn't killing the earth, but healing it. Nausicaä even proves to her mentor that it's not the plants that are poisonous, but the soil and water they grow in, polluted by humanity long ago. The plants act as a filter, drawing out the poison so the planet can heal.
This proves her truth to both herself and the audience.
Still, her journey is far from over, and her Third Plot Point finds her captured by a neighboring kingdom that plans to destroy her valley by triggering a stampede of Ohms. Not only does this threaten everyone she loves, but it stands in stark contrast to her truth—they intend to create this stampede by skewering a baby Ohm and carrying its body into the valley, its enraged family following behind it.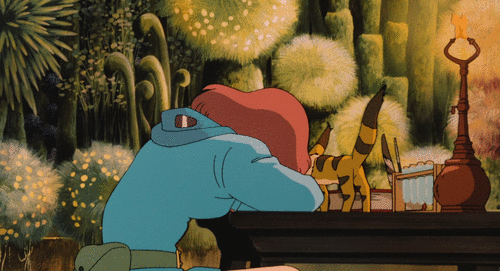 Act 3:
The end of a flat arc follows a similar process as a positive arc, with the character facing a final decision based on their truth. By upholding this truth and using it to move past the inner struggle of their world, they overcome the external conflict.
Likewise, Nausicaä saves her valley, but not without great cost.
She escapes her captors and makes her way to the baby Ohm, but is wounded trying to save it, with her pleas to the rampaging Ohm going unheard. In the final moment she stands between her people and the stampede, unwilling to run even in the face of death. She sacrifices everything because of how deeply she believes in her truth that the Jungle is not evil, and that instead humanity is out of balance with the world.
Fortunately, by sacrificing herself Nausicaä proves her truth, and the Ohm spare her.
In a wave of light they heal her wounds and lift her above them, fulfilling a prophecy from the beginning of the film that a leader would come, walking through a field of gold, to put humanity and the world back into harmony. The people around her, even the most bloodthirsty, see this and understand their mistake. The Ohm stop their rampage and retreat into the Jungle. Nausicaa has saved the valley.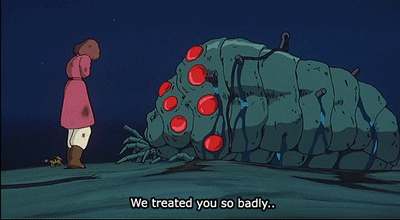 Resolution:
Just like the positive arc, the flat arc's Resolution focuses on the effects of the character's sacrifices and success, often showing their community healed by their truth. Other characters have overcome their inner struggle through the flat arc character's influence, and this gives the reader time to appreciate that change.
Nausicaä's tale ends with the people of the attacking kingdom staying to rebuild the valley, and with the Ohms returning to the Jungle. There is finally calm in this war-torn world.
To drive home the themes of the film and the truth that Nausicaä helped bring, the final scene shows a tree growing—green and healthy—beneath the Toxic Jungle, acting as a promise of new life to come.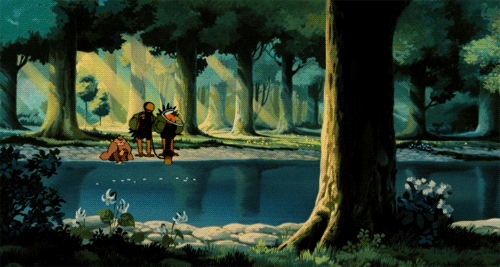 Mastering the Flat Arc
And with the Resolution of Nausicaä's story, this series comes to a close as well.
Flat arcs, while different from their positive or negative brethren, are still a powerful way to convey the themes or perspectives of your novel. Not only that, but they also serve to strengthen your story's structure and plot, just as all character arcs do.
Even more so, a flat arc is a great tool to breathe life into a protagonist who may already know their truth and have completed their growth, instead allowing them to guide the people around them on a compelling and worthwhile journey! 🙂
Are there any flat arcs in your novel? Let me know in the comments!