How to Know When to "Kill Your Darlings"
In a successful novel, everything serves a purpose.
It's no wonder then that one of the most common pieces of editing advice is to "kill your darlings." Problem is, what exactly does your editor, critique partner, friend, or dog mean by this after reading your first draft? While "killing your darlings" is an infamous phrase in modern culture, it's not always clear how it applies to your writing or what you should do about it.
How do you find your own personal writing "darlings" and how should you go about killing them? To make matters more complex, you might not want to kill them at all.
The Importance of Purpose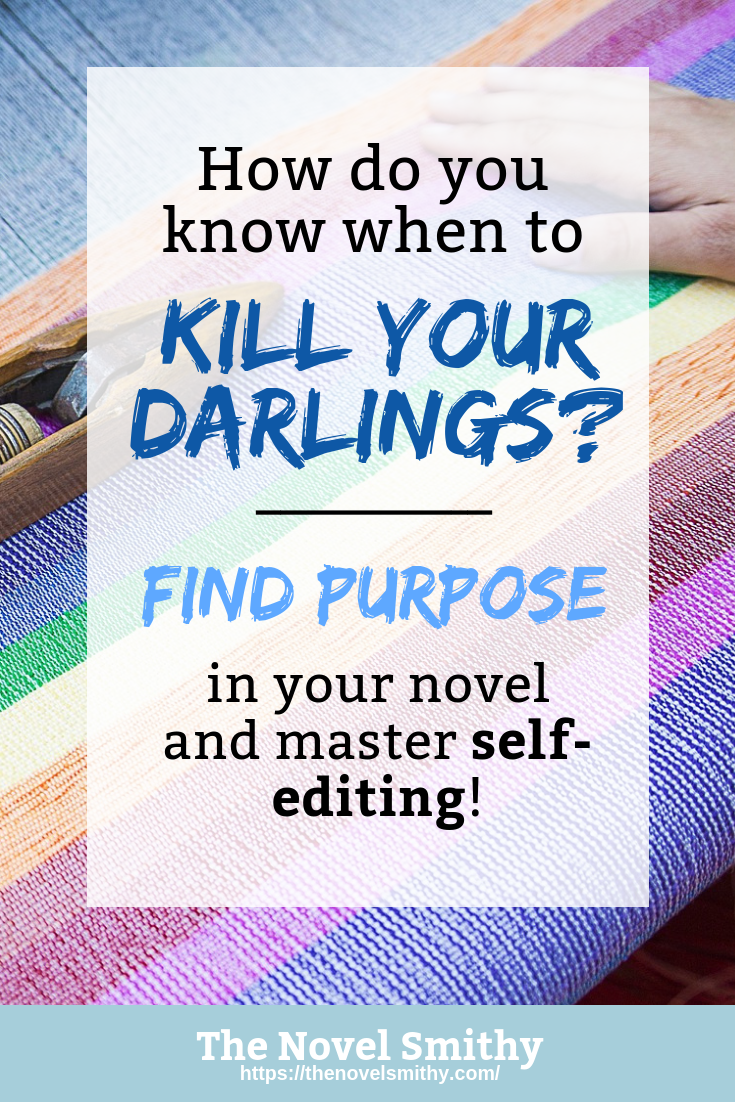 I've said it over and over again on this blog—to create a novel that resonates with your readers, each element of your story must serve a purpose and serve it well.
Of course, how you tweak each piece of your novel to fulfill these various roles is a challenge all on its own, one I've delved into in many posts and emails in the past.
Instead, today's article will focus on a different part of that statement—purpose.
When you sit down to edit your novel, no matter what draft you're working on, there's a mantra you should keep in mind from start to finish—Everything in your novel must serve a purpose because everything in your novel must come together into a single story.
It's like weaving. Each piece of thread supports the ones alongside it. If you added a few extra threads here or there without considering their purpose among the whole, the fabric you created would fall apart as soon as you tried to handle it.
Your novel is no different.
That's why the best stories mesh character with plot and incorporate things like theme and pacing until it all comes together into a unified whole.
When each piece of your story fulfills its purpose, and most importantly has a purpose, your story shines far brighter than it would have otherwise!
"The idea is to write it so that people hear it and it slides through the brain and goes straight to the heart." — Maya Angelou
Every Writer Has a "Darling"
So, this all leads to a question… What do you do when you love a part of your writing, but deep down know it serves no purpose in your novel? Every writer has something like this. Every writer has a "darling" (if not many) in each novel they write.
Your personal writing "darling" is whatever tugs at your heart when you sit down to edit a tricky scene, tough plot point, or problematic character. You know something is wrong, that something needs fixing, but you're so attached to what's already on the page that you can't root out the problem.
What you're facing is the dilemma behind "killing your darlings."
Often, "darlings" are leftovers from an old idea you still feel passionate about, or are stylistic choices you haven't quite moved away from. There's emotional attachment to your "darlings", attachment that makes editing these problem spots difficult.
How to Handle "Darlings" in Your Writing
Of course, there are as many "darlings" as there are writers.
Each of us, myself included, has some individual piece of writing we hang onto even when we shouldn't. For me that's my opening scenes, which almost always start as weird dream sequences until I've given in and fixed them through multiple rewrites.
If you'd like a famous example, think of Tom Bombadil from The Lord of the Rings. He was one of the earliest ideas Tolkien had for a sequel to the Hobbit, but by the time The Lord of the Rings was finished, the long, rambling Bombadil scenes seemed disconnected both in terms of tone and character.
With that said, here are some common types of "darlings" to look out for.
Extraneous Scenes:
Extraneous scenes are far and away the most common "darling" I find in my writing. Usually these scenes are left behind after brainstorming or outlining, but I grow to love them so much that I struggle to admit they no longer have a place in my story.
It's natural for your story to evolve as your write it, so avoid hanging on to scenes from an earlier iteration that no longer add value to your final story.
I also recommend paying special attention to the opening and ending of your story, as these sections often accumulate extraneous scenes. Ever read a novel that starts so far before the conflict begins that you struggle to maintain interest? Or one that seems to drag on and on after the Climax ends?
That's a sign of extraneous scenes the author should have cut in the editing phase.
Don't give into the temptation to front-load exposition in your story's opening—instead, trust your Hook to keep your readers around long enough to introduce your story's world and characters organically. Similarly, it's easy to linger too long after your story's Resolution. The Resolution should be tight, wrapping up any final loose ends and not much more.
How to kill this darling:
#1: Cross out or mark any extraneous scenes in your manuscript.

#2: Tweak the transition between the scenes that bookend the one you cut, so they flow naturally.

#3: Check your opening and ending—ask yourself if you can tighten these sections and accomplish the same purpose with fewer or more concise scenes.
For a novel to resonate with readers, each element must serve a purpose—and serve it well. #amwriting Click To Tweet
Weak Characters:
Much like scenes that don't pull their weight, weak characters suffer from similar problems. They may not hinder your story at first glance, but when left to run amok they can overwhelm an otherwise strong narrative.
When looking through your story's cast, think about secondary characters that don't have a distinct purpose. Often, these characters serve a single use and can be combined with another character to form something far more engaging and memorable. Your entire core cast should contribute to your plot or your protagonist's character arc, or have a strong arc of their own.
How to kill this darling:
#1: Write out a list of all of your cast members and their purpose within your plot or subplots.

#2: Mark the ones that aren't fulfilling their purpose. Look for ways to combine these problem characters or tweak them into stronger versions of themselves.

#3: Look towards character archetypes like those from the Hero's Journey for inspiration.
Unnecessary Backstory:
I've covered the importance of delivering balanced backstory before on this site, but let me reiterate it here—backstory is there to compliment your main plot, not drown it out.
It's easy to get caught up trying to convey every detail of your character's lives to your readers, and I'm totally on your side! Creating a history for your characters is one of the best parts of writing.
However, not all of that detail needs to make it into your final novel. A good rule of thumb is that, if it contributes directly to the plot or to that character's arc, keep it. If not, be honest with yourself about whether you need to include it at all.
How to kill this darling:
#1: Write down your character's backstory and highlight any parts that are critical for your reader to understand.

#2: As you edit your story, reassess any backstory that doesn't fall under these highlighted sections.
Dead End Subplots:
Subplots are great! They add flavor and depth to your story's world and help you keep an enjoyable pace in your main plot. However, subplots need to relate to your whole story, no matter how interesting they may be on their own.
Don't make your novel needlessly—and often damagingly—complex with subplots that don't tie back into your main story. All of your subplots should contribute to your story's theme and lead into your Climax, just like every other plot point you write.
How to kill this darling:
#1: Outline each of your story's subplots separately from your main story.

#2: Look carefully at each of them and ask yourself if they add something to the theme, plot, or arcs of your story.

#3: Make sure any subplots you keep lead into your Climax and tie into the overall plot by the end.
Bogged Down Prose:
It's always fun to get creative with your prose, and often you can create some amazing work by letting loose and experimenting. However, your prose isn't exempt from the rule—every element in your writing must serve a purpose.
Avoid the temptation to bog your story down with tons of prose that doesn't describe anything that isn't already clear to your reader. You only need to tell them the house has baby blue walls once or twice for it to stick. Better yet, trust your reader to enjoy your story with their own unique flair by leaving non-critical details up to their imagination!
How to kill this darling:
#1: As you edit your manuscript, cross out any sections of prose that seem overly long or that describe the same thing in redundant ways.

#2: Go back through and asses these sections. Can they be written more concisely, or can your entrust details to the reader's imagination?

#3: Don't scrub away all of your flowery prose—some can add a welcome flair to your story! However, assess which of these sections is really your best work.
Problematic Themes:
By problematic, I don't mean your theme is "bad" or "wrong." Your story's theme is a personal choice, one that encapsulates the core ideas of your story, and I'm not here to judge that.
Instead, my concern with this particular darling is one of forcefulness.
If you shove your theme towards the reader at every turn, you're doing both your story and them a disservice. Readers are far more perceptive than us writers give them credit—often, it's the subtle, gently conveyed themes that are the most meaningful.
How to kill this darling:
#1: Take the time to write your story's theme in 1-2 sentences (better yet, in only a few words!)

#2: As you edit your novel, mark any places your theme is obvious to the reader. Go back through and remove 1/3rd of these sections or make them more subtle.

#3: Avoid adding tons of different symbols to your novel that all represent the same thing. Your protagonist doesn't need both a pocket knife, photo, old shirt, and compass, all as symbols of his lost childhood. One or two will be much more manageable both for you and for your reader.
Should You Ever Spare Your "Darlings"?
As weird of an idea as it may sound (especially after reading this whole post), sometimes you might want to ignore the zealous advice of blogs, editors, creative writing teachers, and your fellow writers.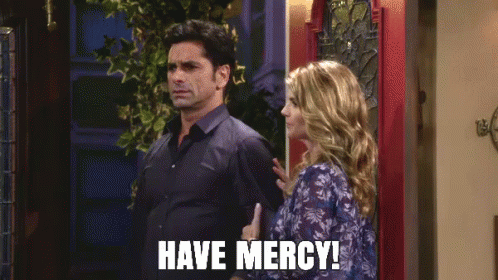 Sometimes, you don't need to kill your darlings, because not all darlings are bad. Many are the kernel of inspiration your novel grew from or represent a more idealistic form of your story. Maybe instead of editing it out, what your "darling" really needs is to be expanded on and better supported by the rest of your novel.
Similarly, sometimes your "darling" is just no big deal. When faced with the laundry list of editing tasks you have when self-editing, it's healthy to give yourself permission to ignore a few things in order to prioritize more crucial work.
How to Know When to "Kill Your Darlings"
Does it serve a purpose?
This one's fairly straightforward.
If your "darling" truly serves no purpose in your overall story (plot, character development, etc…), then it's best to cut it out. Perhaps it can become part of your next great novel instead!
Does your story struggle to accommodate it?
I mentioned above that often your "darling" is a leftover from the early stages of your novel. Your story grows and evolves throughout the writing process, and by the time editing rolls around your "darling" may no longer have a place. Don't force your story to incorporate your "darling" if there really is no logical place for it.
On the flip side, if your "darling" does play an albeit flawed role in your story, keep it!
Find ways to better mesh it with your larger story and make edits elsewhere in order to support its inclusion. If something works, it's often worth keeping around!
Does it add anything to your story's theme?
Again, "darlings" are often pieces left from the outlining and brainstorming process that just don't fit the tone and vision of your completed draft. If your "darling" contributes nothing to the theme of your novel, it's probably best to either change it or remove it entirely.
Can it be combined and work just as well?
Probably the most difficult edit you can make, combining a beloved scene or character with another one requires you to admit that it just isn't pulling its weight.
It's not that it no longer fits the larger purpose, plot, or theme of your novel—it's that it isn't strong enough on its own to justify keeping in its current form. As painful as that can be, it's also an opportunity to grow as a writer. Think carefully about how you can improve for next time and know that your novel is turning out stronger as a result.
Learning to Be Objective
What this post comes down to is the difficult task of being objective with your writing.
Unfortunately, it'll always be one of the most difficult parts of writing. However, knowing how to identify "darlings" and remembering to be honest with yourself about their purpose (or lack thereof) can go a long way towards a smoother, more enjoyable editing process.
As a final bonus tip, don't delete your "darlings" outright! Instead, copy and paste them into their own document or write them down in a special place in your outline. That way you'll always have them there to look back on fondly as a snapshot of one stage of your novel's journey. 🙂
What's your personal writing "darling"? Let me know in the comments!