How to Write an Anti-Hero Readers Will Adore
Anti-heroes are a feature in nearly every genre.
From rough romantic leads to swarmy space pirates, the best anti-hero strikes a delicate balance between smug, sarcastic villain and genuine hero. This isn't always easy to pull off, but when you succeed, the result is an addictive character readers can't look away from.
How do you write an anti-hero of your own? Well, there's a lot to consider, from the many types of anti-heroes to the difference between anti-heroes and villains (or even anti-heroes and normal heroes)! So, let me walk you through everything you need to know to write an anti-hero—as well as six signs you've gotten it right!
What is an Anti-hero?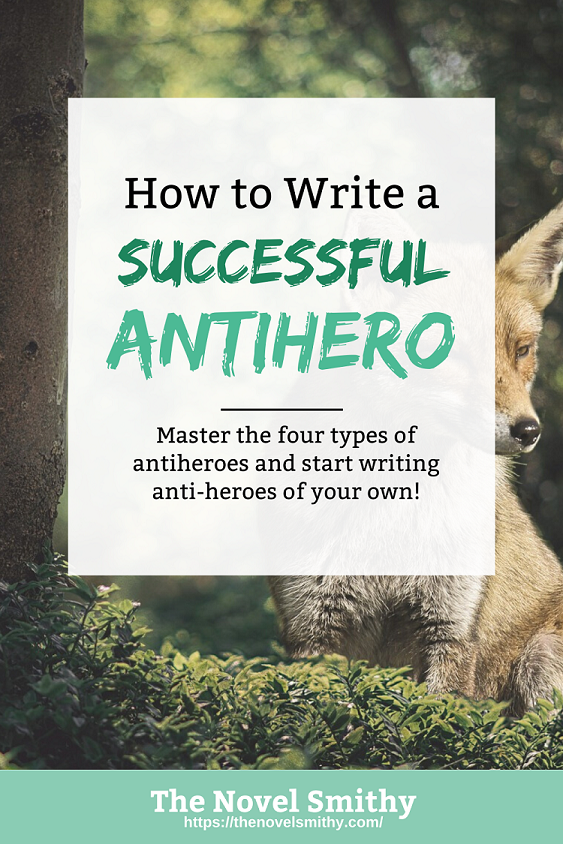 Before we dive into how to write an anti-hero, I should probably start by answering an important question…
What's the difference between a hero and an anti-hero?
An anti-hero is essentially a traditional hero with a more complex moral compass. These characters have hearts of gold deep down, but on the surface they're rough, aggressive, and often rude. Though they'll do what's right in the end, the way they get there won't make everyone happy.
"They don't have the morals that most in the mass audience have. If they are wronged, they don't go to the law. If they are flawed, they don't try to atone and apologize for it…" – Screen Craft
A great way to see this difference in action is to compare traditionally "heroic" traits with your average anti-hero:
A traditional hero is generous, while an antihero is selfish
A traditional hero works within the system, while an antihero rejects authority
A traditional hero is upstanding, while an antihero is an outcast
A traditional hero is humble, while an antihero is self-important
Of course, these aren't hard and fast rules—characters are complex, after all—but they are common themes that hold true for many anti-heroes. While traditional heroes are kind, patient, and brave, anti-heroes are rude, antisocial, and sarcastic, even if they're still a hero.
This is the allure of the anti-hero.
Readers love anti-heroes, because they let them relish in feelings of rebellion. Anti-heroes reject the norms of society, speak out against those they dislike, and have no qualms about being "impolite" when they think it's warranted. This is an addictive combination, especially when we know that character is a good person deep down.
The result is an easy character to like, and an extremely enjoyable one to read about!
The 4 Types of Anti-heroes
The Sympathetic Anti-hero:
There are many types of anti-heroes, with four standing out in particular.
First up, we have the sympathetic anti-hero.
These anti-heroes are those with a good reason for being standoffish. They typically have a tragic backstory, and were abused or harmed by their society in some way. As a result, they reject the expectations of their community, and see nothing wrong with being rude, aggressive, or self-serving—after all, they can't trust other people to look out for them.
Example: Wolverine from the X-Men series.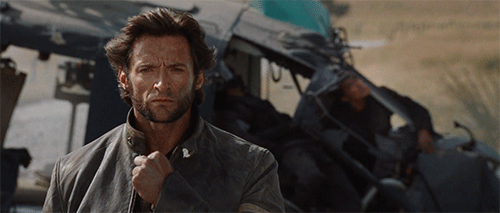 The Self-Interested Anti-hero:
Your typical sarcastic rouge, self-interested anti-heroes are by far my favorite to write!
These anti-heroes tend to have a biting wit, sharp tongue, and a complete disregard for what's polite. Their biggest concern is protecting their own interests, even if doing so comes at the expense of others. Fortunately, they aren't actively trying to harm anyone, and they all have a moral line they won't cross. If getting what they want would betray their values, they'll have to find another way.
Most stories featuring this type of anti-hero will focus on convincing them to fight for the world around them, rather than just themselves.
Example: Han Solo from Star Wars: A New Hope.
The Unwilling Anti-hero:
Next up, the unwilling anti-hero only wants to be left alone.
These characters are forced to engage with their story's conflict by some Inciting Event, much like your typical hero. However, what makes them an anti-hero is that they spend most of their journey trying to turn back the clock in order to get out of their new obligations and return to their old life.
By the time their adventure is through, they'll need to embrace their new situation and learn to fight for what's right—even if they complain (loudly) while doing so!
Example: Shrek from DreamWorks Animation's Shrek.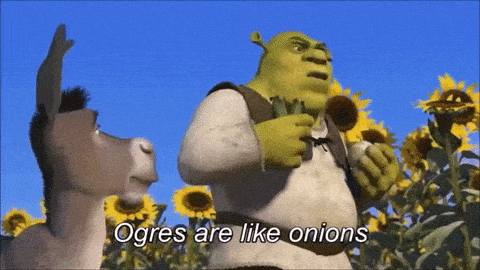 The Vigilant Anti-hero:
Finally, the vigilant anti-hero is a common character in thrillers, mysteries, and crime novels.
The classic "lone wolf," these vigilantes reject authority, don't trust society's idea of justice, and have their own (often skewed) sense of morality. When they see some evil lurking in their world, they set out to correct it, even if doing so involves violence, deception, and more.
As you can imagine, this requires a careful balancing act.
On the one hand, this style of heroism is exciting, but it's also easy for these anti-heroes to cross the line and become abusive villains. Because of that, this type of anti-hero requires a rock solid moral compass that is intrinsically good, even if their methods are more complex.
Example: Jake Reacher from Lee Child's Killing Floor.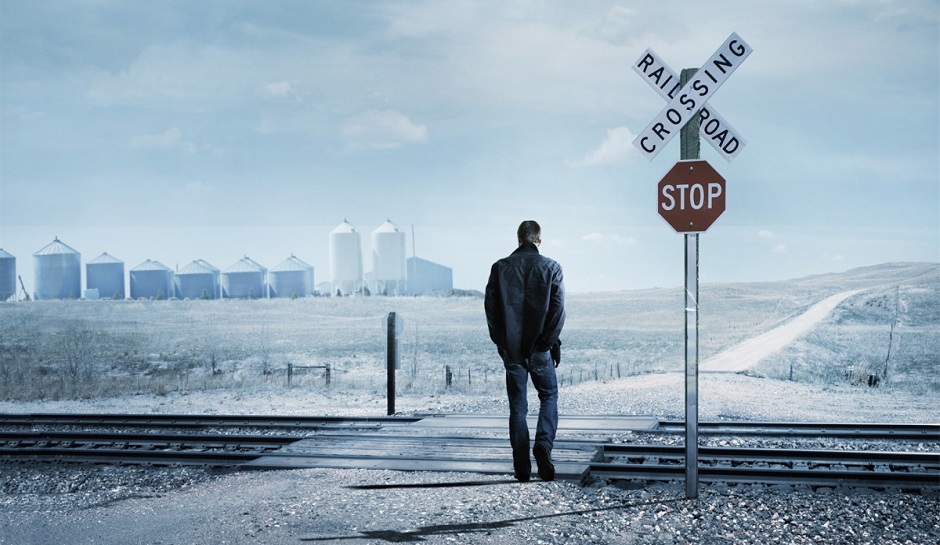 What's the Difference: Anti-heroes vs. Villains
Now that you understand the four types of anti-heroes, we need to address an important fact:
Anti-heroes are not the same as villains.
Though anti-heroes and villains share some similar traits, these characters are very different. Villains are destructive and harmful, while anti-heroes are fundamentally good. They might make mistakes, frustrate (or even hurt) other people, and reject the norms of their society, but they always do so for the right reason—and their effect on the world is always positive.
Anti-heroes also require a lot more character development than your average villain.
Though your novel's antagonist should be a well-developed character, they will typically be a round character, not a dynamic character. They won't undergo significant internal change, and will instead work to obstruct your protagonist and core cast. In contrast, anti-heroes often are protagonists—or at least an important side character, complete with their own character arc.
Though some anti-heroes definitely toe the line between good and evil, they're ultimately more "hero" than "villain."
NOTE: Need help writing a villain? Check out: 6 Ways to Write Truly Terrifying Villains
6 Signs of a Good Anti-hero
1 – A Reason to Exist:
The first thing to consider when writing an anti-hero is why they are who they are.
Honestly, this is important no matter what type of character you're writing, but it's especially so for anti-heroes. Because these characters can be abrasive, readers need to understand where their behavior comes from, even if they aren't overly sympathetic.
This hinges on a few key things:
Backstory: Your anti-hero's beliefs and behavior might stem from some past experience or event. Read more about backstory here.

Identity: They might be shaped by a strong identity, such as being a protector or outcast. Read more about character identity here.

Character Flaws: Your anti-hero needs flaws that readers can relate to, and that inform their actions. Read more about character flaws here.
When combined, these three things should give you a clear picture of not only your anti-hero's personality, but also the "why" behind who they are. This is critical, because anti-heroes can't be antisocial for no reason! Even if you never reveal every detail about their backstory or identity to your readers, you still need to understand what's going on in their head.
2 – A Clear Inner Struggle:
Similar to your anti-hero's identity, flaws, and backstory, they'll also have some core belief that shapes their actions.
This is their inner struggle.
If you've never heard of the inner struggle before, this is a deeply held, harmful belief that holds your characters back from achieving their goals. They might believe they're weak and pitiful, or maybe they think they can't trust other people.
Whatever their inner struggle is, it's why they think they're in the right, even if they (and your readers) know their actions are less than honorable. Best of all, it also gives them something to overcome! A clear inner struggle is a major part of writing a compelling character arc—and that holds true for anti-heroes too.
3 – A Consistent Moral Compass:
The best anti-heroes are those with a strong moral compass, even if that compass is unusual.
This is something I've mentioned a few times now, but it's worth repeating. By giving your anti-hero a clear set of values, it'll be easier to balance between their best and worst traits. Their moral compass should lead to them to do the right thing at least 90% of the time. If they ruffle a few feathers along the way, that's ok—but they should still leave their world a better place.
Even if they're rough around the edges, anti-heroes always leave their world a better place.
Click To Tweet
4 – A Strong Supporting Cast:
When it comes to writing an anti-hero, the rest of your cast is often just as important as your anti-hero themselves.
Your supporting characters will be there to humanize your anti-hero, showcase their best traits, and soften their image in the eyes of your readers. This is why many anti-heroes come with sidekicks and other close allies. Han Solo has Chewbacca, Shrek has Donkey, and Geralt has his horse Roach.
Of course, your supporting cast can challenge your anti-hero too.
Many anti-heroes are paired with more traditional heroes who work to frustrate and annoy them—but also bring out their best traits. By striking a direct contrast between a normal hero (like Luke Skywalker) and a rougher anti-hero (like Han Solo) you open up a lot of fun possibilities for your story!
5 – A Central Role:
Anti-heroes need plenty of character development to win readers over and eventually earn the "hero" part of their name.
Because of this, nearly all anti-heroes have some kind of character arc.
These arcs are the internal transformations your characters experience as a result of your story, and they're a major part of writing strong characters—but they also require time. This means successful anti-heroes are usually major characters in their respective stories, even if they aren't its protagonist.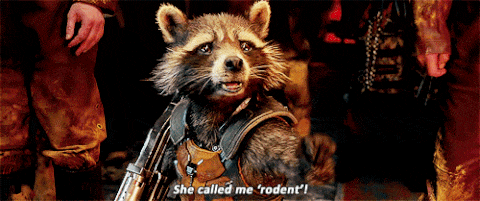 A great example of this would be Rocket from Guardians of the Galaxy. Though he's technically only a side character, he makes for a great anti-hero because he gets plenty of screen time. We see him make mistakes, fight for his friends, and grow as a person (or raccoon…). Thanks to his arc, we're more than willing to accept his less honorable traits.
NOTE: If you'd like to power up your cast, character arcs are by far the best way to do so. Check out Mastering Character Arcs for more on how to write fan-favorite character arcs, including the rogue's arc (which is particularly well-suited to anti-heroes)!
6 – A Moment of Growth:
Last but not least, the best anti-heroes all have a moment of growth.
This isn't a full-blown redemption arc, but it is a chance for your anti-hero to prove how much they've learned. By letting go of one of their worst traits in order to do the right thing, they'll prove they've earned the title of "hero."
Of course, they'll still be flawed, rough, or even a bit off-putting in the end—we don't want to scrub away their personality entirely! However, this moment of growth shows that their heart of gold is more powerful than their flaws, building up to a cathartic finale that will leave readers thoroughly in love with your anti-hero.
Not sure how to approach this moment of growth?
A great way to tackle this finale is to give your anti-hero everything they thought they wanted, but with some unexpected consequences. If they give in to their wants, they'll be sacrificing something they've come to love, often in the form of another person or friend. Though they might grumble and complain, this provides the perfect opportunity for them to shed their old desires and do the right thing!
An Anti-hero in Action: Sinbad
To help you make sense of all this, let me run through a quick example of a well-written anti-hero—specifically Sinbad from DreamWorks Animation's Sinbad: Legend of the Seven Seas.
Sinbad is the captain of a crew of pirates, living on the fringe as they try to make their fortune. His deepest desire is to steal enough money to retire in comfort—which sounds rather "villainous," until you realize what he really wants is security. He craves the stability money provides, and is willing to lie, cheat, and steal to get there.
Specifically, his goal is to steal the Book of Peace.
This book is a magical artifact that ensures the safety of the Kingdom of Syracuse, meaning it would fetch a high price if ransomed. Unfortunately for Sinbad, his plans go very awry.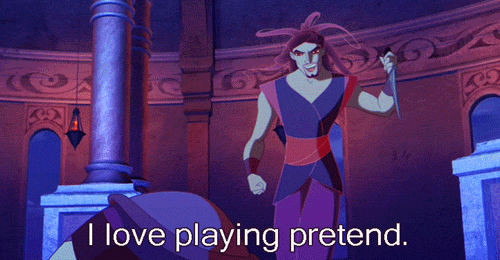 After being betrayed by the goddess Eris, he's framed for stealing the Book (though he never actually takes it), and is sentenced to death as punishment. To save him, his childhood friend Proteus offers himself as collateral, begging Sinbad to return the Book and clear his name—because even Proteus believes Sinbad is the thief. Intent on running away to safety, Sinbad leaves Syracuse, knowing Proteus will die in his place.
Of course, Sinbad is an anti-hero, meaning he does the right thing in the end.
Throughout his journey, he eventually comes to terms with his own execution—and when he fails to retrieve the Book, he returns to save Proteus, anyway. In the process, he willingly gives himself up, proving he's changed in a clear moment of growth and (inadvertently) tricking the goddess Eris into returning the Book against her will.
The result is a powerful story, and a wonderful example of the anti-hero in action! Though Sinbad remains a sarcastic, disrespectful outcast by the end of his journey, he has undeniably grown, earning the title of hero many times over.
Writing Anti-heroes of Your Own
In the end, writing an anti-hero is much like writing any other character. They have clear flaws, backstories, and identities, and struggle against deeply held beliefs that test and challenge them throughout their journey.
Still, anti-heroes have an extra bit of pizazz!
These unique characters blend the best qualities of a hero with the most exciting traits of a villain, fused together in an alluring combination readers love to cheer for. They're witty and sarcastic, but they're good people deep down.
If you're trying to write an anti-hero, here's a quick recap of everything you should know:
Impact: Anti-heroes have hearts of gold, even if they're rough or rude on the outside. Make sure your anti-hero leaves a positive impact on the world around by the time their story is through.

Flaws: Like most characters, anti-heroes have flaws, but their flaws tend to be more pronounced. Don't be afraid to turn things up a notch when writing an anti-hero!

Growth: The best anti-heroes grow and learn throughout their story—so, make sure your anti-hero has a strong character arc complete with key crossroads. More on that here.

Personality: Finally, anti-heroes are great because they're unorthodox! Whether your anti-hero is sarcastic, rude, witty, or moody, have fun writing them, and your readers will have fun too. 🙂
What traits does your anti-hero have? Let me know in the comments!