Creating Catharsis: How to Write a Story That Works
When writing a novel, your plot will take center stage.
Not only is your plot a major component of your novel, but it's also the foundation from which you'll build everything from your characters, to your worldbuilding, theme, and more. This means that writing a compelling plot is a critical step if you want your novel to succeed—and no plot is truly complete without a healthy dose of catharsis.
So, in this article, let's unpack what exactly catharsis is, as well as the three key elements you'll need to write a cathartic plot. Finally, to wrap things up, I'll walk you through how story structure can help you create catharsis in your own novels!
What is Catharsis?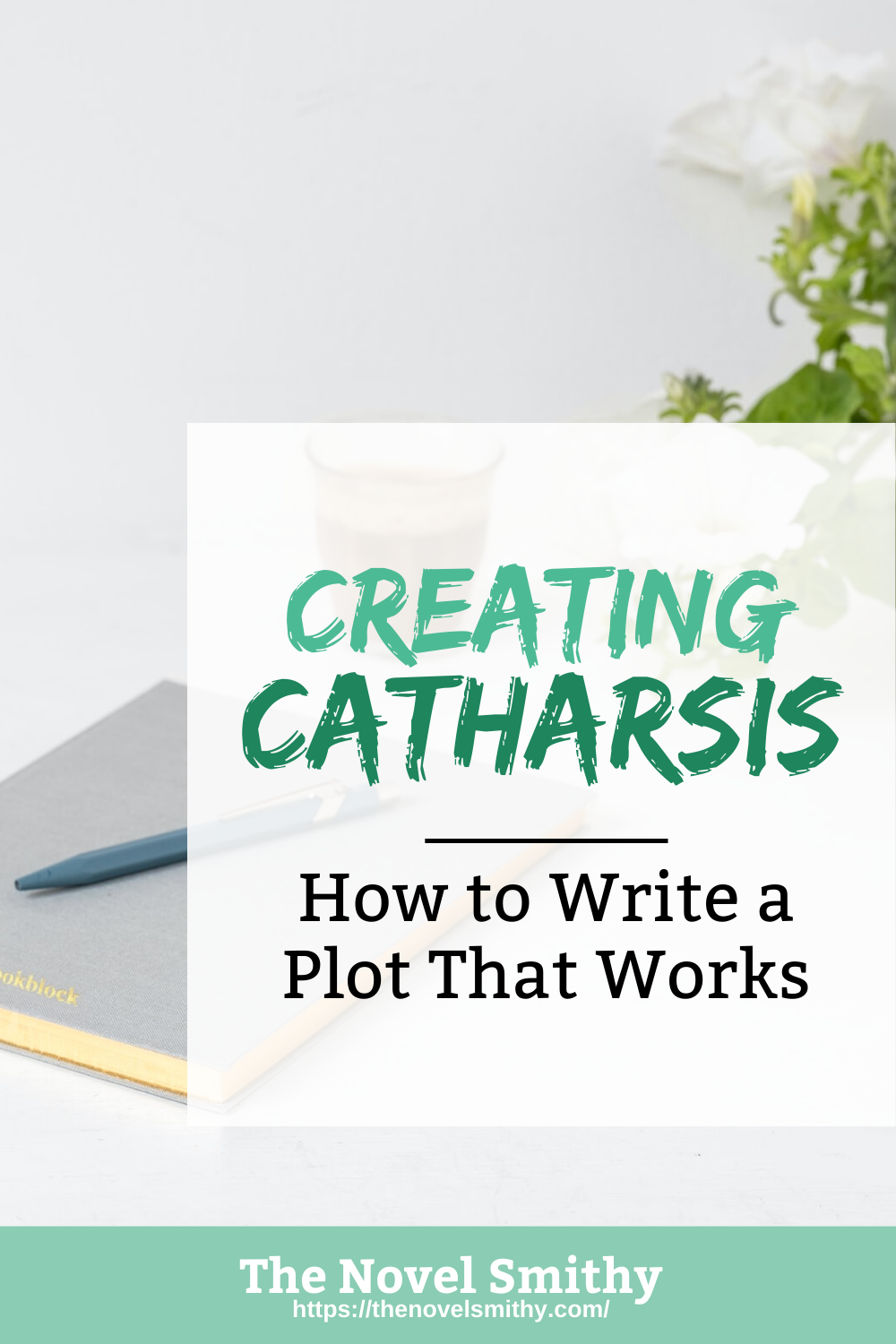 If you're not already familiar with this term, catharsis is an important principle in the world of storytelling—so, let me provide a quick definition…
Catharsis: A Greek term originally coined by Aristotle that describes the emotional release you feel at the end of a good story.
Basically, after spending so long invested in a story it's satisfying to see that adventure conclude, even if it's a little bittersweet at the same time.
In fact, catharsis is a big reason why some novels just "work," even if the underlying setup doesn't seem that interesting at first. Those novels feel good to read because they create a sense of emotional tension that's then released at the end of the story.
Now, with that said, what does this all mean? Well, basically, it means that catharsis is a key element of a successful plot. Without a sense of catharsis, your plot will fall flat, and readers will likely walk away feeling unsatisfied.
Of course, actually creating this catharsis is easier said than done.
While catharsis is critical to writing a plot readers enjoy, it isn't something you can casually create in the final scenes of your novel. Instead, catharsis requires you to lay the groundwork from the very beginning of your story, ensuring readers are invested in your protagonist's journey and are always anticipating what might come next. This way, when you reach your finale, you can create the rush of emotions that are a hallmark of a truly cathartic novel.
Fortunately, there are actually a set of three principles (also courtesy of Aristotle) that you can use to reliably create catharsis. So, let's look at these three elements a bit more closely, before diving into how to apply them to your stories!
The Three Keys to a Cathartic Story
Peripeteia – Change:
First up, we have peripeteia, a Greek word meaning "a reversal of fortune" or a "change in circumstances."
At its core, this term describes the key turning points that should occur in your story. These could be anything, from your hero entering a strange new world, to suddenly losing their livelihood in a financial crisis, to convincing their lover to marry them. Whether positive or negative, this sudden change creates a sense of suspense and investment in your story by introducing an element of unknown.
In fact, your plot will likely feature multiple instances of peripeteia.
A peripeteia often sparks your protagonist's adventure in the first place, while peripeteias towards the end of your story could throw a wrench in their plans or raise the stakes approaching your finale. It's these reversals of fortune that will play a big role in keeping your readers on the edge as they approach the end of your novel.
All of this means that peripeteia should mark a major change in your protagonist's journey—and that it should be closely linked to the major struggles that define their adventure.
For example, in Disney's Mulan, Mulan experiences two moments of peripeteia: the moment she disguises herself as a man and becomes a soldier, and the moment her true identity is revealed and her disguise is stripped from her. In both instances, her circumstances change dramatically, and these changes hinge on the main struggle she faces throughout her story—that being society's refusal to respect her as equal because of her gender.
"The first essential, the life and soul, so to speak, of a story, is the Plot." – Aristotle
Hamartia – Failure:
Next we have hamartia, or moments in your story where your hero experiences failure.
You see, throughout your plot your protagonist should pursue some kind of goal, and this goal will be at the forefront of their journey. However, they won't always make the right choices in pursuit of that goal—and this is where hamartia comes in.
Specifically, hamartia is when your hero fails due to their own poor judgement.
This is incredibly important, because your protagonist needs opportunities to struggle and learn in order to complete their character arc—otherwise, their story will feel hollow. As they pursue their goal, they'll make the wrong choices, and will be forced to rethink their behavior when they're punished for those failures. Next time, they'll make a slightly better choice, until they slowly grow as a person.
As a bonus, this continues to raise the stakes of your plot in concert with peripeteia. Your reader isn't confident your hero will always get things right, or that they won't be thrown a curveball they can't handle—meaning the outcome of your story isn't certain.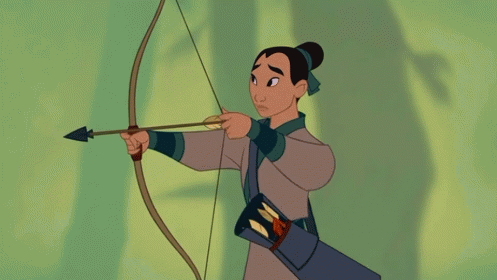 You can see this at work again is Disney's Mulan.
Mulan experiences multiple instances of hamartia, such as when she accidentally sparks a fight among the men in her clumsy attempts to appear "masculine." These instances of hamartia occur because she's trying to be something she's not—she's ignoring her cleverness and instead relying on raw strength. Fortunately, these failures slowly push her to embrace her talents, and she'll eventually succeed as a result.
Kairos – Timing:
Finally, we have kairos, which roughly means "the opportune time."
You see, peripeteia and hamartia need to happen at the right moments in your story to have the maximum effect. Of course, these moments should feel like logical progressions of your plot, but they do need to happen. By placing them at the right moments, you create a steady emotional rollercoaster that grips readers from beginning to end, and that evokes a strong sense of catharsis when it's finally resolved.
Most importantly, kairos also prevents you from going too far in either direction.
If your protagonist is failing and suffering too much, it's easy to get burnt out. Readers will feel like your hero has no hope, and they'll write it off as a loss. In contrast, if they aren't facing enough challenges, then there's no reason to get invested in your plot to begin with. Everything is just an easy win, so there are no stakes to make your novel meaningful.
This is where kairos comes in, as it helps you strike a balance between failure and success. For each failure or painful experience your protagonist goes through, they also go through a moment of learning, which allows them to handle those challenges better next time.
Of course, this isn't a one-to-one transaction—certain periods of your story will feature success and failure in different amounts. Still, by maintaining a balance, you keep your readers' emotional tension high without burning them out, allowing you to release all of that pent up emotion in one final, rousing finale!
"When you release the character from the jeopardy of whatever problematic situation they're in, then the audience experiences catharsis. A sigh. Whew. That's over!" – G.M. Barlean, mystery author
Creating Catharsis Through Story Structure
Now that you understand the key elements of a cathartic story, we can talk about actually applying those elements to your novels.
All three of these elements need to be present in your story to create a truly meaningful plot. You need change to spur your hero forward on their adventure, failure to put the outcome of their journey into question, and careful timing to create the maximum emotional payoff for your readers. So, how do you do that?
Well, the answer is with story structure!
Structures like the Three Act Structure and the Hero's Journey are designed so that they include key moments of peripeteia and hamartia at the right moments to create a cathartic story. While there are certainly other structures that fulfill these requirements, these two are a great starting point, because they're both flexible enough to fit a variety of types of stories.
The Three Act Structure:
First up, we have the Three Act Structure.
This structure is a great option for all kinds of stories, and is also the structure you're most likely familiar with. Most importantly, it's also a great structure for creating catharsis, because it features a series of key turning points that start building emotional tension from page one.
At its most basic, the Three Act Structure is built on three sections:
Act 1 (Setup): Starting things off, Act 1 begins the story in your protagonist's normal life. Some kind of catalyst turns their world on its head, and your protagonist soon finds themselves caught up in your plot.

Act 2 (Confrontation): From there, you enter Act 2, where your hero will face a series of tests and trials. These will force them to adapt and learn as they work to resolve your story's conflict, and will be where most of your "plot" occurs.

Act 3 (Resolution): Finally, you'll reach Act 3, where your protagonist will resolve the conflict of your story once and for all. Once the dust settles, they'll also get a chance to look back and reflect on everything they've experienced.
As you can see, these acts create a clear "flow" in your story.
Your protagonist starts out in their normal life, before some catalyst forces that life to change. From there, they face a series of trials—many of which they struggle with—that not only put the outcome of their story into question, but also give them time to learn. Here your reader begins to identify with their struggles, reinforcing the emotional tension of the story. Finally, this structure wraps up by bringing those conflicts to their conclusion, releasing that emotional tension in a satisfying, cathartic way!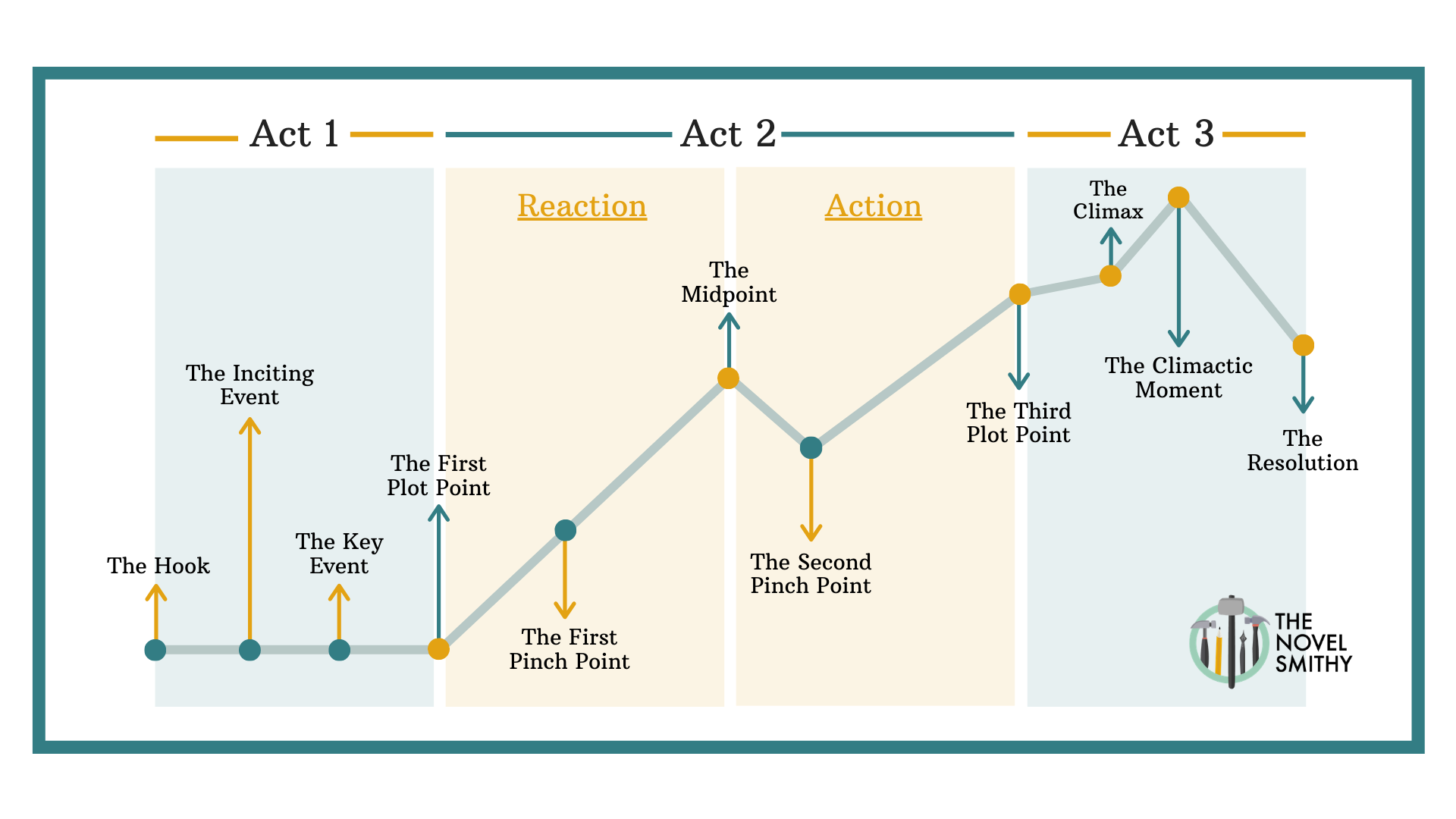 The Hero's Journey:
Next we have the Hero's Journey.
This structure follows a similar pattern to the Three Act Structure, with the protagonist starting in their normal world before setting out on their journey and ultimately overcoming a major conflict. However, the Hero's Journey is distinct in that it's a cyclical structure—to complete the Hero's Journey, your hero must return to their community to share the rewards they've gained through their adventure.
This is built on three basic phases:
The Known World: First up, your hero begins in their normal world. This is where you'll introduce who they are, as well as the wounds they and their world are suffering from.

The Unknown World: Next they enter the unknown. Here they'll undergo challenges that test their abilities, as well as grow and learn as a person. Towards the end of the unknown world, they'll face a major ordeal and earn a reward for their victory.

Returning to the Known: Finally, your hero will need to return to the known, bringing their reward with them. Here they'll face a final conflict and hopefully heal the wounds of their community using everything they've learned.
As you can see, the Hero's Journey definitely shares a lot of its DNA with the Three Act Structure, though it has a slightly different focus.
The Three Act Structure is all about the individual—the focus is on the protagonist and their personal journey, meaning any effect they have on the world around them is mostly a bonus. In contrast, the Hero's Journey is about the world around the hero—they cannot truly complete their journey without returning to their community and healing the wounds of their world. That is what truly makes them a hero.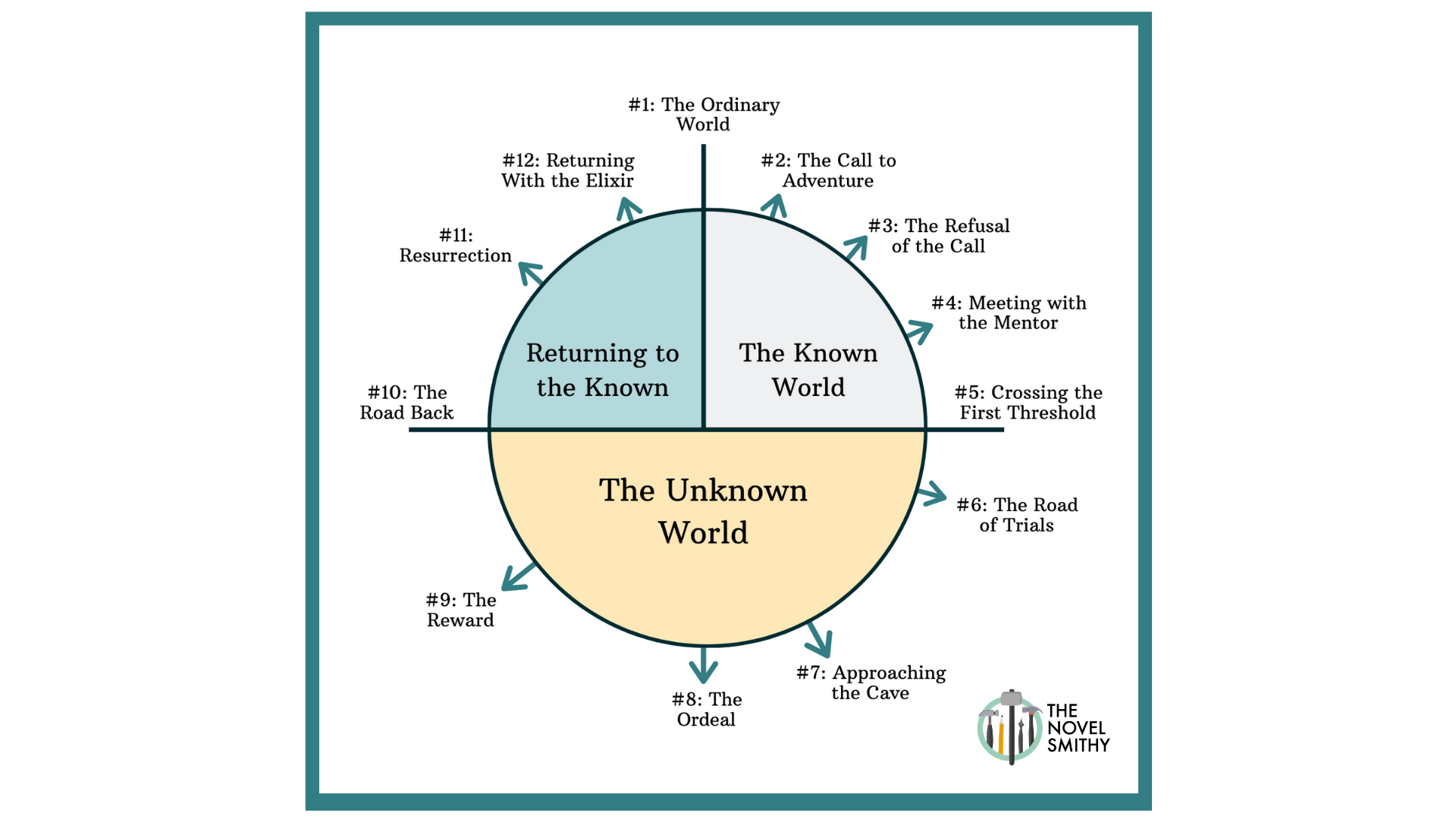 How to Write a Cathartic Novel
With all that said, creating a cathartic novel is really about understanding your readers' experience first and foremost.
Why do they care about your protagonist? Why does your hero's journey matter, both to them and the story around them? By leveraging these questions and maintaining a steady sense of emotional tension—basically, by throwing your protagonist's success into doubt—you can create a novel that feels truly cathartic, and likely becomes a fan favorite in the process!
Here are a few final questions to consider as you set out to create catharsis:
How will your core conflict affect your protagonist?
What flaws or struggles will hold your protagonist back, and how will they overcome (or fail to overcome) these by the end of your story?
Which story structure resonates with you the most?
And how will you

plan your plot

to ensure you're incorporating you need to create catharsis?
Of course, a lot of this is easier said than done. Story structure is a big topic, with lots of nuances and pitfalls to be aware of. Fortunately, I've got a ton of articles on this site all about making the most of your plot using story structure to guide you!
Here are a few of my favorites:
How will you create catharsis? Let me know in the comments!