The Four Act Structure: What It Is + How It Works
"What is the Four Act Structure?"
I talk a lot about the Three Act Structure on this site, but a few months ago, a friendly reader asked me this question—and, well, it sent me down a rabbit hole I'm only just emerging from. Believe it or not, the Three Act Structure and Four Act Structure aren't distant cousins, but nearly identical twins.
Despite this, the Four Act Structure has won me over. This story structure has a lot to offer, providing a helpful guide to plot and pacing that's useful no matter where you are in the writing process. So, let me show you why I've decided to forsake the Three Act Structure in favor of its four-part sibling!
An Introduction to the Four Act Structure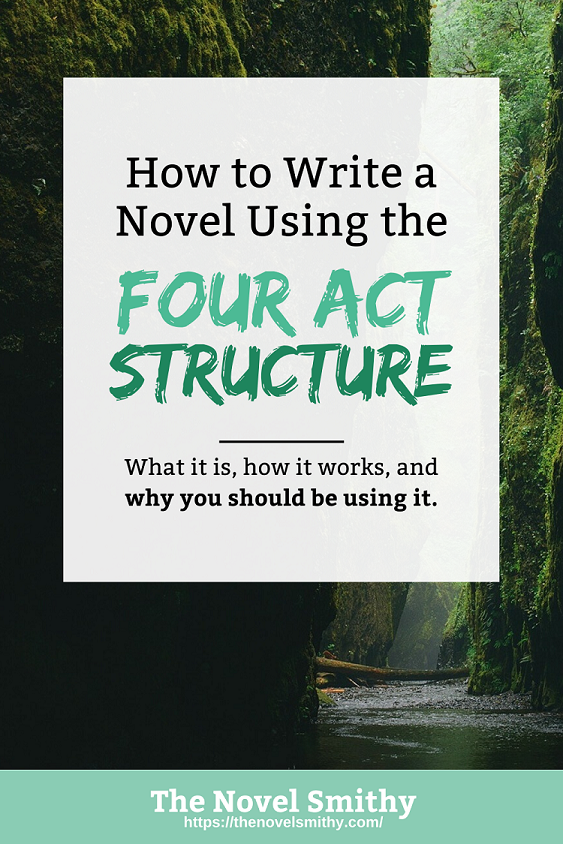 The Four Act Structure's name reveals a lot about it's inner workings.
If you're new to the idea of story structure (sometimes called plot structure), these structures are common frameworks writers use to create riveting plots. Each one contains its own unique story beats and phases, but they all come together to serve the same purpose—helping you create a well-paced novel readers won't want to put down.
For the Four Act Structure, this is done through two main components:
Acts: Acts describe the different stages of a well-paced story. For instance, the first act of your novel might be your story's setup, while the last act focuses on its resolution.
Plot Points: Plot points are the key scenes or story beats that shape your novel's structure. These are responsible for a variety of things, from hooking readers into your plot, to shifting your hero from reaction to action.
These acts and plot points form the backbone of this structure, providing just enough guidance to keep you oriented while still leaving plenty of room for your story to unfold.
With that in mind, let's explore these acts in a bit more detail.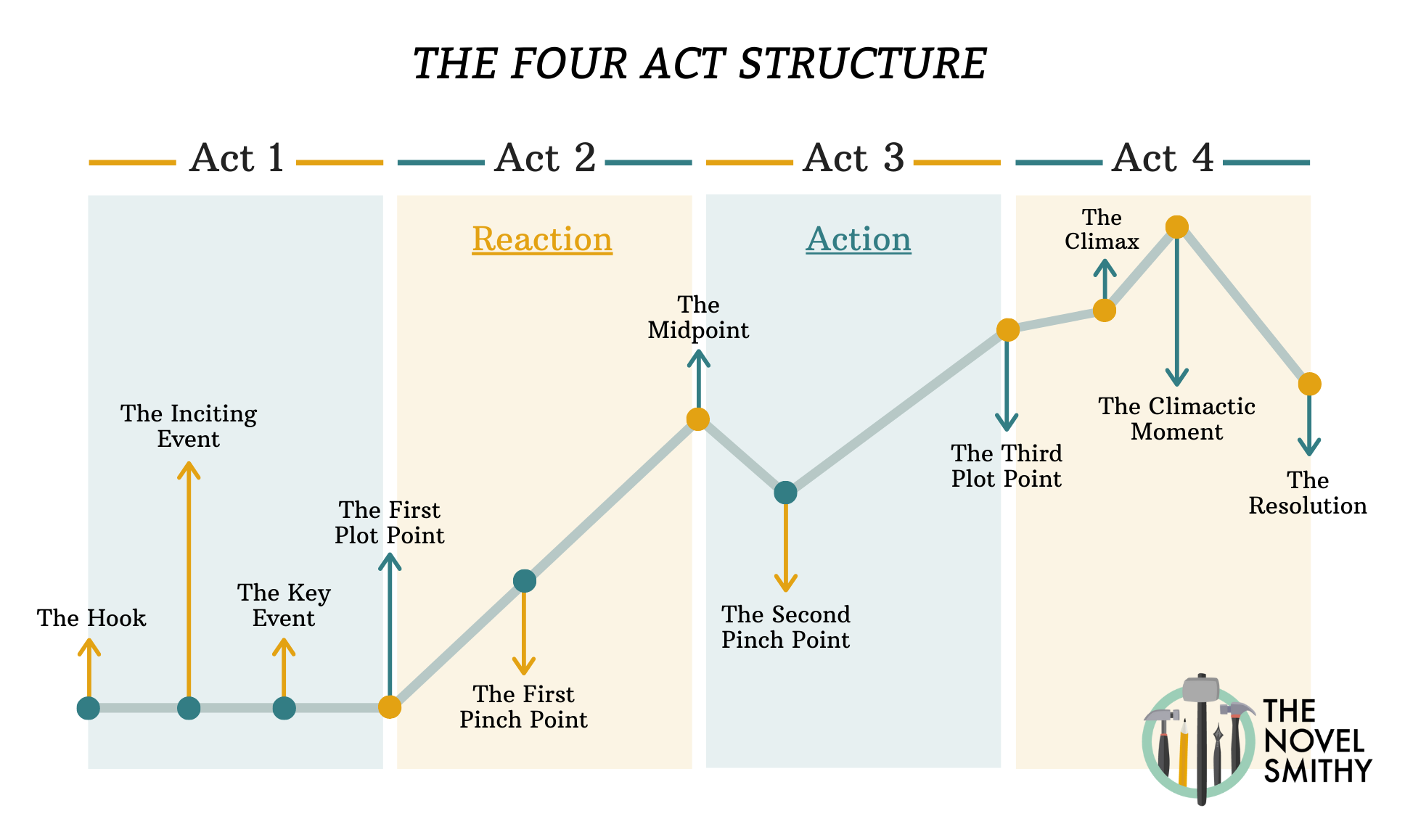 The Stages of the Four Act Structure
Act One – Setup (1-25%):
Act One of the Four Act Structure is all about setup.
This act makes up the first 25% of your novel's runtime, and is where you'll introduce readers to your protagonist, setting, story world, and core conflict. This sets the stage for the rest of your novel and ensures readers have the key information needed to understand your story.
Alongside this setup, Act One also features four plot points:
The Hook: The opening of your novel, this plot point introduces some conflict or question that grabs your reader's attention and "hooks" them into your story.

The Inciting Event: Midway through Act One, the Inciting Event sets your novel's conflict into motion. Often your protagonist will be present here, though not always. Either way, this is the spark that triggers your plot.

The Key Event: Immediately following the Inciting Event, the Key Event is where your protagonist becomes personally involved in your plot. Some event will suck them into your novel's conflict, though they'll likely resist this pull at first.

The First Plot Point: Finally, Act One comes to a close with the First Plot Point, where your protagonist will make the choice to engage with your plot. From now on, there's no turning back.
With those plot points in mind, let's look at an example of the Four Act Structure in action using DreamWorks Animation's How to Train Your Dragon.
This movie opens by introducing us to our protagonist, a young Viking named Hiccup. Hiccup lives on Berk, a remote island constantly under threat from dragon attacks. Compared to his peers, Hiccup is small and anxious, but he hopes to one day prove himself by killing a dragon. For now, he struggles to gain his tribe's respect.
This begins to change with the movie's Hook.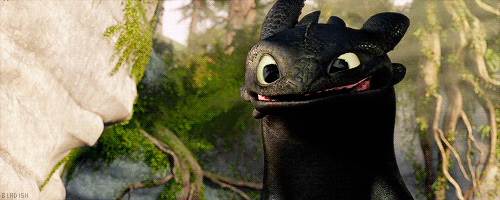 During a dragon attack, Hiccup successfully shoots down a dragon, though no one believes him. Frustrated, he ventures into the woods to find it, and he succeeds. However, when it comes time to kill the wounded creature, he can't. Instead, he chooses to spare it. This is his story's First Plot Point, and firmly thrusts Hiccup into a new world—the world of dragons!
Act Two – Struggle (25-50%):
From there, the Four Act Structure shifts into Act Two.
This act is all about a series of tests and trials, following your protagonist as they struggle to adapt to their new situation and understand the conflict they're facing.
Naturally, this means Act Two features a lot of failure.
Your protagonist will learn a lot during this phase, but they won't always make the right choice the first time around. Instead, they'll have to grow as a character and expand their horizons before they start to succeed.
Meanwhile, Act Two is also where subplots are often introduced. This act doesn't feature a ton of specific plot points, meaning you have plenty of room to explore your plot and introduce side stories. All told, there are only two plot points in Act Two:
The First Pinch Point: Part of a pair, this pinch point is where your antagonist will get their first chance to demonstrate their power. Use this plot point to reinforce the stakes of your plot and remind readers (and your protagonist) why this story matters.

The Midpoint: Marking the end of Act Two, the Midpoint is a major turning point where your protagonist will face their biggest trial yet. If they succeed, this will shift their story from reaction to action. They'll feel confident in their skills and ready to tackle the challenges ahead.
Returning to our example, Hiccup enters Act Two confused and uncertain, but also excited to explore this new world. As Act Two wears on, he struggles to get closer to the dragon he captured, which he names Toothless. From discovering Toothless' favorite foods to realizing he can no longer fly due to a broken tail, Hiccup is learning a lot.
This pushes Hiccup to take action.

While hiding Toothless' existence from the other Vikings, he secretly builds a contraption that will allow Toothless to fly, but only with him there to pilot it. All of this culminates in a powerful Midpoint, where Hiccup and Toothless learn to trust each other. They have an exhilarating flight around the island, and Hiccup has an epiphany—dragons aren't the enemy.
Act Three – Pursuit (50-75%):
Next, Act Three is where your plot picks up speed.
After the Midpoint, your protagonist is now confident in their plans to resolve your novel's conflict. Because of this, Act Three is about action. Your protagonist has finally begun to adjust to their new world, meaning now is the time to put everything they've learned into practice.
Of course, they aren't totally in the clear.
Despite their best efforts, there are problems lingering beneath the surface, causing Act Three to end on a low note. This "dark night of the soul" throws your protagonist's plans into disarray, causing them to question their goals and beliefs, as well as whether they're truly capable of succeeding.
In total, Act Three is built around two plot points, which prepare your plot for its finale:
The Second Pinch Point: With the Midpoint behind them, your protagonist is feeling confident—meaning they need a reminder of what's at stake. The Second Pinch Point serves as that reminder, showcasing your antagonist's power and why your hero can't relax just yet.

The Third Plot Point: This is your protagonist's darkest moment, as well as the end of Act Three. Here they'll experience a painful defeat, causing them to question both their journey thus far and what comes next. This sets the stage for your novel's finale.
For Hiccup, Act Three is all about secrets.
After his relationship with Toothless is discovered, Hiccup plans to run away, but eventually realizes he has a responsibility to his tribe. He knows so much about the dragon world, and could use that knowledge to end the fight between Vikings and dragons. Though nervous, he lays out a plan to convince his people that dragons aren't evil.
Unfortunately, this plan has a fatal flaw.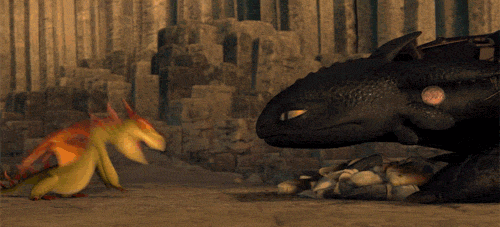 When Hiccup reveals Toothless to his tribe, they panic, attacking Toothless and causing him to lash out in return. Now unable to change their minds, Hiccup is cast out and Toothless is taken prisoner. It seems all of his plans have fallen apart, and he descends into despair.
Act Four – Conclusion (75-100%):
Finally, Act Four brings the Four Act Structure to its conclusion.
This act is all about wrapping things up, resolving your core conflict, and showing just how much your protagonist has changed. In the aftermath of the Third Plot Point, your hero will be uncertain—or perhaps ready to give up. If they're to complete their journey, they'll need to find the strength to continue against all odds (unless they follow a negative character arc).
With that strength found, we can move into your novel's finale.
This is where your protagonist will confront your antagonist one last time. By using everything they've learned throughout your story, they'll succeed, triggering a cathartic conclusion where you'll show what their life will look like going forward.
In total, Act Four features three plot points:
The Climax: The Climax marks the beginning of your novel's finale, where your protagonist and antagonist can no longer avoid each other. Your protagonist makes the choice to confront your core conflict head on.

The Climactic Moment: This culminates in a key scene, called the Climactic Moment. This is where your protagonist will make the final decision that determines whether they succeed or fail, resolving their story once and for all.

The Resolution: Finally, the last plot point of the Four Act Structure is the Resolution, where you'll show the aftermath of your plot. Your core conflict has been resolved, and now your protagonist will have to figure out where their life goes from here. Whether joyful or bittersweet, this marks the end of your novel.
In How to Train Your Dragon, Act Four takes shape as an intense finale.
With Toothless taken captive and his tribe headed to face the Alpha Dragon (and their doom), Hiccup is forced to reflect on his journey. Though initially defeated, he eventually makes the choice to set out and save them.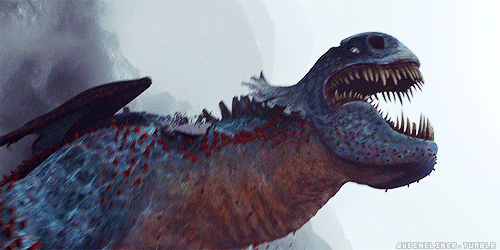 Using his new knowledge of dragons, Hiccup frees Toothless just as the Alpha Dragon crashes onto the scene. Together, the pair lure the Alpha high in the clouds and begin their attack, slowly gaining ground until the story's Climactic Moment. Here, Hiccup makes the choice to trust Toothless fully, pulling off a difficult maneuver that defeats the Alpha, but results in Hiccup plummeting from the sky.
Luckily, Toothless catches Hiccup at the last moment, though not without sacrifice.
When Hiccup finally wakes up during the movie's Resolution, he finds his left leg replaced by a prosthetic, matching the prosthetic fin he built for Toothless. Though bittersweet, the movie ends on a high note. Berk is now a haven for dragons and Vikings alike, and Hiccup's bravery has changed his world for the better.
The Four Act Structure vs. The Three Act Structure
Now that you have a solid understanding of the Four Act Structure, we need to address the elephant in the room…
How does this compare to the Three Act Structure?
Admittedly, the Three Act Structure is very similar to the Four Act Structure, though it does feature a few key (and critically important) differences:
The Four Act Structure:

Act One = The first 25% of your novel, where you introduce key settings and characters.
Act Two = The second 25%, where your protagonist faces tests and trials before overcoming the Midpoint.
Act Three = The third 25%, where their plans gain focus.
Act Four = The final quarter of your story, where your conflict reaches its conclusion.

The Three Act Structure:

Act One = The first 25% of your novel, where you introduce key settings and characters.
Act Two = The middle 50%, where your protagonist faces tests and trials, overcomes some Midpoint, and begins pursuing your conflict with more focus.
Act Three = The final quarter of your story, where your conflict reaches its conclusion.
As you can see, the Three Act Structure combines Acts Two and Three into a single, larger act centered on the Midpoint. In contrast, the Four Act Structure splits this in half.
This is the real difference between these two structures.
Though both have the same basic shape, the way they explain that shape is unique. The Three Act Structure assumes writers will understand that the Midpoint shifts their hero from reaction to action—while the Four Act Structure takes no chances. Rather than hope you already know this, the Four Act Structure explicitly labels these two phases, with Act Two corresponding to reaction, and Act Three to action.
So, why do these two story structures exist?
Well, a lot comes down to preference. Certain writers vibe with the Three Act Structure over the Four Act Structure, or vice versa. The wide open space of the Three Act Structure might be freeing for some, while others appreciate the more detailed guidance of the Four Act Structure.
Meanwhile, some genres mesh better with certain structures. For example, mysteries contain a variety of tropes and genre conventions that map nicely onto the Four Act Structure, making them easier to explain in four acts—for more on this, check out John Murphy's two body plot.
How to Use the Four Act Structure
Ultimately, no matter what story structure you plan to use, putting it into action is always the hardest part. So, let me share a few final tips for applying the Four Act Structure to your novel.
Starting things off, your first order of business is to nail down your major plot points. This includes the First Plot Point, Midpoint, Third Plot Point, and Climactic Moment. These four plot points define the acts of the Four Act Structure, meaning you'll need a solid plan for each of them to ensure your plot is headed in the right direction.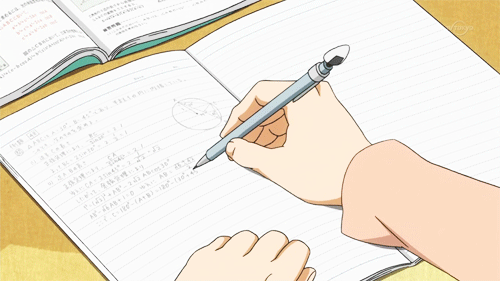 From there, pay special attention to the Midpoint.
As I've mentioned already, the Midpoint is the real turning point of your plot, shifting your protagonist from reacting to outside events to actively pursuing their goals. Ask yourself—how does your protagonist's outlook change after the Midpoint? How does this scene prepare them for everything to come?
Finally, know that this structure won't dramatically change your story itself. At the end of the day, this is simply a framework for better understanding your plot. How you apply it is up to you, whether you use it to outline your novel, guide you as you write, or edit future drafts.
No matter what story structure you end up using, you can be sure it'll provide the perfect guide as you bring your story to life! 🙂
NOTE: Story structure is a wide-ranging topic, and one I've covered extensively on this site. To learn more about different types of story structure, check out these articles:
What are the four acts of your story? Let me know in the comments!